Some of the links on this page are affiliate links, which means that Buzzy Kitchen earns commission from purchases made – at absolutely no extra cost to you. Thank you so much for supporting Buzzy Kitchen!
---
Have you noticed how difficult it is to find information on how to spend your loyalty points with stores once you've earned them? It took me forever to find out how to spend my Co-op points, known as Member Rewards, which is why I decided to go straight to the horse's mouth and ask: What can you spend Co-op rewards on?
Please allow me to share with you what I learned.
Co-op Rewards: Introduction
Co-op offers a loyalty scheme where you earn points (Rewards) on the things you buy. It costs £1 to join now, but I'm pretty sure that wasn't the case when I signed up, years ago. I personally think the £1 fee is worth it, but it is a bit weird. As far as I know, none of the other supermarkets or convenience stores charge for their loyalty schemes.
Anyway, once you've signed up and paid £1, you'll get a funky little blue membership card, which unlocks discounts on things you'd usually buy, special prices when you swipe the card at the till, and money back (Rewards) on your purchases.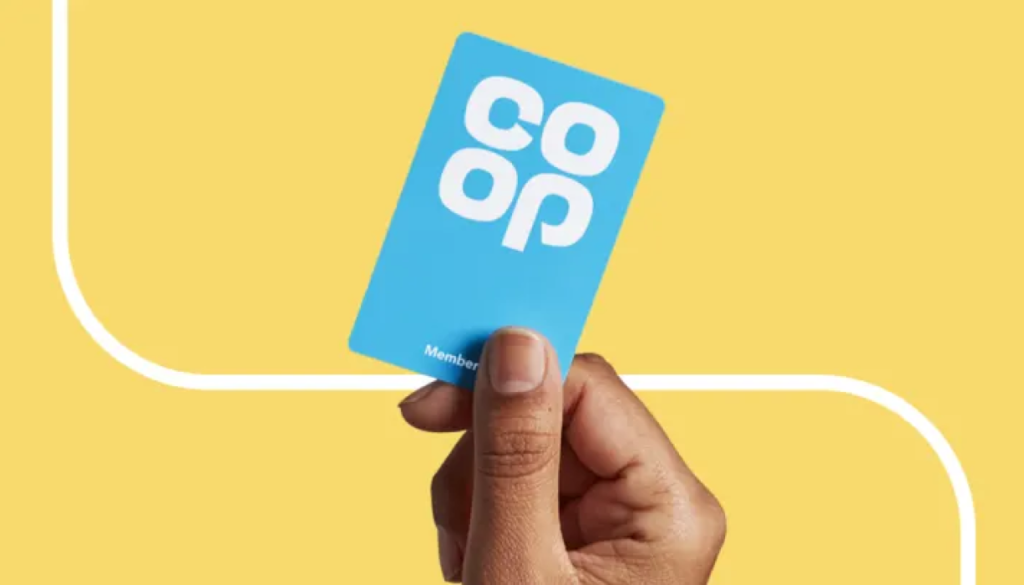 What Do You Earn Co-op Rewards On?
You only earn Rewards on Co-op branded items, so if you go to the till with a packet of Andrex toilet roll, you won't get anything for it. If you go to the till with a Co-op branded packet of toilet roll, however, you'll earn Rewards.
If you shop online with Co-op, you will earn Rewards on Co-op branded products in your order.
You only earn Co-op Rewards on Co-op branded products in store and online.
For every £1 you spend on Co-op branded products, you'll earn 2p in Rewards.
You'll also donate 2p to community projects, which you'll learn more about right here.
Co-op Rewards can't be earned on the following:
non-Co-op branded products
fuel
first stage baby milk
postage stamps
saving schemes
lottery purchases
gift cards and vouchers
phone cards
in-store concessions
PayPoint
newspaper deliveries
cigarettes and tobacco
all carrier bags including single use and reusable bags
items bought from temporary or pop-up stores (unless we agree otherwise)
clearance items (including orange sticker items)
Source: Co-op T&Cs
As a side note, Co-op does offer other services than just convenience stores, such as Legal Services. You will be able to earn Rewards on fixed price family services, such as separation agreements, pre-nuptial agreements, etc., alongside wills and power of attorney agreements.
I thoroughly recommend reading the T&Cs, or at least parts of it – such as how you can earn Rewards, how to spend them, and more. I know it's boring and nobody reads the T&Cs, but sometimes it is actually worth it. Just saying.
What Can You Spend Co-op Rewards On?
I visited the Co-op and asked the person serving on the till exactly that question, and this is what the answer was:
"Everything. Cigarettes, booze, the lot."
I didn't buy cigarettes or booze, but I did buy a few food items and then pay with my Co-op Rewards. The only stipulation is that you need to have the actual physical card. You can't pay with Co-op Rewards via contactless payment.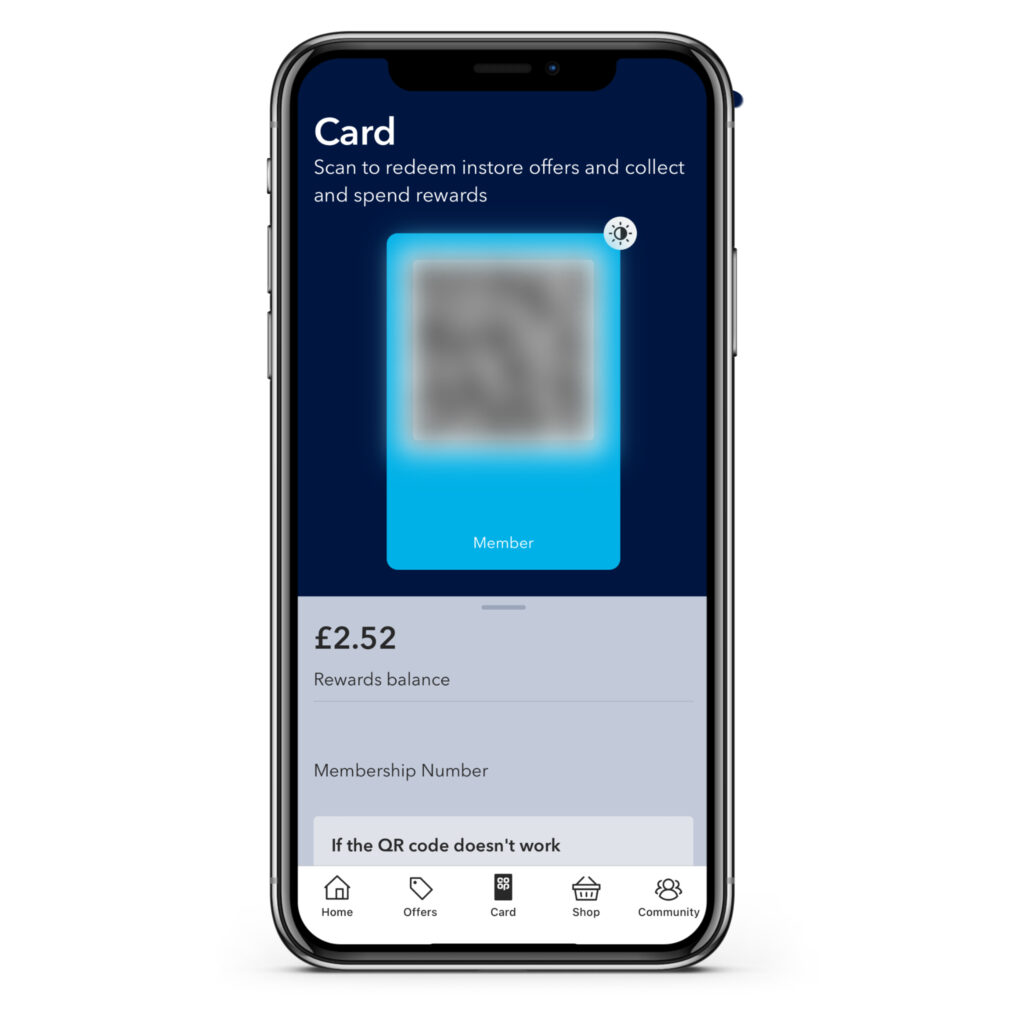 In my opinion, the contactless version of the Co-op card is useless. It never swipes at the till and the poor sales folk need to tap the number in by hand. I feel bad watching them do it.
You cannot use Rewards to pay for online orders, but you do earn Rewards, so it's not all bad.
Personalised Co-op Offers
If you download the Co-op app, you'll find a section called 'Offers' – and it's exactly what it sounds like: money-off deals for food, drinks, etc. You can choose a maximum of two offers from a list of around six, and they're tailored to things you usually buy. It's not just a random bunch of offers that you'll never want.
I usually buy things like milk, sugar, coffee, cereal, bread, teabags, etc. from Co-op and other convenience stores. As you'll see in the screenshot below, my latest round of offers included 20p off Co-op milk and 50p off any Tate + Lyle product (sugar).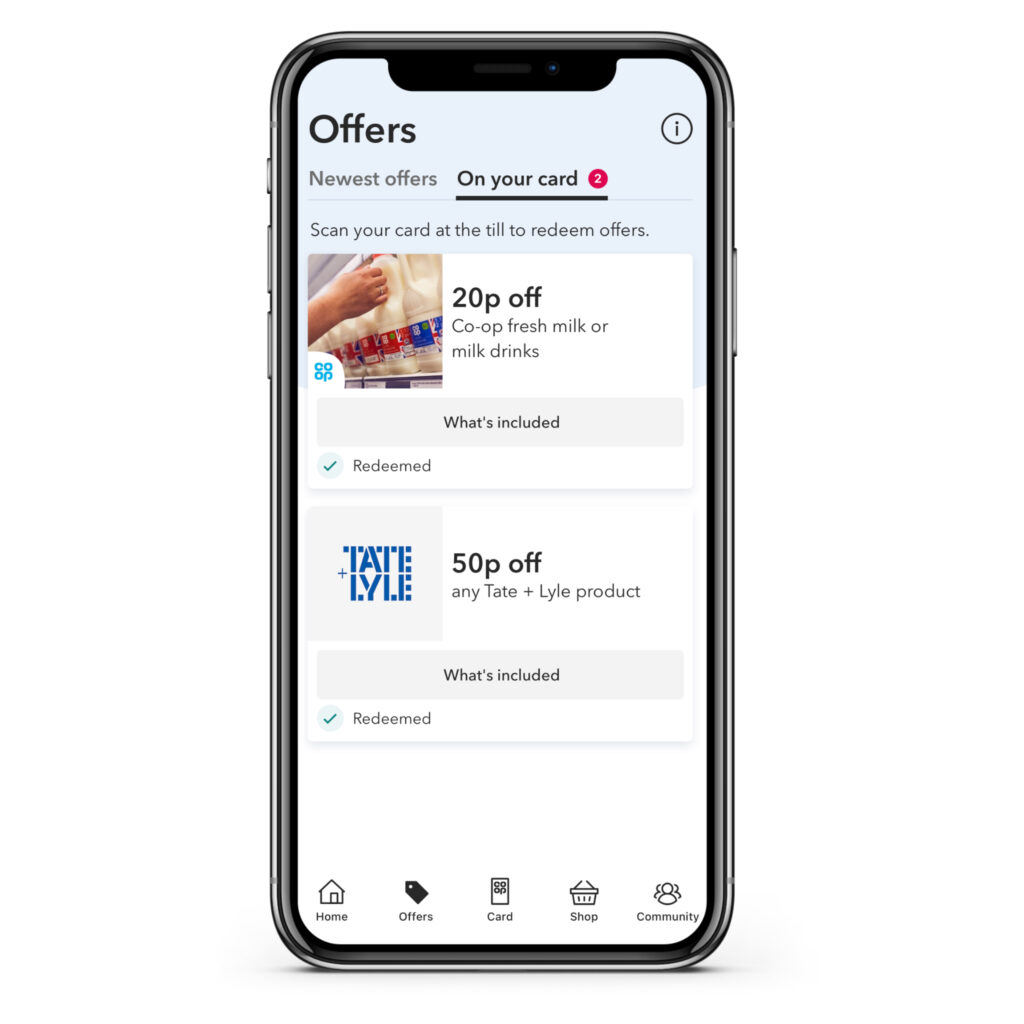 How to Use Personalised Co-op Offers
Once you've selected your two offers, the screen will change, letting you know that the offers change or re-fill every Monday.
You don't need to do anything special to get these offers. Simply select the ones you want in the app, then make sure you take and swipe your loyalty card at the till, when you pay. If you don't select them in the app, they won't load on to your card and won't be redeemable at the till.
Once the deals have been redeemed, the app will tell you exactly that. You won't be able to select any new offers or re-use the ones you currently have.
I use these offers every week, without fail. In the case of milk, 20p off means paying £1.30 for four pints of semi-skimmed milk. Most supermarkets price milk at £1.40 minimum. Taking 50p off the price of my sugar means that I'll only pay 69p instead of £1 plus.
Member Prices
If you sign for a Co-op membership and card, you'll get access to "member prices," which are exactly the same as Tesco's "Clubcard prices." If you're a member and swipe your card at the till, you'll pay the reduced members price rather than the actual price.

These member prices are examples from the time of writing.
One example of this in my local Co-op is milk. The members price is £1.50. The regular, non-members price is £1.65.
The products with member prices will change from time to time. It might be milk and cereal for a while, then it'll change to different products. Again, this is the same as the Tesco version.  
What Can You Spend Co-op Rewards On? – Conclusion
In conclusion, Co-op Rewards points can be spent on everything and anything – straight from the horse's mouth. Metaphorically, obviously. I wasn't actually served by a horse.
If you use your local Co-op a lot, I definitely recommend paying the quid to become a member. My last two personalised offers were worth 70p alone, so it won't take you long at all to redeem back that initial signup fee.
Find out more and sign up right here:

You might also like: