Some of the links on this page are affiliate links, which means that Buzzy Kitchen earns commission from purchases made – at absolutely no extra cost to you. Thank you so much for supporting Buzzy Kitchen!
---
It's the most wonderful time of the year, and what better way to celebrate than with delicious food, great company, and a few decadent sweet treats? Whether you're hosting a Christmas party or simply looking for some festive meal ideas, I've got you covered. Here, you'll find 21 cozy recipes for the festive season. It's rustic Christmas cooking done the right way!
Let's jump in and explore your options, shall we?
Rustic Christmas Cooking: Cozy Recipes for the Festive Season
According to a You Gov poll, only around 54% of all households in the UK eat turkey on Christmas Day. Believe it or not, only 65% eat pigs in blankets, 41% have cranberry sauce, and 66% of people serve up brussels sprouts. Christmas dinners have evolved over time, influenced by various factors including cultural traditions, regional cuisines, historical events, and even economic conditions.
So, if you're looking for rustic Christmas cooking ideas that step outside of the realms of traditional, you have most definitely come to the right place. here are 21 of them:
1: Christmas Curry
By Jessica Dady / Good to Know
The most wonderful time of the year is here, and so are the endless possibilities for Christmas food. From traditional dishes passed down from generations to quirky twists on classics, there is no limit to what you can create in your kitchen. Curry, for example, might not be on the top of your rustic Christmas cooking list, but as this recipe shows, it certainly makes for a great substitute for the traditional turkey dinner.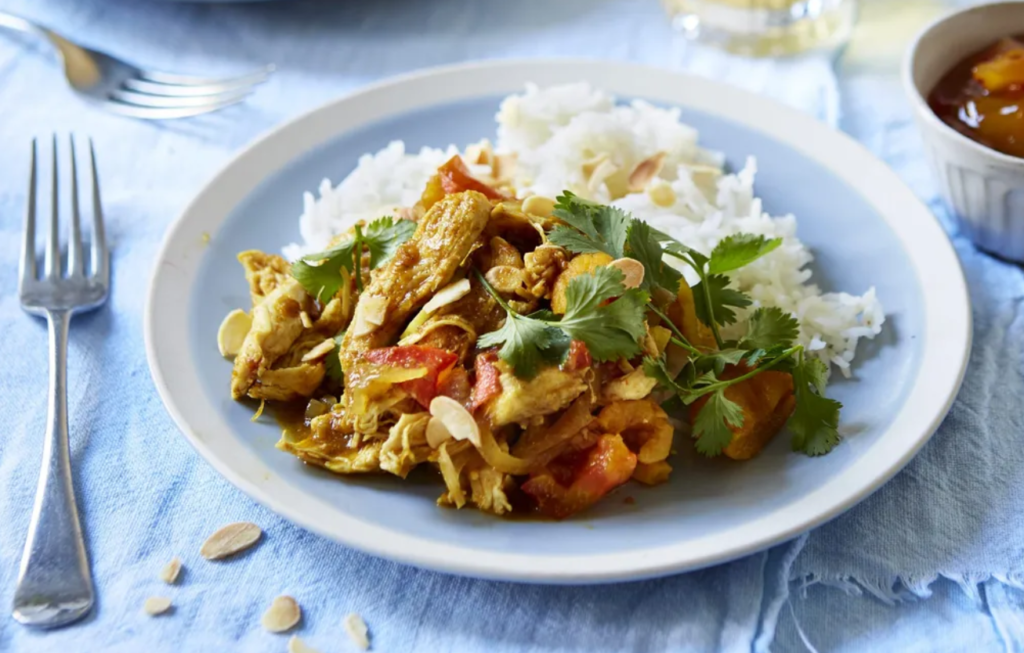 Also great for using up any leftovers, this rustic Christmas cooking dish takes around 40 minutes to whip up, including preparation time. It serves up to four people and contains around 400 calories per serving. It might just be one of the lower calorie options in this list of 21 cosy recipes for the festive season if that's important for you.
2: Game Pie with Cranberry Gravy
By Jus-Rol
Speaking of traditional dishes, every Christmas dinner table deserves the classic turkey with sides of mashed potatoes, stuffing, and cranberry sauce. If you are feeling experimental, try adding a unique twist to the classic turkey by spicing it up with a marinade of herbs and garlic. Another great idea would be to swap out your regular stuffing with a delicious sausage and pear stuffing.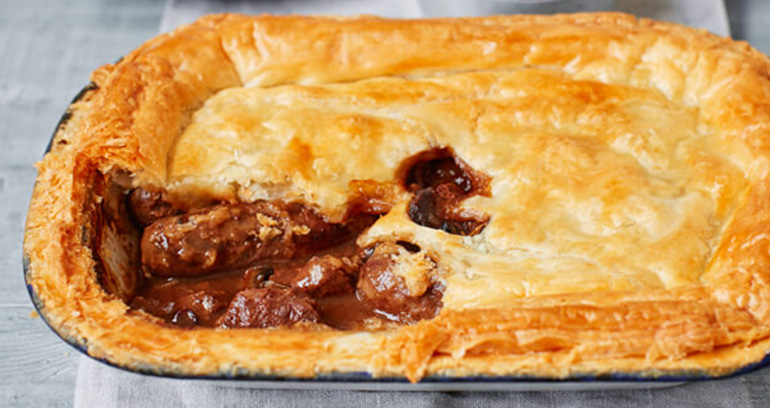 Or why not throw the whole turkey out and opt for something a little different instead? This game pie with cranberry gravy might not be to everyone's taste, but it's certain rustic and festive. Oh, and delicious sounding.
3: Roast Beef with Blackberry and Port Sauce
By Waitrose
Christmas dinner is the highlight of the holiday season. It's the time when we gather around with our loved ones, share gifts, and dig into some delicious food. For those who prefer to stick to the traditional Christmas dinner, there are classic recipes like roasted turkey, glazed ham, mashed potatoes, gravy, stuffing, and cranberry sauce.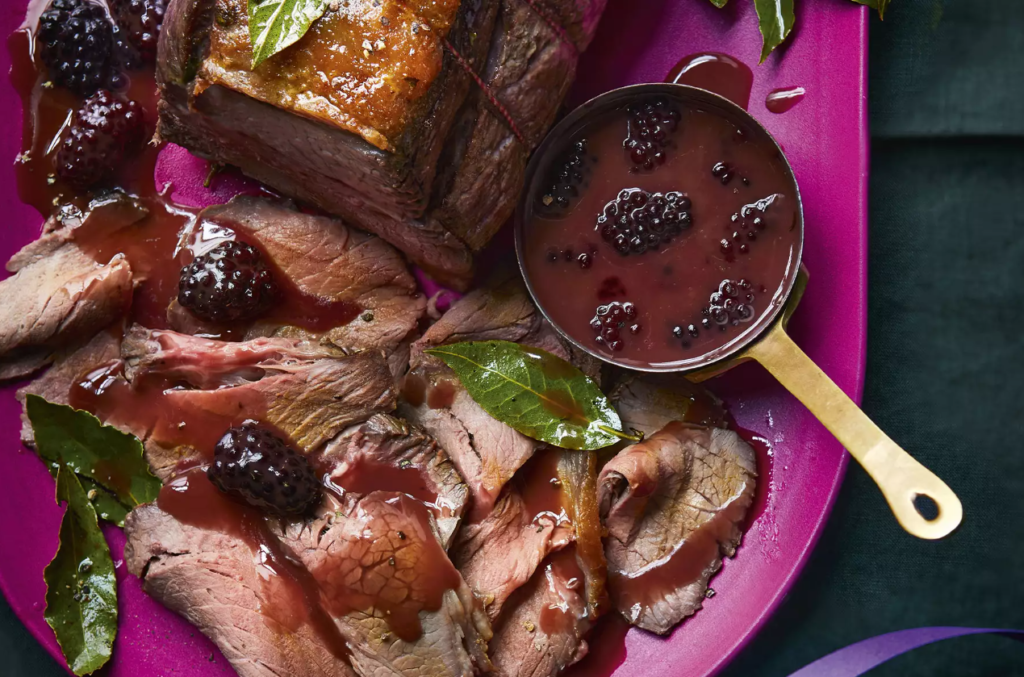 But if you're feeling a bit adventurous this year, you can opt for some creative alternatives to the classic menu. This roast beef with blackberry and port sauce is a great Christmas Day dinner that steps outside of the traditional lines. It's also a great way to use over any leftover beef too.
4: Vegan Portobello Wellington
By Co-op
How about trying a Christmas beef wellington, roasted lamb, or baked salmon? Or if you're a vegetarian, a stuffed butternut squash, lentil shepherd's pie, or a chickpea wellington could do the trick. You can also switch up the sides with roasted brussel sprouts, honey glazed carrots, sweet potato casserole, or roasted root vegetables.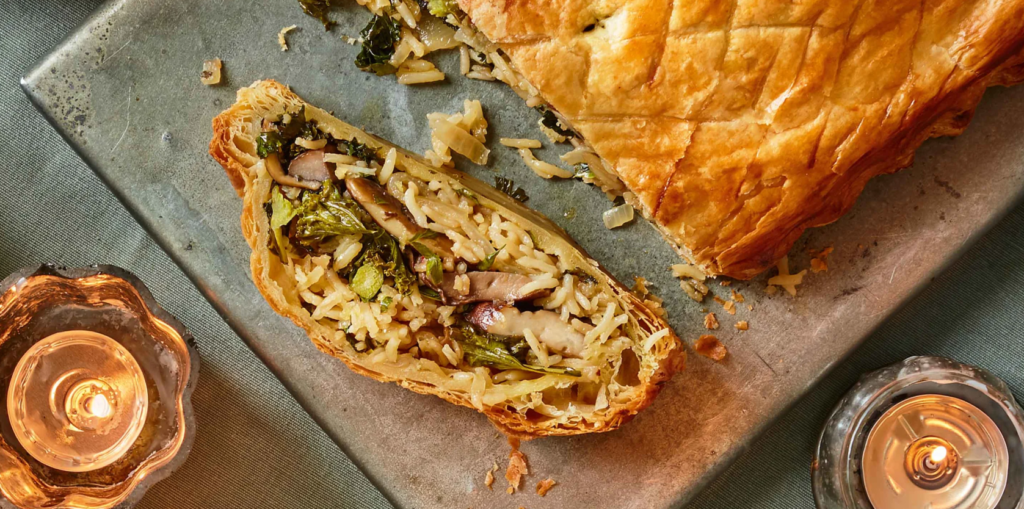 And, for my vegan friends, this vegan portobello mushroom wellington might tick all the right boxes. It feeds six, takes a little under two hours in total, and contains around 460 calories per serving. Filling, hearty, warming, and plant-based… What more could you want from rustic Christmas cooking ideas?
5: Three-Bird Roast
The key is to have fun and experiment with your taste buds. After all, it's not about the tradition, it's about being with those you love and enjoying a good meal together. So, whether you stick to the classics or try something new, don't forget to cherish the moment and spread some holiday cheer.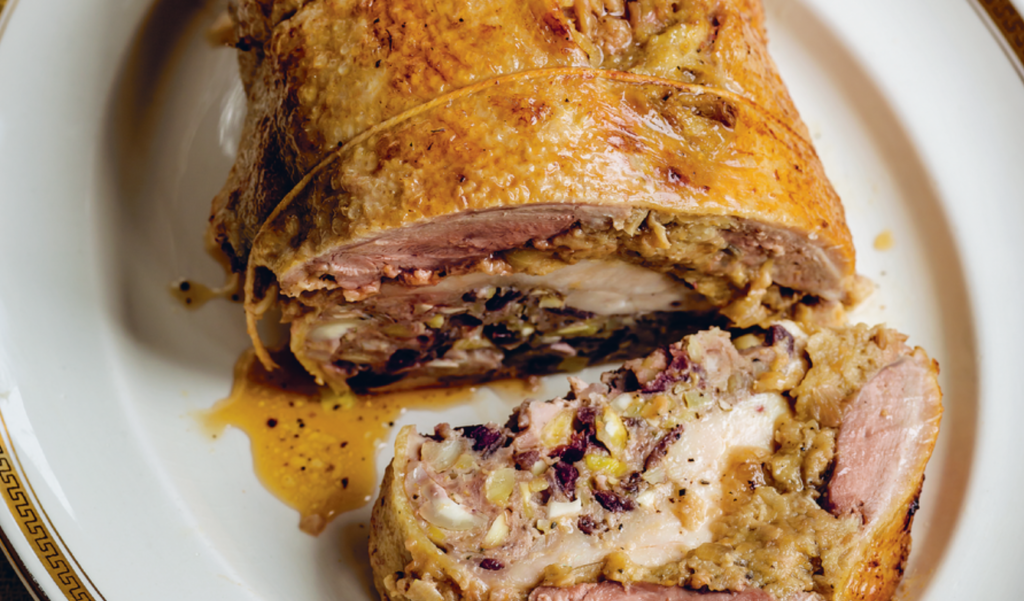 You can do all the preparation work for this three-bird roast at least a day in advance, keeping it all refrigerated until you're actually ready to cook it. With two different types of stuffing and, as the name suggests, three different birds, this is definitely going to be a Christmas Day centrepiece.
6: Vegetarian Creamy Mushroom Pie with Chestnuts and Easy Suet Crust
If you've got two hours of cooking time spare, you have the right amount of time to make this vegetarian dish. (You didn't think I'd forget about the vegetarian cozy recipes for the festive season, did you?) This is another dish that you can prepare in advance and store until the festive day, and it's great for autumn and winter alongside Christmas.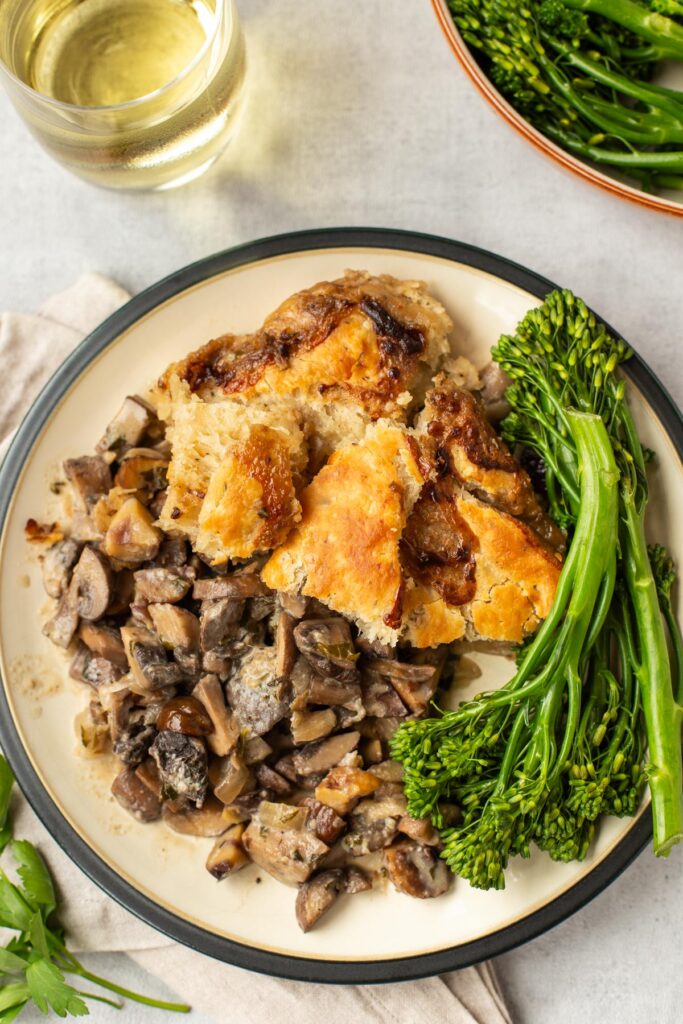 It's always a good idea to plan meals for festive (and other) events in advance. Decide on the dishes you want to cook and serve, then make a detailed shopping list. I also recommend checking in the cupboards to make sure what you do have is still in date and not expired. Preparation will help you stay organised and avoid last-minute stress.
7: Clementine, Thyme, and Honey-Glazed Turkey
While on the subject of Christmas cooking tips, here's another one for you: delegate any responsibility you can. What I mean by that is, get your older kids to peel the potatoes, ask a relative to bring the boozy beverages, and use other family members or friends to help make the process easier and quicker. I know not everyone will enjoy that tip, especially people who hate others being in the kitchen at the same time, but it's one that you should consider over the stressful time of year.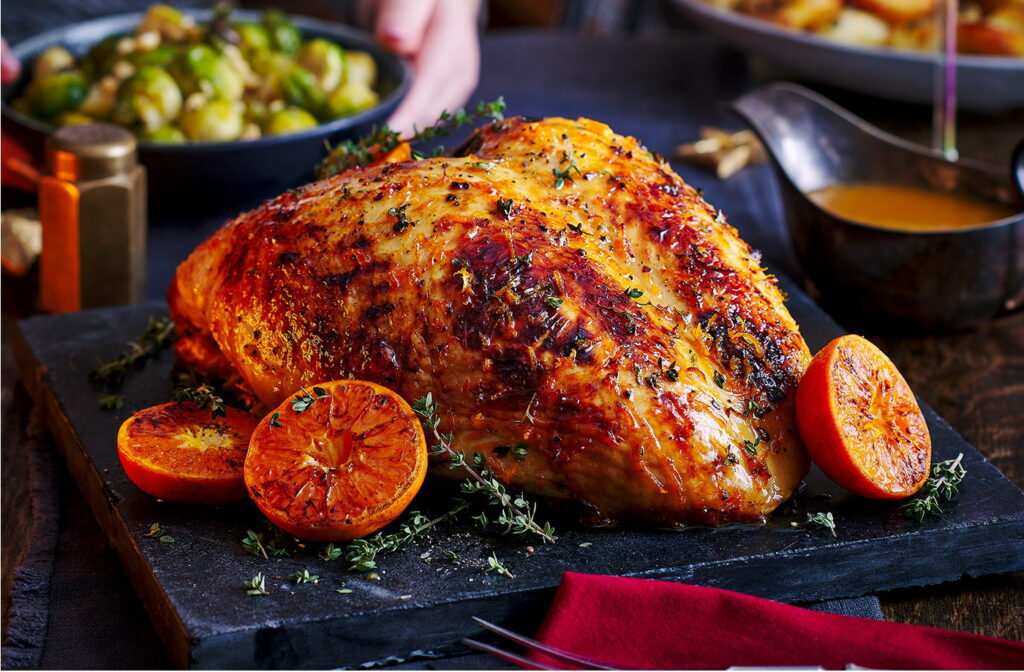 Anyway, this is close to the traditional cozy recipes for the holiday season, but with a sweet and citrus twist. You'll need turkey defrosting time along with around two and a half hours of preparation and cooking time. It serves up to six people, but I feel that it's important to tell you that each serving contains more than 700 calories.
8: Christmas Ham in Coke
The humble Christmas ham is actually thought to be a German tradition originally, with Pagans attempted to appease Freyr, who was the God of harvest, boars, and fertility, by cooking a Yule Ham. These days, we cook the ham because we enjoy eating it rather than to impress or please an entity.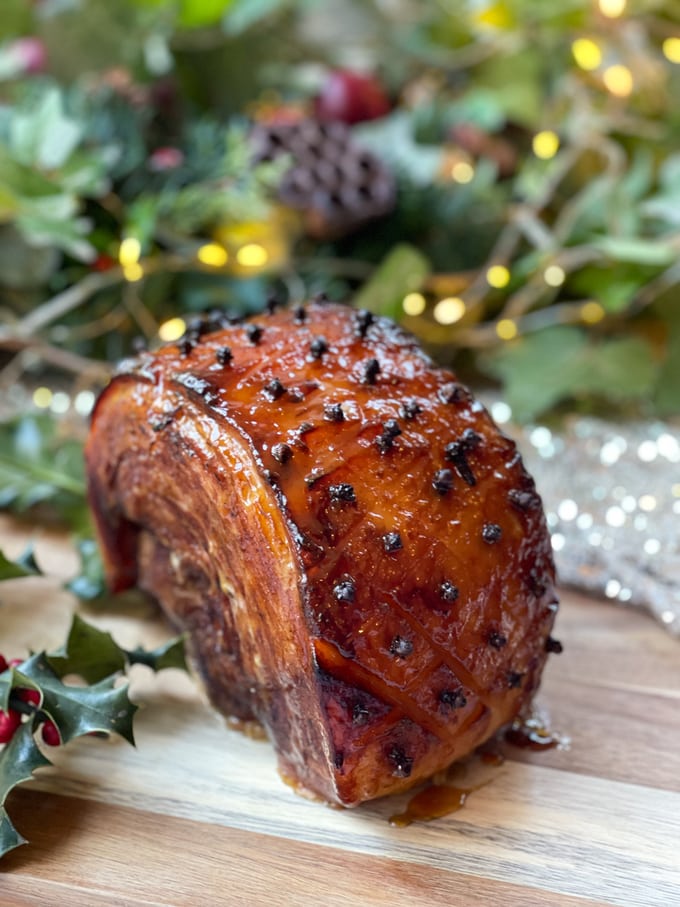 The best thing about this recipe is that the ham will stay fresh in the fridge for up to two days and you can chop it up and freeze it for later. You'll just need five minutes of prep time plus two hours and 35 minutes of cooking time.
9: Roast Venison Rack with Cumberland Glazed Shallots
By Waitrose
Venison is the culinary term used to describe the meat of deer. It typically has a deep, rich flavour that's often described as robust, slightly gamey, and lean. The taste can vary depending on factors such as the deer's diet, age, and the specific cut of meat.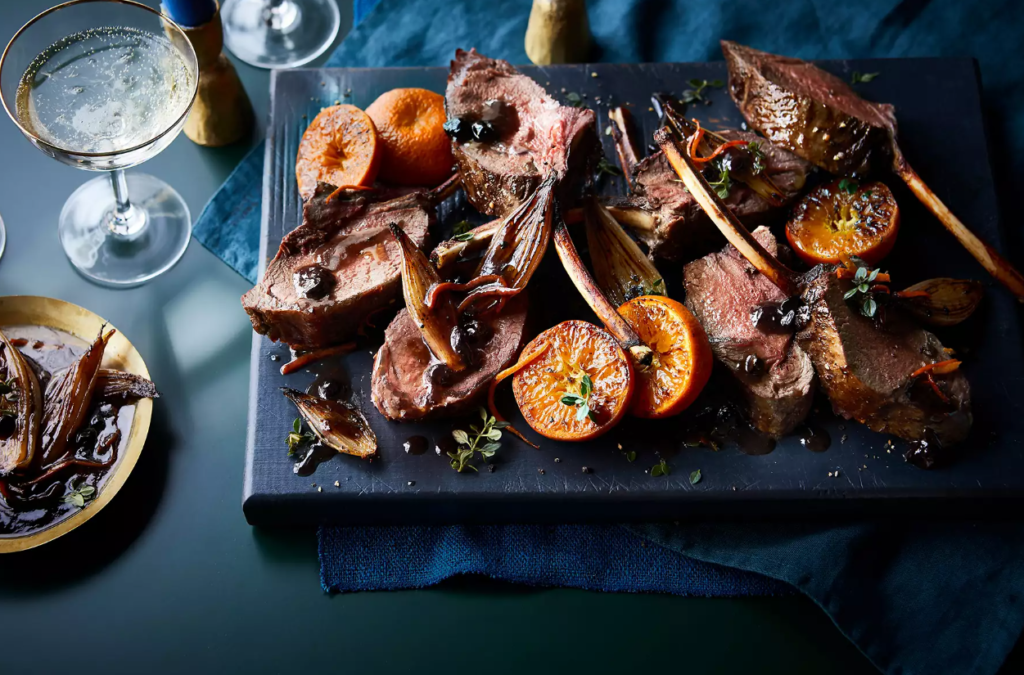 The flavour is often more intense than meats like beef or pork, and it can be slightly earthy or gamey. Some describe it as having a hint of sweetness and a texture that's leaner and less fatty than many other meats. If it's rustic Christmas cooking you're in to, this one definitely fits the bill.
10: Roast Duck with Masala Gravy
By Jamie Oliver
In many cultures, especially in Europe and North America, duck is a popular choice for Christmas dinners or holiday feasts. While turkey and ham are more traditional in certain regions, duck is considered a festive and special option for the holiday season.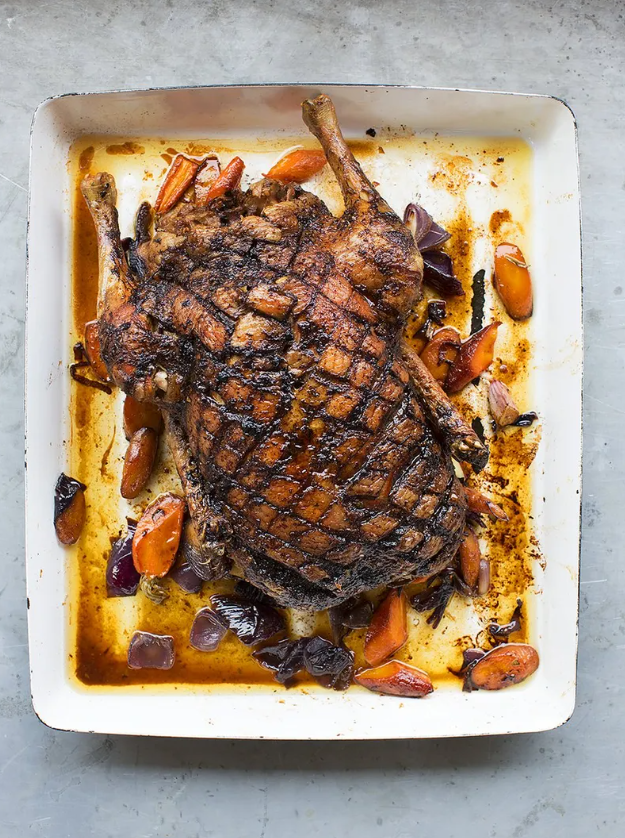 Fuss-free, lower calorie than many of the dishes on this list and serves up to six people – just three reasons why you should consider this for your Christmas Day feast. Jamie describes it as "not too tricky," and takes a total of two hours and 25 minutes of cooking time. With bay, five-spice, and clementine, it's definitely a festively themed feast if not traditional.
11: Roast Rib of Beef with Blackberries
By Asda
This dish takes around 15 minutes of prep time and 5 hours of cooking time, but it will be well worth the wait. Serving up to ten people, each serving contains under 500 calories. And don't feel overwhelmed about the long cooking time, either. You can leave it in the oven and forget about it for most of that time.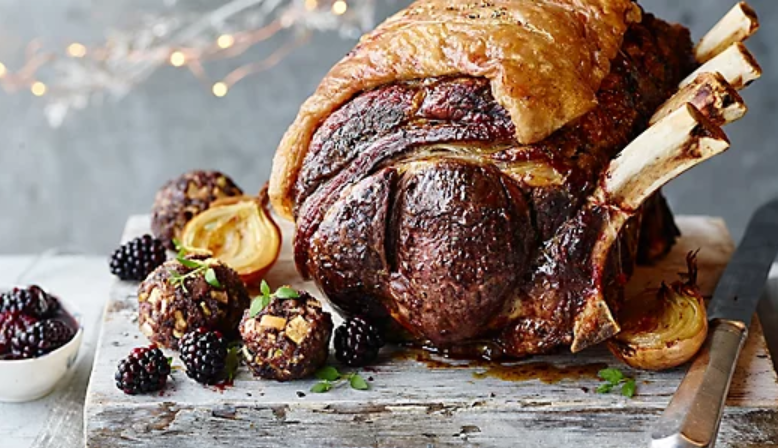 Some individuals or families simply prefer the taste of other meats over turkey. They might find the flavour of turkey less appealing or may wish to try something different for their holiday meal. Why not consider beef, or any other kind of meat? There are no real rules for Christmas. Santa Claus isn't going to put you on the bad list just because you had beef instead of turkey, I promise!
12: Sticky Glazed Christmas Chicken
If the holiday gathering is smaller and doesn't warrant a large turkey, some might choose a smaller, more manageable meat like duck, chicken, or a roast. Chicken is a safe option for many people, but that doesn't mean it needs to be a boring one – and this recipe proves exactly that.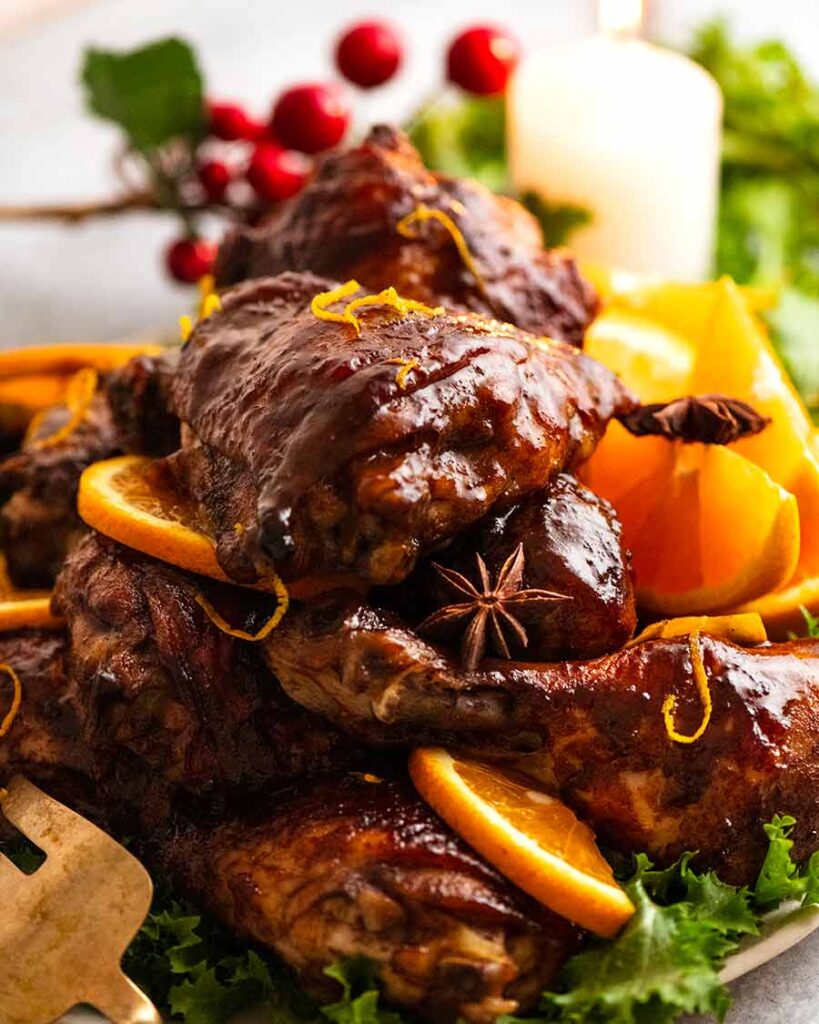 Alongside being delicious and a little break from tradition, this chicken Christmas dish takes just an hour of cooking and ten minutes of prep work. It'll serve up to eight people, is super sticky on the outside, and brings all the flavours of Christmas together in a wonderful turkey alternative.  
13: Pot Roast Pheasant with Pancetta, Apples, and Bread Gravy
By Cook Sister
Ultimately, the decision to avoid turkey on Christmas Day is a matter of personal preference, dietary choices, or simply a desire for a change from the traditional holiday meal. There's a wide variety of delicious alternatives available, such as duck, roast beef, ham, lamb, or even vegetarian/vegan options, offering a diverse selection to suit different tastes and preferences.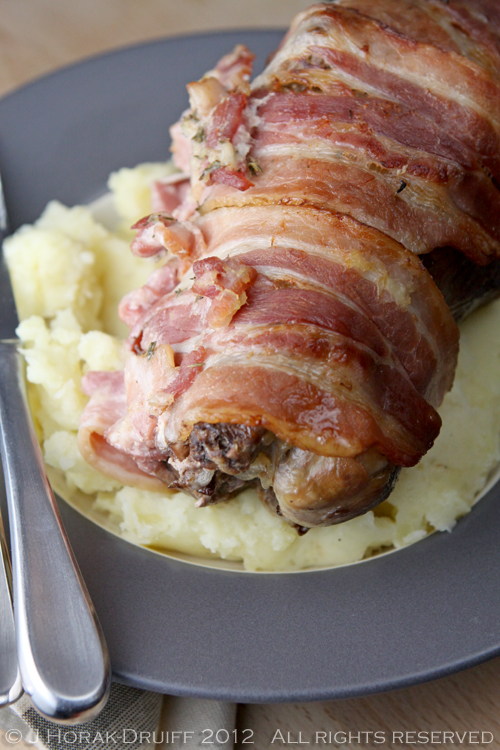 Pheasant is another meat idea you might not have thought of. It can make a delightful and special dish for a Christmas meal. It's a flavourful, lean bird with a slightly gamey taste that can be beautifully prepared for a festive occasion.
14: Slow Cooker Mulled Wine Brisket
Most of us have a slow cooker now, right? I know that everyone in my family has one, because they keep telling me about it. Slow cookers are winter appliances, so it's probably around about now that everyone's yanking them out of the cupboard. This is the perfect festive recipe for yours.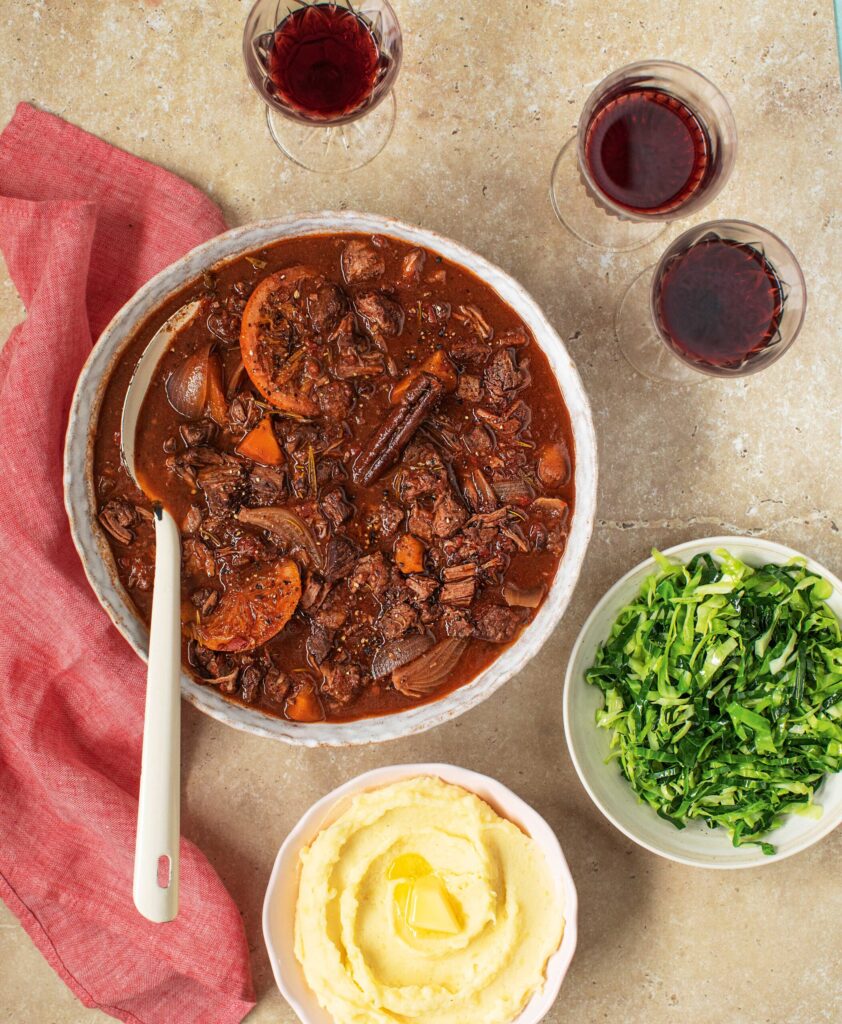 This dish is super easy, serves up to six people, and contains fewer than 500 calories per serving, which we love, right? I sure do, anyway. You can serve this mulled wine brisket up with anything you like, but the recipe creator recommends seasonal veg and mashed potatoes. What makes this dish even better is that it makes for a great autumn/winter dish, so you can serve it up at other times than Christmas.
15: Chestnut and Pepper Crusted Salmon Fillet
By A Mummy Too
Have you ever considered having fish for Christmas Day dinner rather than turkey or other types of land meat? Salmon is a somewhat costly and 'posh,' so it's a great stand-in for the meat in alternative rustic Christmas cooking ideas. It's still a festive themed dish, though. The chestnuts bring an air of festivity, and the speed and ease at which you can cook it will surely appeal to many a household.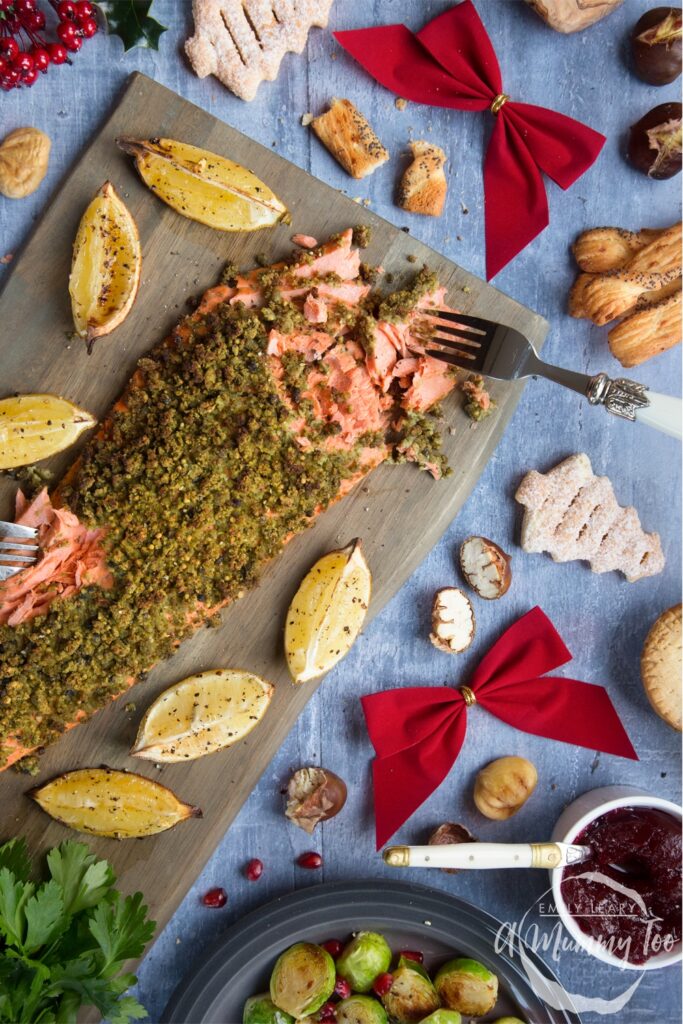 You'll roughly 15 to 20 minutes of preparation time, plus around 30 minutes of cooking time. If you're a calorie counter, you'll be happy to know that one serving of this top-notch dinner contains just 258 calories. Did someone say, winner, winner chicken dinner?
16: Cranberry Chicken
Cooking a large turkey can be time-consuming and complex. Some may prefer a different meat that is quicker to prepare or requires less effort to cook. This cranberry chicken recipe fits into the less-effort box, and also takes a lot less time. You'll just need five minutes for prep plus half an hour for cooking.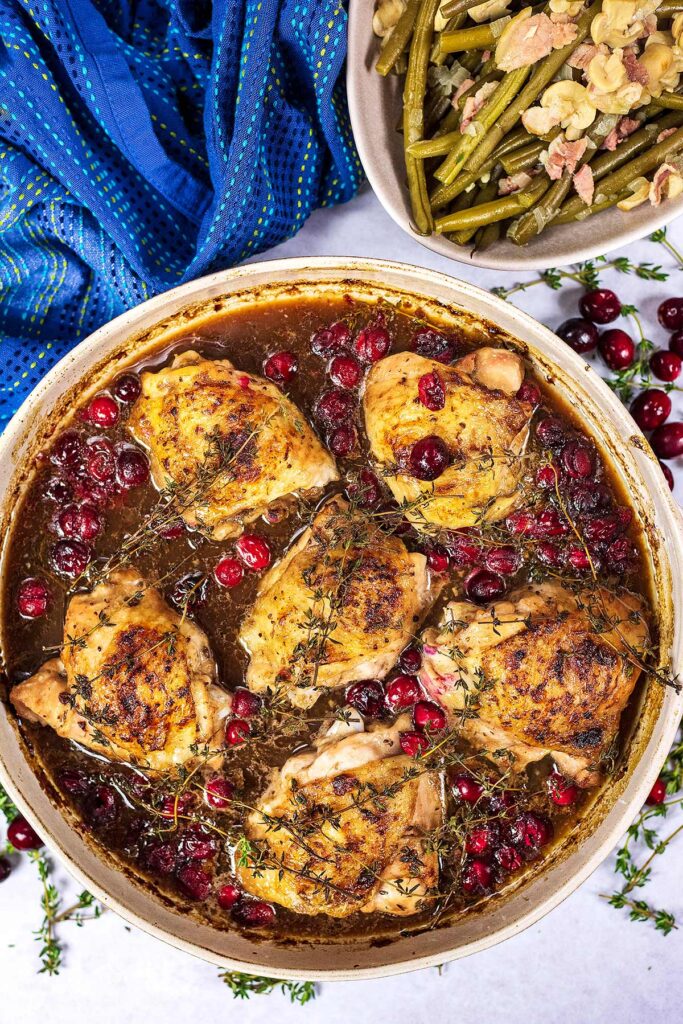 Not everyone likes turkey on Christmas Day, or even any other day. You should bear this in mind if you're planning on cooking for a group. It's well worth asking people to check for dislikes, dietary requirements, and food preferences. Gluten-free, vegan, vegetarian, and dairy-free are a couple of options you might need to consider.
17: Vegetarian Christmas Nut Roast
By Supper in the Suburbs / Yummly
For this festive dish you'll need 24 ingredients, 50 minutes, and… well, probably a diet post-Christmas. Just one serving of this veggie-friendly nut roast contains more than 800 calories, so it's definitely best thought of as a once-in-a-blue-moon treat. (Well, if you're me, anyway.)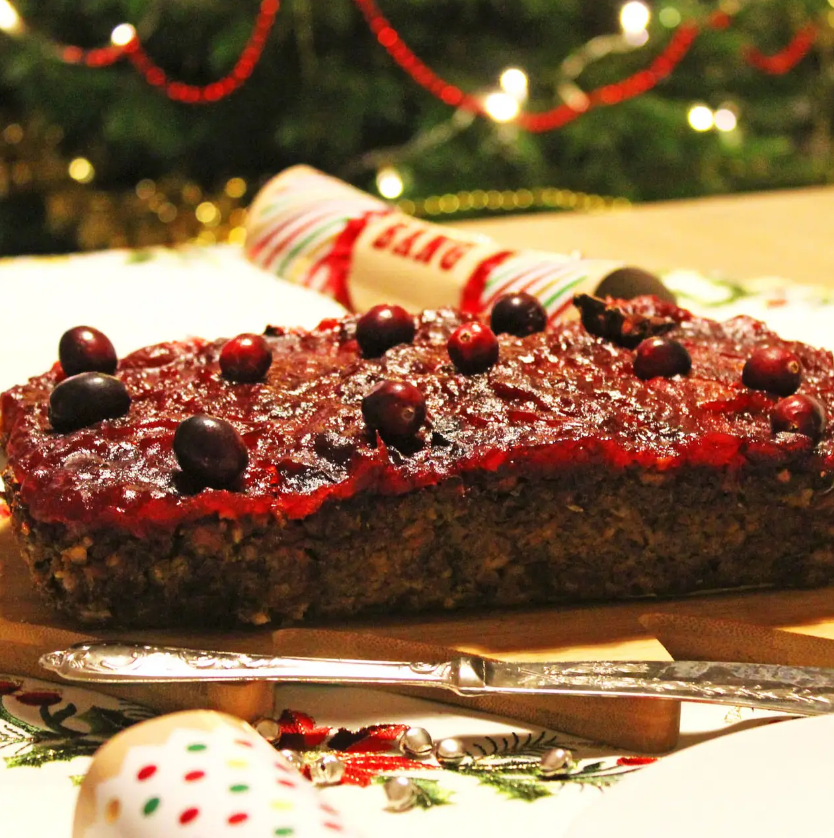 Today, Christmas dinners are often a blend of tradition and innovation. While roast turkey and ham remain popular in many places, there's an increasing emphasis on accommodating dietary preferences and diverse cultural influences. Vegetarian, vegan, and gluten-free options have become more common. Additionally, international cuisine and fusion dishes have made their way onto Christmas dinner tables, reflecting the multicultural nature of modern societies.
18: Air Fryer Turkey Crown
Post-World War II, the economy improved, and Christmas dinners began to reflect the abundance of the times. Turkey became the dominant centrepiece, along with various side dishes like roasted vegetables, stuffing, cranberry sauce, and gravy. There was a more diverse range of options, and people embraced a mix of traditional and newer dishes.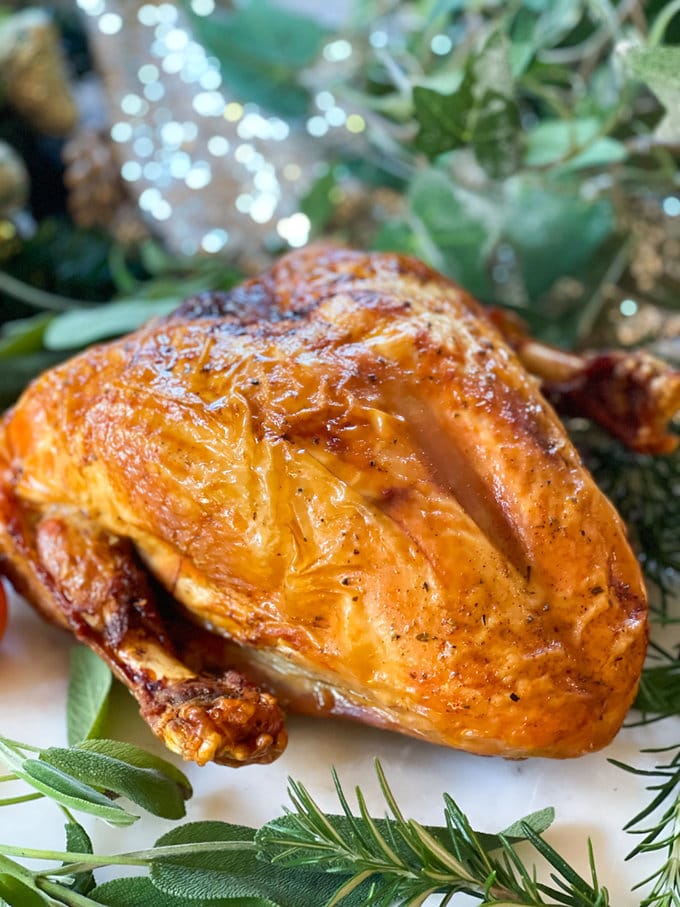 Just take this recipe as an example. It's definitely not traditional, cooked in an air fryer instead of an over. But, at the same time, it is traditional. You're still eating turkey on Christmas Day. You're still rustic Christmas cooking. It's just been given a modern upgrade.
19: Turkey, Cranberry, and Pecan Wellington
By Jus-Rol
Christmas isn't just about the classics; it's about getting creative with your cooking! Impress your guests with a creative twist on the classic Christmas roast by adding a maple glaze or topping with a cranberry sauce. If you're feeling particularly adventurous, consider making a savoury bread pudding with mushrooms and onions instead of a traditional side dish.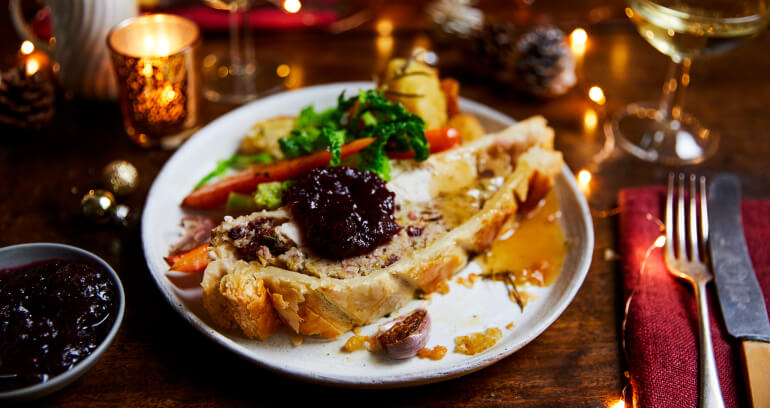 Alternatively, serve your turkey up in a slightly different way, such as this turkey, cranberry, and pecan wellington, which is bound to get everyone's mouths watering!
20: Six-Hour Slow-Roasted Lamb Shoulder
During medieval times, Christmas feasts were extravagant and often included roasted meats, particularly boar's head, venison, or goose. The wealthy showcased their affluence by serving numerous dishes, including spiced and sweetened meats, pies, and a variety of spices. Recipes for the cooking season have changed considerably over the years, and from culture to culture.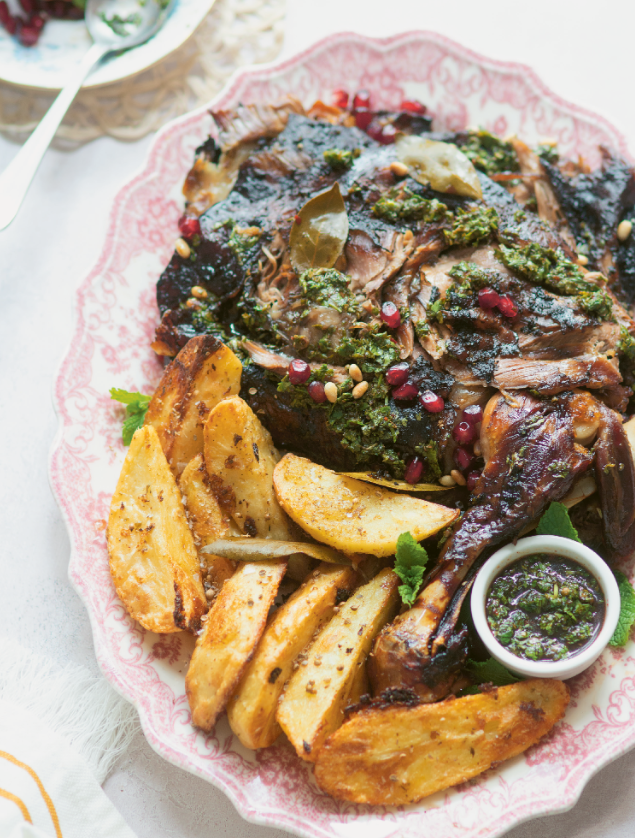 Christmas meals continued to be lavish in the 14th, 15th, 16th, and 17th centuries, incorporating more variety in ingredients and spices. Turkey became popular during this period, while other meats like swan, peacock, and even hedgehog were served as delicacies. Fruits, nuts, and spiced desserts were also prevalent. So, before you think that this slow-roasted lamb shoulder, salmon, or any other type of non-traditional festive dinners aren't good enough, you should consider the idea that, actually, you might be right.
21: Spanish Christmas Lamb
The Victorian Christmas dinner, popularized by Queen Victoria and Prince Albert, focused on elaborate and formal dining. Traditional dishes such as roast goose, turkey, or beef were common. Mince pies, plum puddings, and fruitcakes became essential desserts. The Victorian era also saw the popularization of Christmas crackers and the inclusion of the Christmas tree as a centrepiece of the celebration.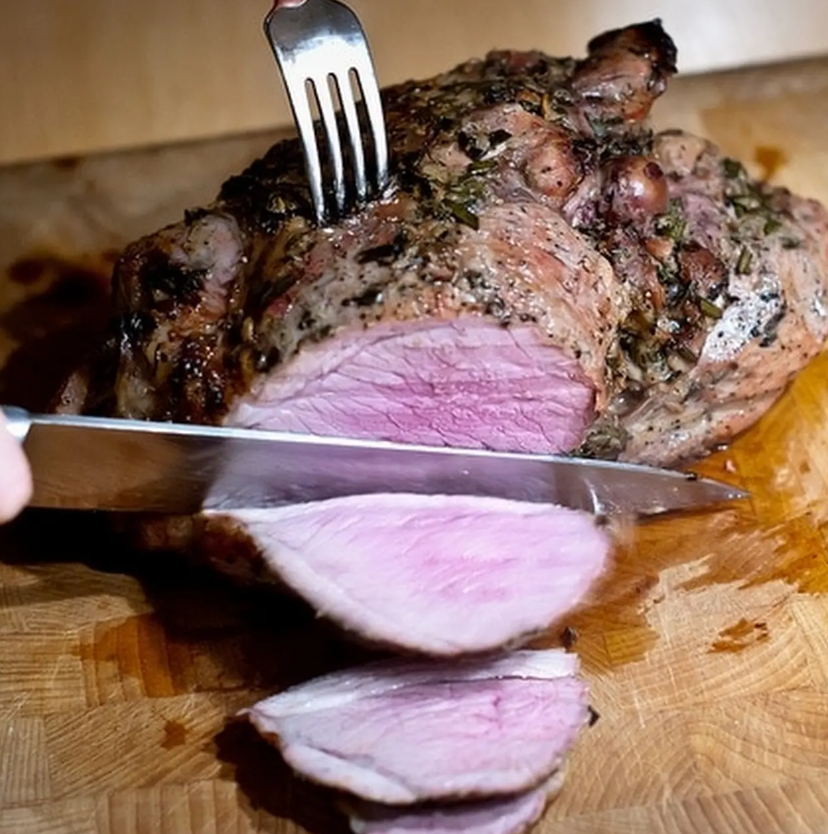 During times of war, rationing affected the availability of certain foods, impacting Christmas dinners. Families had to make do with limited supplies, and there was a shift towards more frugal and resourceful recipes. Traditional dishes were simplified or replaced with more available ingredients. So, I recommend simply using what's at hand or what's easy to get. There's no point in complicating your life unnecessarily.
Rustic Christmas Cooking: Final Words
The possibilities for Christmas food are endless, and with a bit of creativity and some traditional touches here and there, you can definitely impress your guests with a delicious spread. So, roll up your sleeves, turn on the oven, and get cooking!
I think you might also like these: