Some of the links on this page are affiliate links, which means that Buzzy Kitchen earns commission from purchases made – at absolutely no extra cost to you. Thank you so much for supporting Buzzy Kitchen!
---
The last thing you'll want to do after a long day at work is come home and have to think about what to make for dinner, right? Well, there's good news on the horizon, folks. I've gone on the hunt for the best, tastiest, in-season dinner ideas for November, all the hard work of deciding is taking away from you. Well, almost. You'll still need to decide which of these 21 dinner ideas tick all the right boxes for you.
Why don't we jump right in?
21 Dinner Ideas for November
You'll find a little bit of everything in this list of 21 dinner ideas for November. Vegan, vegetarian, gluten-free, meaty, cheesy, easy, and even a little bit complicated to impress – there's something for everyone. But, if you still haven't found what you're looking for, there are plenty more recipe lists on Buzzy Kitchen to peruse. You'll find links to those at the bottom.
But, without any further bluster, let's get to it.
1: Sweet Potato Turkey Meatballs
By Jo Cooks
This delicious dinner dish for November takes just 15 minutes of prep work plus 20 minutes of cooking time, and contains one of the tastiest foods in season, in the UK, for November. That is sweet potato, in case you hadn't guessed.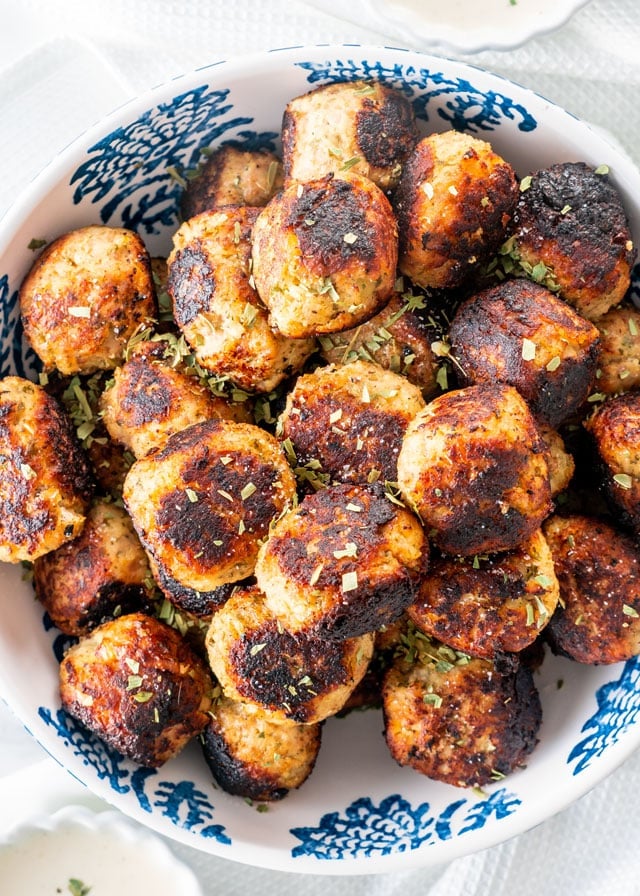 This recipe pairs the sweet potato and turkey meatballs with a creamy maple syrup dipping sauce, but there's absolutely nothing to stop you from switching it out for a side salad, some garlic bread, or any other side that takes your fancy.
2: Beef and Ale Casserole with Horseradish and Stilton Dumplings
Horseradish is another great seasonal food for November, although most of us associate it with Christmas Dinners. It was always on the table at my Grandparents' house at festive events, and it's definitely a great meal to bring to the table over winter.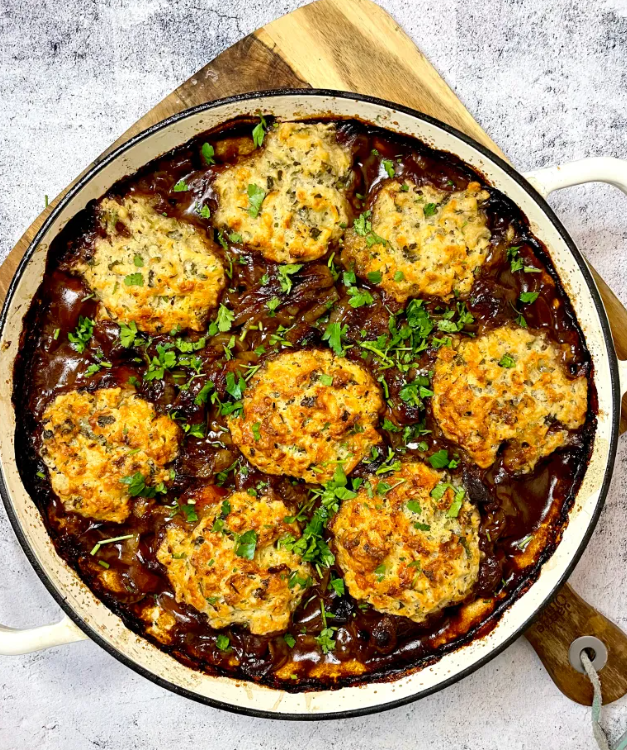 In case you haven't cooked with it before, horseradish is a root vegetable, similar in appearance to a parsnip. It has a super strong and spicy taste, and it can bring tears to your eyes in a chilli-onion-like mix. It's usually mixed with other ingredients, such as vinegar, to bring the spiciness down and make it more palatable.
3: Turnip Fries
If you're in the market for an alternative to fries as a side dish over winter, turnip chips (or fries) make the perfect substitute. They have a slight nutty flavour to them, which makes other ingredients such as lemon, garlic, Parmesan, nutmeg, and others work so well with them.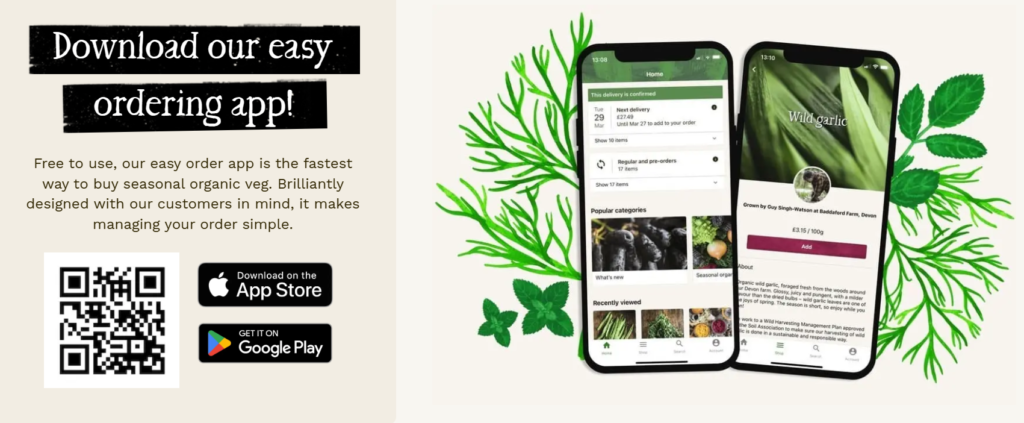 These chips take 45 minutes to make, with 15 minutes of preparation time and 30 minutes of cooking. They're great for autumn and winter dinners or lunches, and they're dairy-free and vegan-friendly! And, if all of that wasn't good enough, these chips are also super customisable.
4: Bacon, Sage, and Pumpkin Pasta
If you need to use up all that pumpkin leftover from Halloween, this is a great way to do it. Simple, filling, and customisable, the mix of garlic, bacon, and sweet roasted pumpkin will act like a winter warming hug at the end of a long day. You can even take the leftovers to lunch with you the next day, eating it either hot or cold.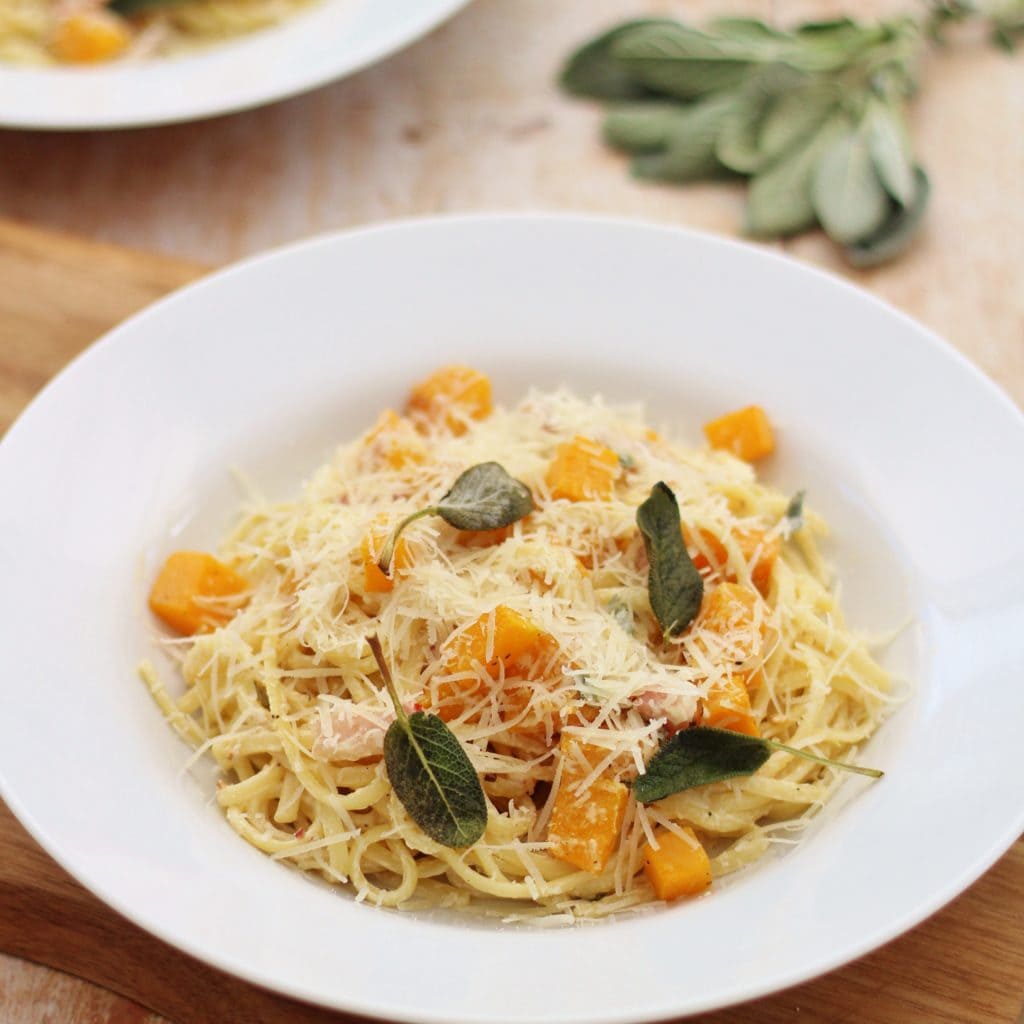 Pumpkin is super nutritious; in case you didn't know. Not only is it high in fibre, but pumpkin is also low-calorie, contains vitamins C and E, boosts beta-carotene, and can help with iron and potassium levels. And, speaking from my own personal experience, it's utterly delicious.
5: Carrot and Fresh Coriander Soup
Soup is a great winter warmer, and it's also super economical, too. You can make a big batch and freeze leftovers for later or throw it in a thermos flask and enjoy it for lunch the next day. There are also so many variations you could make. I've gone for carrot-based soup for this list of dinner ideas for November, because carrots are, as you might've guessed, in season!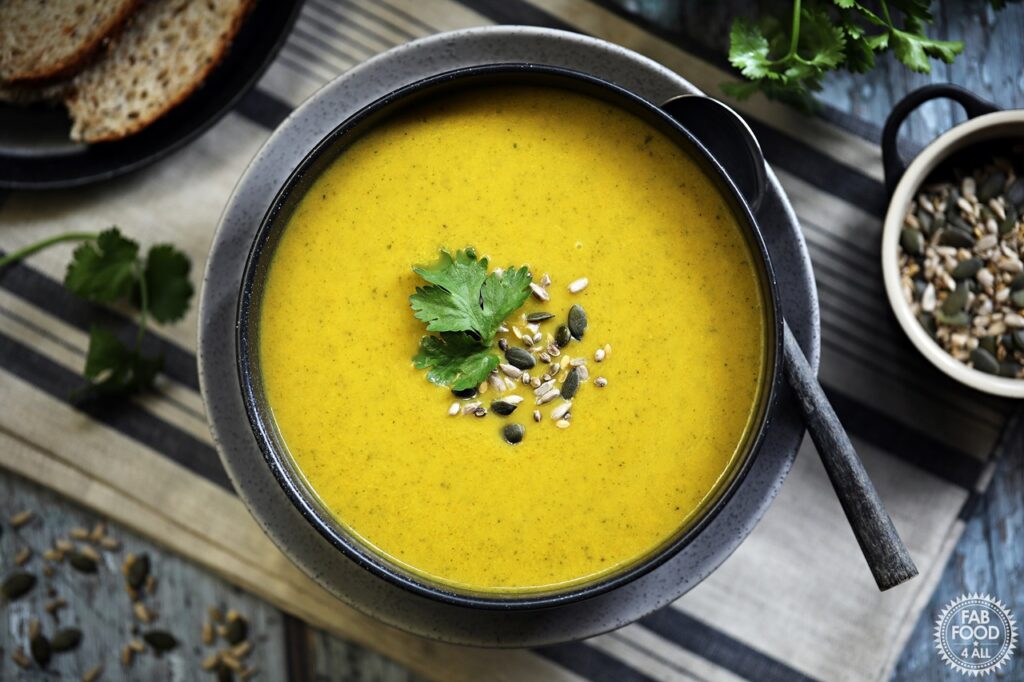 And if carrot and coriander doesn't tickle your pickle, you can always opt for carrot and parsley soup instead! We love options, right? (But not too many options because then we won't be able to make our minds up.)  
6: Chicken, Spinach, and Tomato Lasagne
Another nutritious food that's seasonal in the UK, in November, spinach might not be the first ingredient you'd think you add to a lasagne, but when you mix in tomato and chicken, you've got a lasagne with a twist that the entire family can enjoy. (Or you can have two servings and lunch leftovers, obviously.)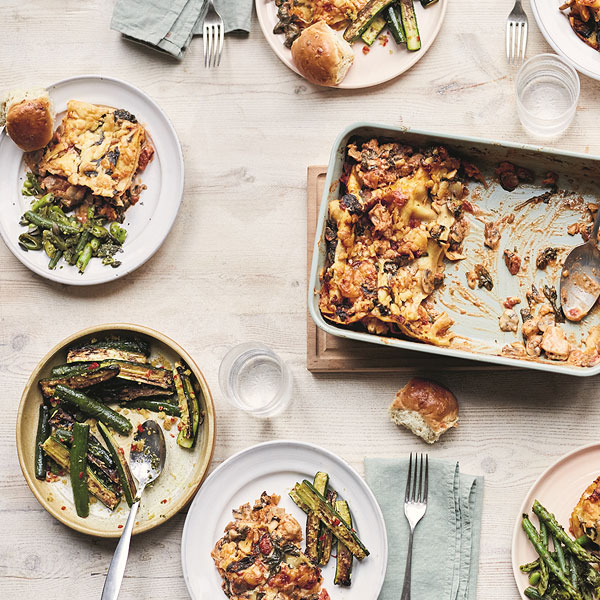 This one will take you 40 minutes in total, and can be served up alone or with a side, such as fries, asparagus, garlic bread, etc. You can make it up to six hours in advance, and you can also create single portions for freezing the not yet cooked leftovers.
7: Halal Beef Goulash
Goulash is a traditional Hungarian stew known for its rich and hearty flavour. It typically consists of tender chunks of beef or pork simmered with onions, paprika, bell peppers, and tomatoes, seasoned with various spices, such as, caraway seeds, garlic, and bay leaves. Many households around the world agree that it's a great autumn-winter warmer.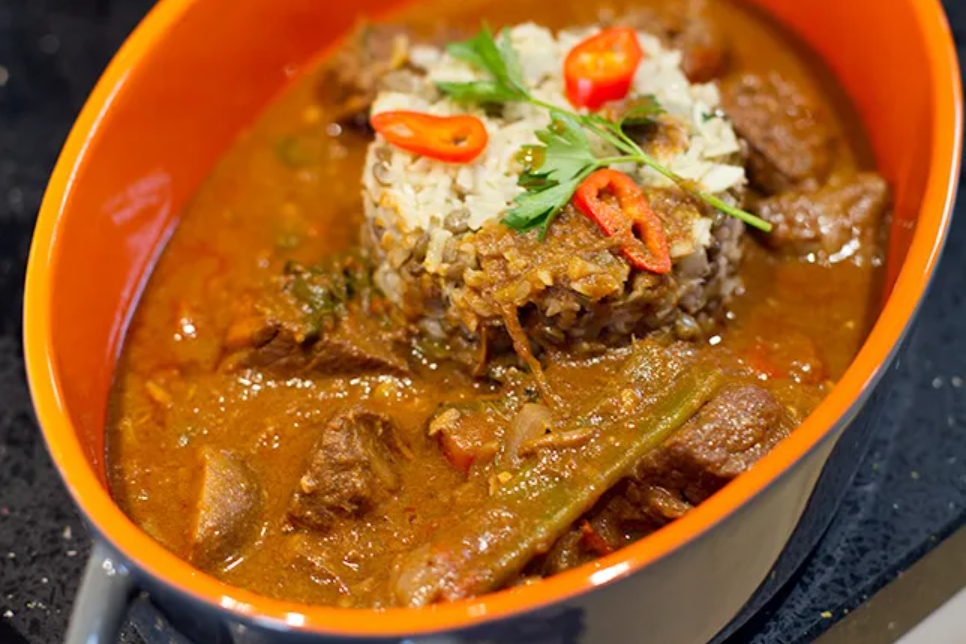 You can add all sorts of other ingredients to goulash alongside serving it up in a variety of ways. Throw in potatoes and carrots, or serve it up with pasta, rice, or bread. The possibilities are endless. You can even make vegan or vegetarian varieties of the dish, too.
8: Lentil, Mango, and Spinach Dahl
By Co-op
If you need gluten-free, vegan, vegetarian, or high-protein dinner ideas for November, this dish ticks every single one of those boxes. The recipe feeds up to four people, takes 45 minutes to whip up in total, and incorporates spinach – one of the November seasonal foods in the UK.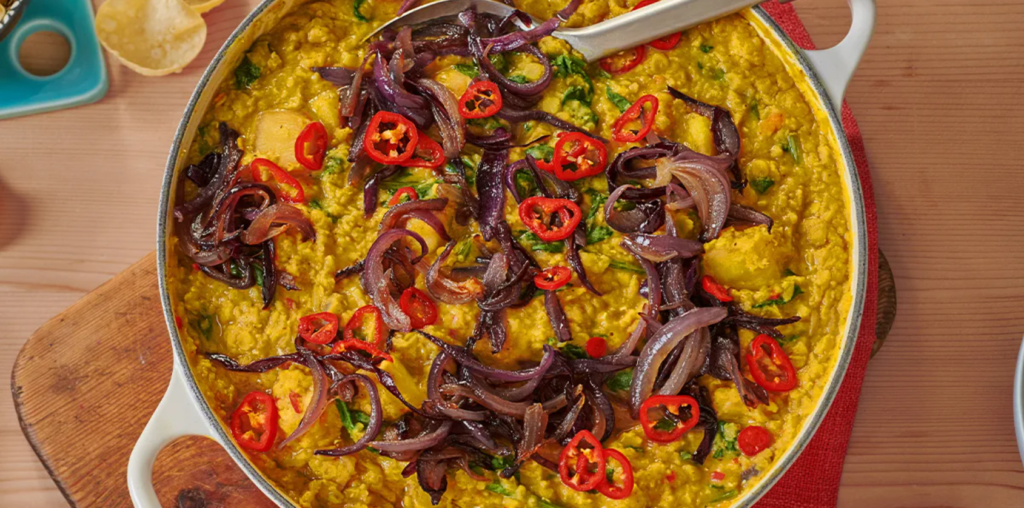 You could always add meat to this dish if you're not vegan or vegetarian. Lamb, chicken, turkey, or whatever you like can work, and you could also tweak the other ingredients to better suit your dietary preferences or requirements. Also, it sounds delicious, don't you think? I certainly do!
9: Pumpkin Mac n' Cheese
This delicious recipe is just the thing for the end of a long, cold day. It'll comfort you, fill you up, and satisfy you, all in one. You just need 20 minutes of prep time, 30 minutes of cooking time, and then probably 5 minutes to entirely devour it.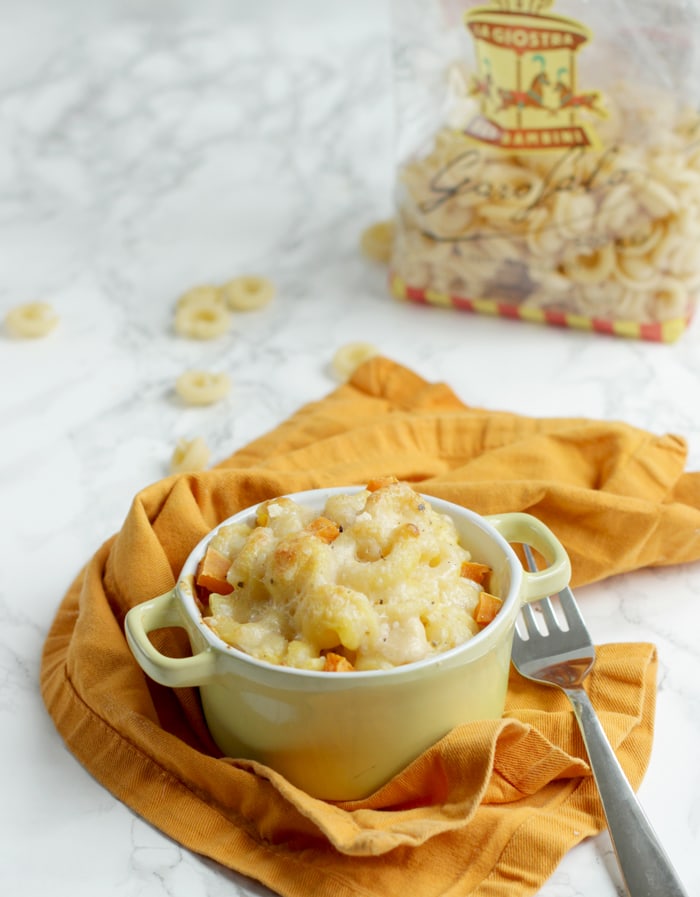 This recipe serves up to six people, but you can always serve one or two and keep the rest for lunch leftovers. And if that wasn't awesome enough, you can always freeze un-baked leftovers. Cooking larger batches of food and then freezing them is a really great way to get yourself sorted for winter!
10: Blue Cheese Pasta, with Spinach, Mushrooms, and Walnuts
I'm bringing seasonal spinach back into the mix with this delicious dinner idea for November, which combines nutritious greens with mushrooms, walnuts, blue cheese, and pasta. And the best news is, it takes just 25 minutes, from start to finish, to make it.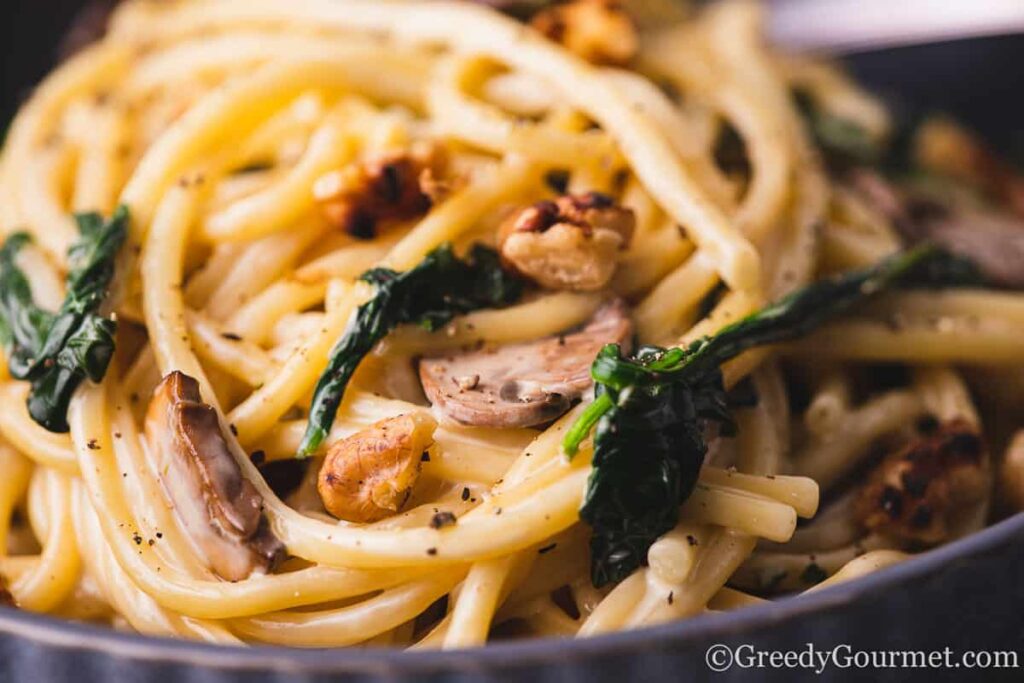 Mushrooms are available all year round in the UK, but they're especially delightfully during autumn and winter. This dish is packed with flavoursome, healthy foods, making it nutritional, delicious, and one to fall on when you don't have a lot of time on your hands.
11: Air Fryer Chicken Tikka Masala
If you wanted a quick, easy, no-fuss dinner idea, this air fryer chicken tikka masala dish will definitely tick those boxes. Let the chicken marinade for 30 minutes, then use your air fryer instead of the oven or stove. You'll save money, energy, and time. And what's not to love about that?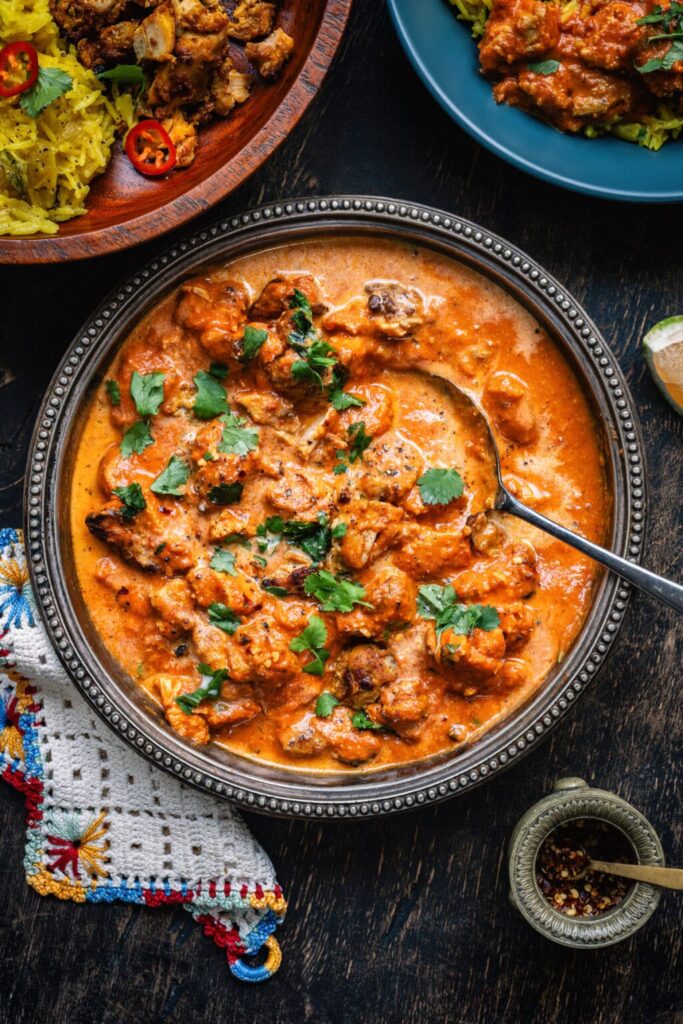 I've actually made this dish for myself and friends, so I can confirm that it is every bit as easy and delicious as it sounds. You could also use this recipe as the base for others, too. Don't fancy tikka masala? Turn it into korma instead. Need a healthier option? Switch the chicken for turkey. There are plenty of ways to tweak this recipe to make it more your own.
12: Vegan Broccoli and Beans Spaghetti Baked with Tahini 'Cheese'
By Veganuary
For my vegan friends out there, this one's for you – and it's a quickie! With just 15 minutes of prep time and 15 minutes of cooking time, it'll serve two, but you can always double-up the recipe to serve four.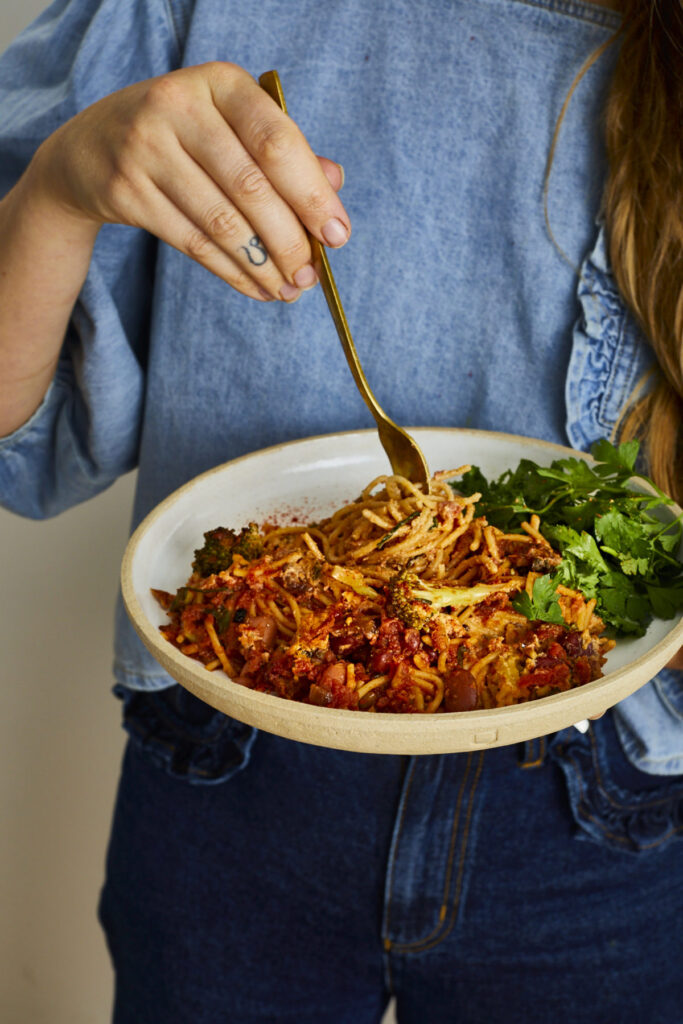 Tahini is a Middle Eastern staple, a paste made from ground sesame seeds. The smooth and creamy texture works great for pasta dishes, and it closely resembles peanut butter in appearance. The taste isn't only nutty, however. Instead, it's described as a little bitter alongside the distinct nuttiness.
13: Cheesy Parsnip Gratin
By Pinch of Nom
Many of us will associate the humble British parsnip as a festive ingredient, but it's actually seasonal in the UK from the end of autumn until just before spring starts. From October/November to February are considered peak times.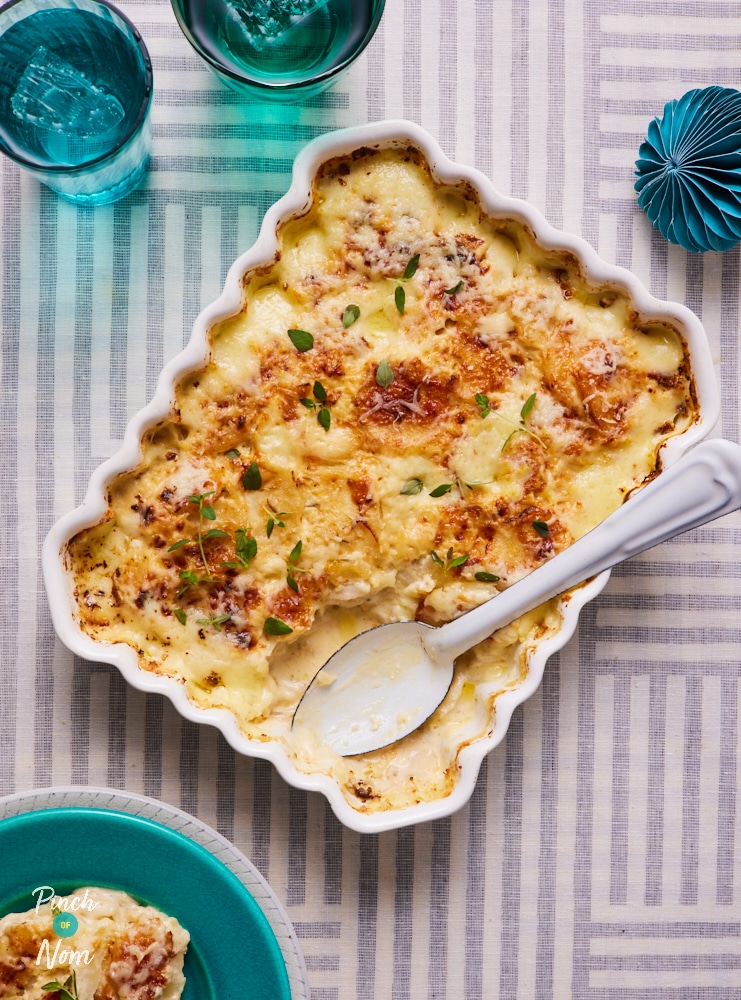 This family favourite, which could be a side or a main, depending on your dietary preferences, takes one hour to cook, with only 10 minutes of preparation work. The recipe will serve up to six people as a side, and it'll make for tasty re-heated leftovers, too.
14: Sticky Pomegranate Chicken
By Waitrose
Pomegranates are, as you might have guessed at this point, are another seasonal delight in the UK, in November. It's not just a fruit you can use in sweet recipes and drinks, however; pomegranate is a great ingredient to incorporate in several savoury dishes, such as this one!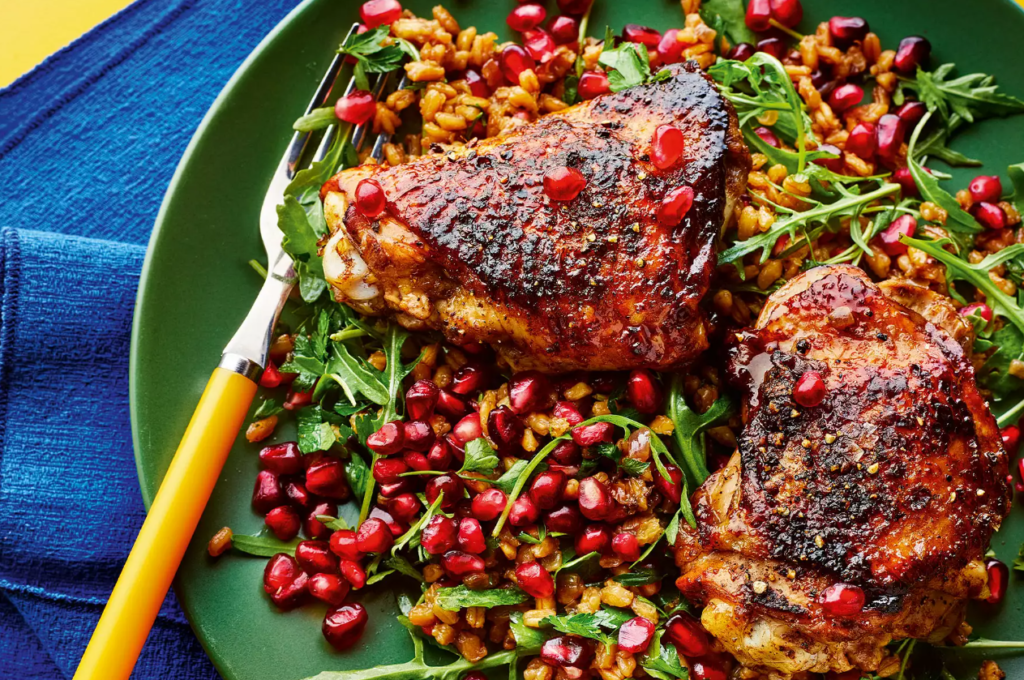 The seeds of this fruit adds a delightful red colour to any dish, and it works so well against the paleness of the chicken. You'll need 15 minutes of prep time and 50 minutes of cooking time, along with optional marinating time.
15: One-Pot Cheesy Haddock and Leek Chowder
By Gousto
Another November seasonal vegetable is leek, and this one-pot dinner dish not only contains it, but does so in a way that is delicious, winter-warming, and filling. You won't have any leftovers if you serve this one up to the family, that's for sure.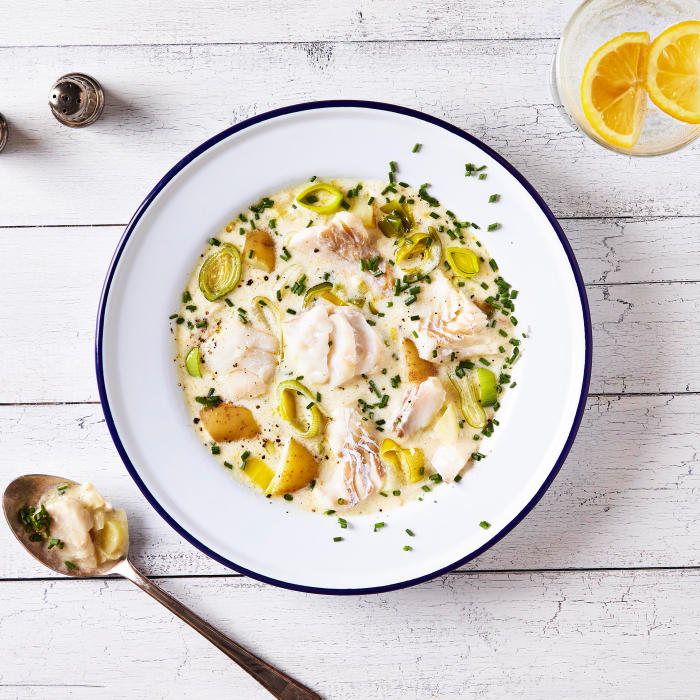 The recipe serves two people, and it only takes a maximum of 25 minutes to whip up. And it gets better: there's only 399 calories per serving, which means you can add a slice of bread or two on the side. We love a low-calorie dish, right?
16: Beetroot and Carrot Soup with Feta Cheese
If you've got five minutes of preparation time, you can make this beetroot and carrot soup with feta cheese. The latter is optional, of course. The soup will also require 25 minutes of cooking time, but it's kid-friendly, super nutritious, and great for winter evening meals.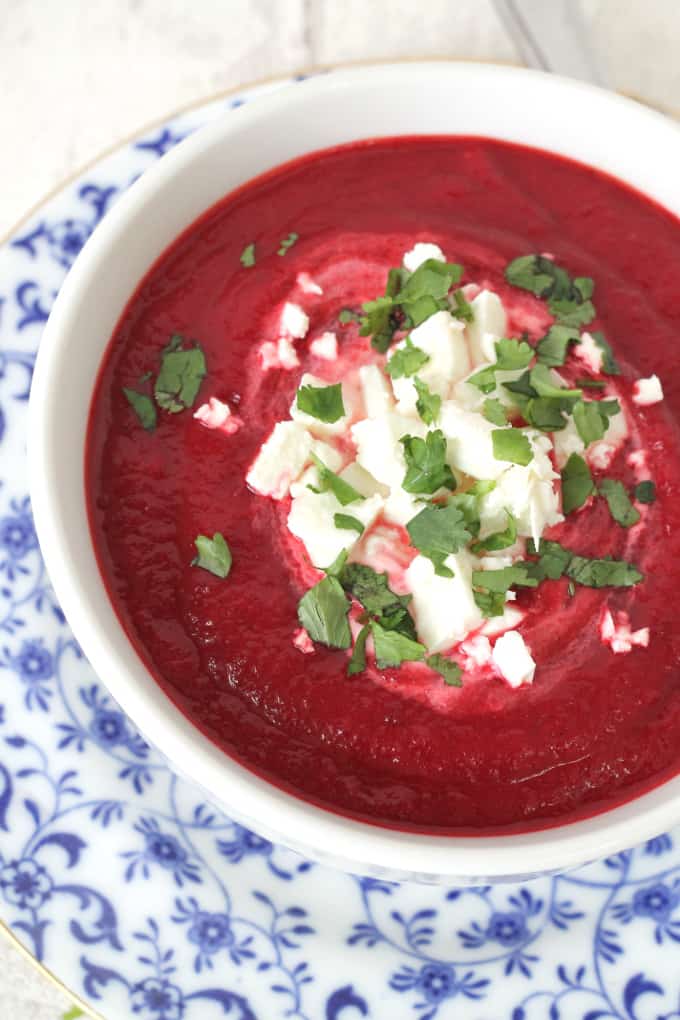 Beetroot is delicious in November, and it's packed with nutrients. Alongside essential vitamins such as folate, which aids with the repair and synthesis of DNA, beetroot is also high in fibre, potassium, iron, potent antioxidants, nitrates, and more.
17: Vegan Spicy Spinach and Lentil Stew with Roasted Broccoli
Ticking both the spicy and vegan boxes, this autumnal stew combines seasonal spinach with seasonal broccoli for a weekday dinner that's quick, easy, and super delicious. Oh, and nutritious. Did I mention that most of these dishes are super nutritious?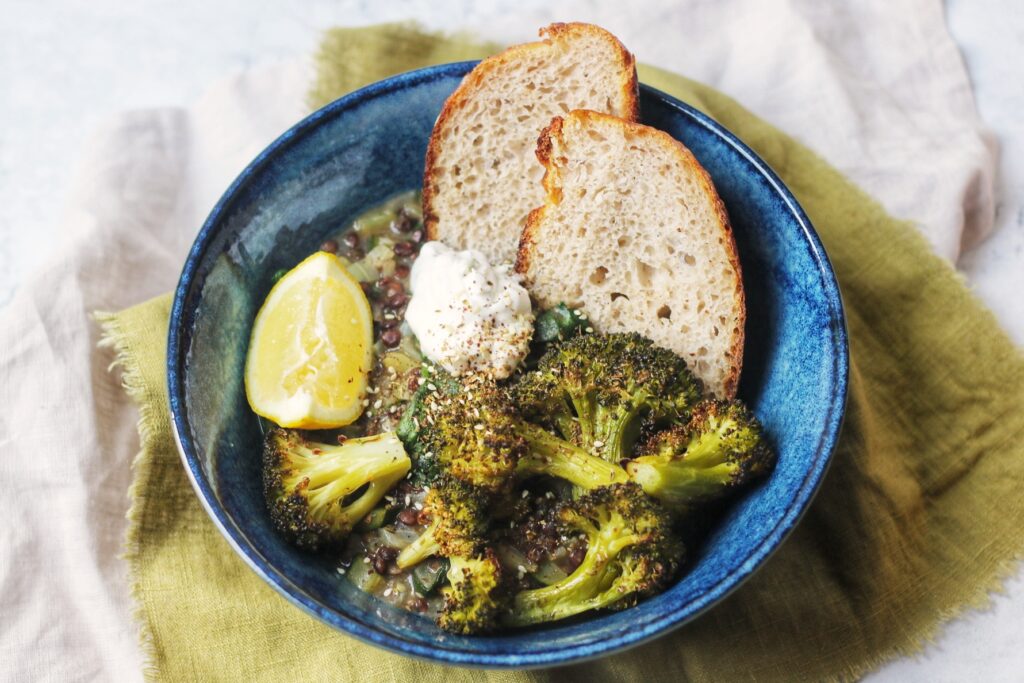 You'll need around 15 minutes of prep time and 45 minutes of cooking time for this vegan delight, and it serves two people. Or, you know, one person with leftovers. You can tweak the recipe to better suit your preferences, too. As the recipe creator says, switch the spinach for kale or another green leafy vegetable, or switch the broccoli for cauliflower. We love a customisable dish!
18: Autumn Minestrone
By Jessica Seaton / The Happy Foodie
This autumnal soup tastes even more delicious reheated than it does freshly made, and consists of British red haricot beans, onions, celery, carrots, potatoes, smoked pork ribs, chopped tomatoes, and a range of flavoursome herbs and spices. (And es, there's plenty of garlic.)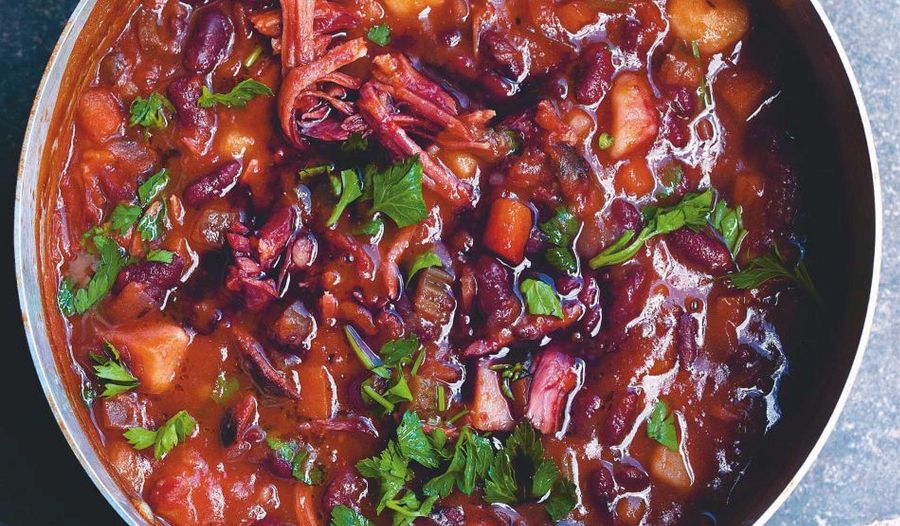 The recipe makes six servings but does need up to 12 hours of bean soaking time plus a couple of hours of simmering time. You can whip it up in the slow cooker for convenience, and it's the perfect thing to pour into a flask and take to work as a midday autumn-winter warmer.
19: No-Nonsense Meat and Potato Pie
This tasty pie is great for autumn and winter and takes just 30 to 40 minutes to put together and cook. Featuring a suet crust with a meat and potato filling, you can add extra vegetables or other ingredients to make it more your own. You can even swap the meat for a vegan version or switch the self-raising flour for a gluten-free version.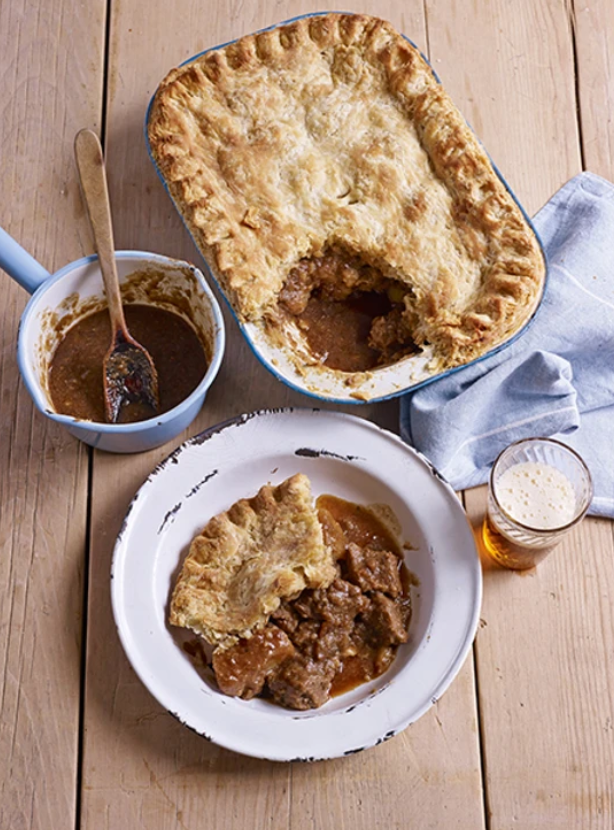 This recipe calls for chuck or braising steak alongside two types of potato. You can use whatever chunks of beef or other meat, although the two types of potato have their purpose. One is for texture and stays together, and the other to thicken the gravy by way of crumbling down. You could say that Paul has literally thought of everything.
20: Spinach, Feta, and Lemon Filo Pie
By Jamie Oliver
This lush pie will serve up to eight people for dinner, and it takes roughly an hour to whip up. Each serving only contains 285 calories, and Jamie describes it as "not too tricky." He also mentions that filo pastry is a slightly healthier version of puff pastry, just in case you needed any more persuading that this was the right dinner dish for you.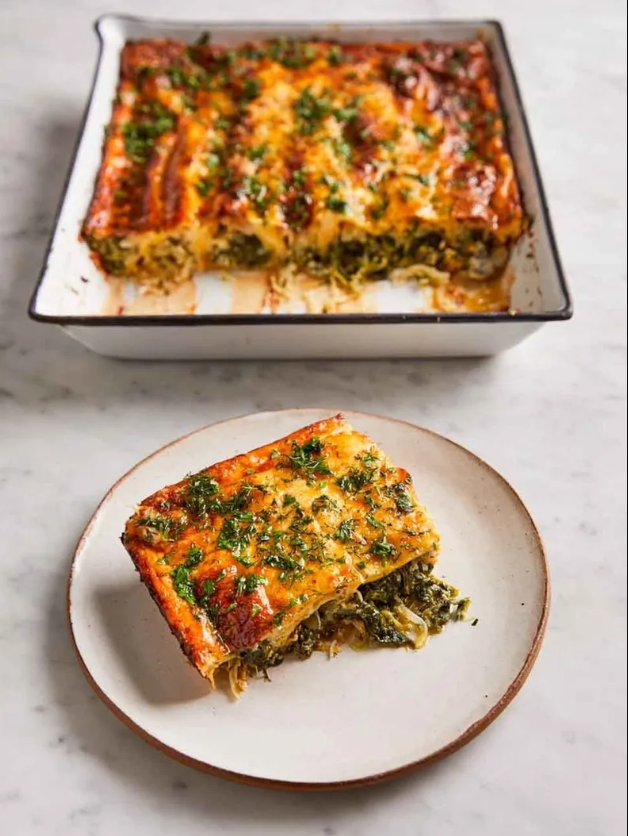 Packed with lots of herbs and warming nutmeg, you can serve it up with a side salad, fries or other potato products, garlic bread, or whatever you like. You could even add fish, such as salmon, or a meat product to beef it up a bit. Chicken would work great in this pie dish!
21: Slow Cooker Butter Chicken
I use my slow cooker the most during autumn and winter, and I'm sure the same can be said for most other people, too. It's super easy to just throw the ingredients in the cooker, set the temperature, and then forget about it for a few hours. And what's better is that the entire house smells like delicious dinner for the whole time. It's one of my favourite things to open the door and come home to.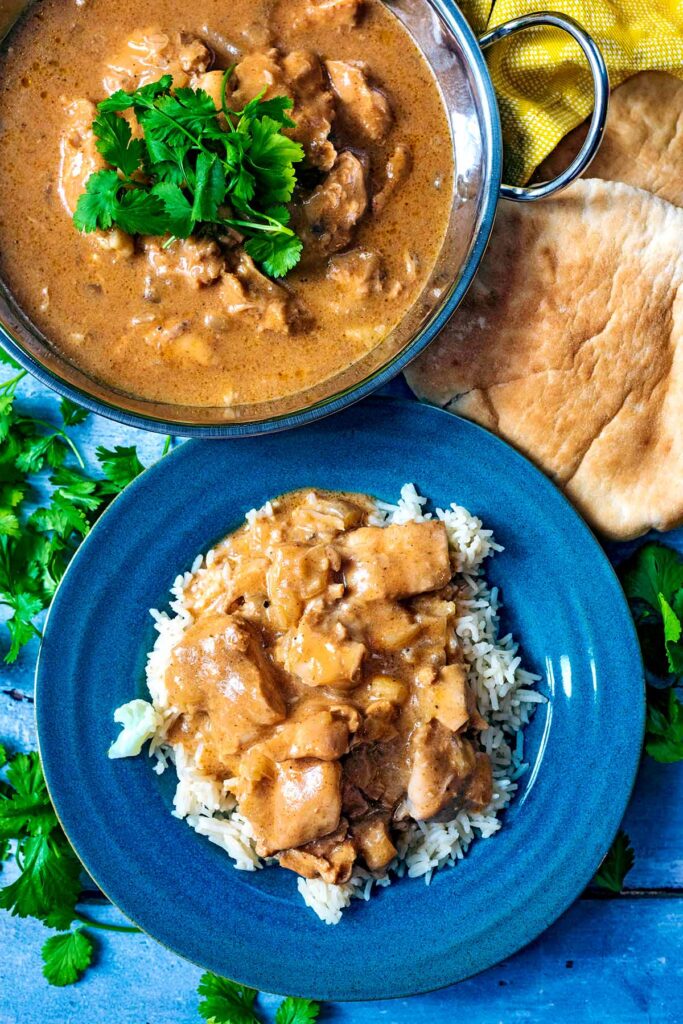 This low-carb and gluten-free recipe combines a bunch of delicious herbs and spices with rice and chicken. It'll need only 5 minutes of preparation time, 2 hours of marinading time, and 3 hours and 10 minutes of slow cooking time. Technically, you only really need to do five minutes of work. Marinading and slow cooking can be left while you do other things.
And that's that, folks. I hope you've found some inspiration in this list of 21 dinner ideas for November, but feel free to have a little look around on Buzzy Kitchen for more dinner inspo. In fact, I'd quite like to recommend these: