Some of the links on this page are affiliate links, which means that Buzzy Kitchen earns commission from purchases made – at absolutely no extra cost to you. Thank you so much for supporting Buzzy Kitchen!
---
It's the one time of year when all diets go out the window, all healthy food is left in the back of the cupboards, and trousers are unbuttoned to allow for extra pudding room. That's how it goes in my house, anyway. And today, we're definitely going to do all of those things, with some deliciously decadent festive desserts.
Are you ready to have your tastebuds teased?
21 Deliciously Decadent Festive Desserts
The most anticipated part of the Christmas menu is the dessert table! After all, what is Christmas without the sweet treats? From fruitcakes to puddings, the traditional desserts have been a part of Christmas for generations. A warm slice of fruitcake with a dollop of freshly whipped cream is the perfect way to end a festive meal. And who can resist a rich and decadent Christmas pudding, served with brandy butter? These desserts never go out of style!
But today, we're going to think outside the box, into a realm of delicious decadent festive desserts that will impress your tastebuds and please the whole family.
1: Christmas Pudding-Flavoured Chocolate Fondants
By Co-op
Ensure there are options for guests with dietary restrictions or preferences, such as vegetarian, vegan, dairy-free, or gluten-free dishes. Remember, Christmas dinner and dessert preparations should be as enjoyable as the meal itself. Planning, preparation, and a calm approach will help ensure a successful and enjoyable celebration.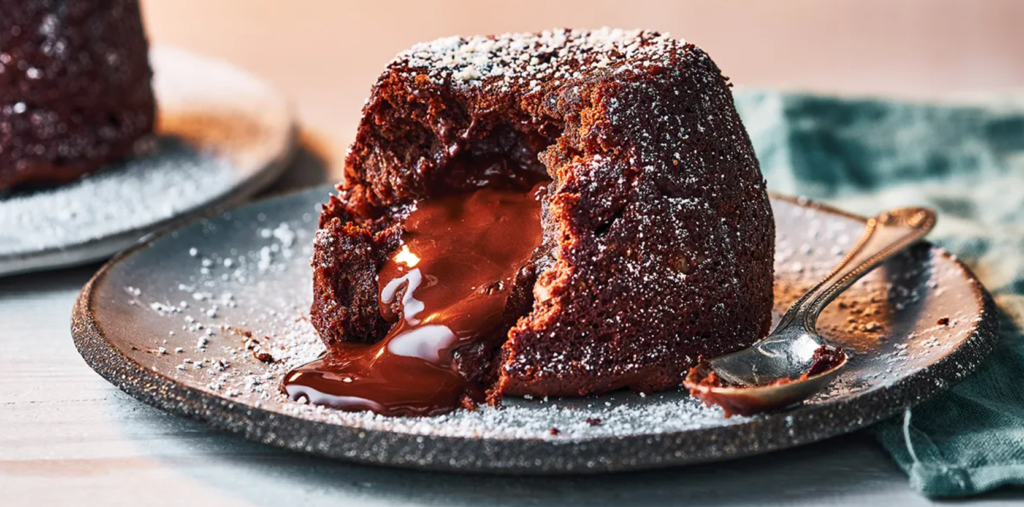 Christmas pudding is often part of the traditional Christmas dinner, particularly in the United Kingdom. It's a symbol of continuity and tradition, with many families passing down recipes through generations. The preparation, cooking, and serving of the pudding often involve customs, wishes, and rituals, contributing to the festive atmosphere.
2: Baileys Caramel Mini Pots
By B&M
This dessert idea is super simple, requires no cooking time, and can be used as a great backup idea if everything else goes a bit… well, wrong. One thing I'd always recommend when planning a dinner party or big dinner event, is to always have a backup plan. You'll be far more relaxed, knowing that not everything will go wrong if it does indeed start to fall apart.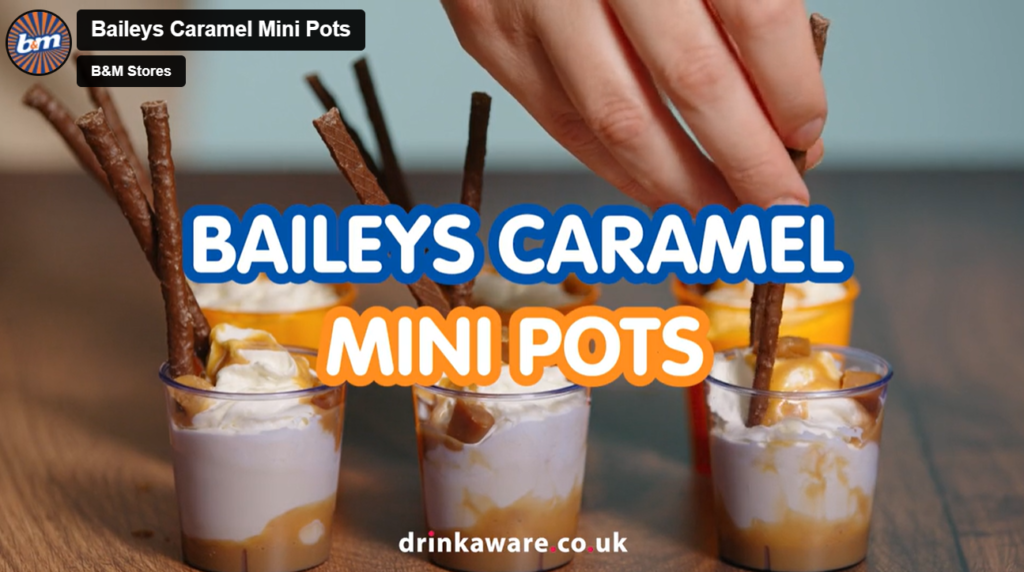 You'll need caramel, Baileys, vanilla ice cream, fudge Matchmakers, and squirty cream, but every part of the recipe is fairly customisable. You could make it non-alcoholic by switching the Baileys for an alcohol-free version. Twisst offers a range of non-alcoholic drinks, including Caramel Cream, which makes for a great Baileys/Irish cream substitute.
3: Hazelnut Praline Log
By Saga
Remember to take a moment to relax and enjoy the festivities rather than stressing over every detail in the kitchen. Decide on the dishes you'll be serving and make a detailed list of ingredients needed and set a timeline for each dish to ensure everything is ready at the right time.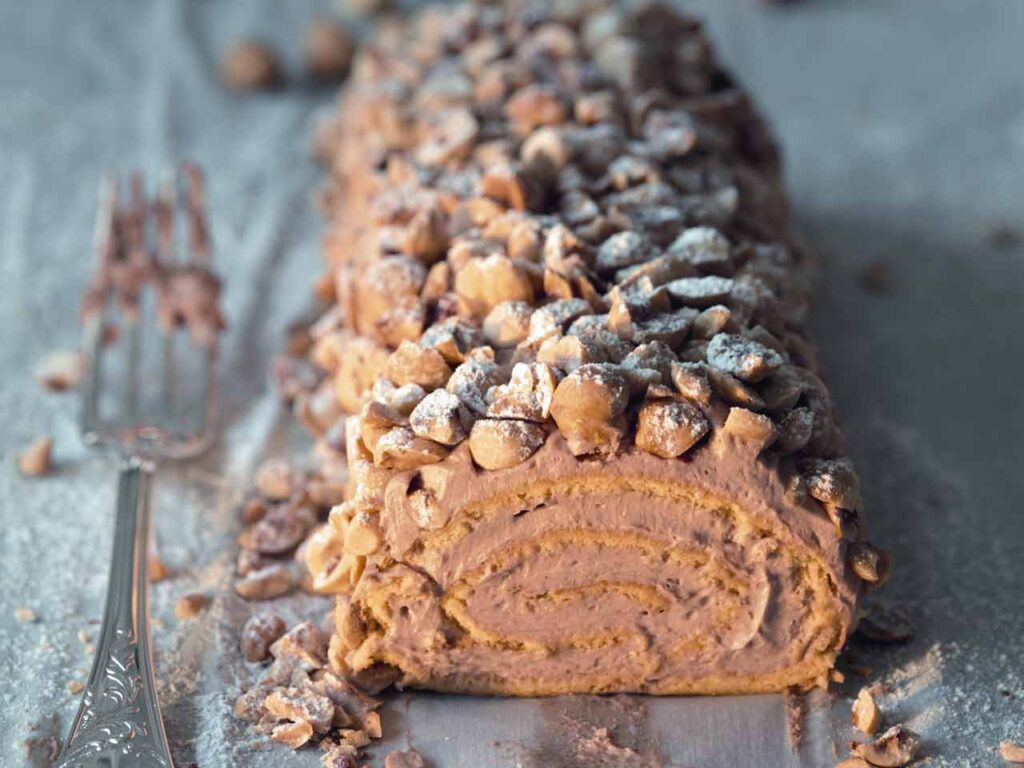 Chop the vegetables, measure out spices, and prepare whatever you can in advance to save time on the day of cooking. The more prepared you are in advance, the less stress you'll experience on the big day. Anyway, lecture over, you've got to take a peek at this delicious twist on a traditional Yule log.
4: Bonkers Bread and Butter Panettone Pudding Tart
By Jamie Oliver
If you have around one hour spare, you have the time it takes to make this decadent festive dessert, which serves up to twelve people. In my opinion, this is a great dessert idea for a Christmas party… and definitely one of those treats you need to have in moderation, with 548 calories per serving. (Calories don't count at Christmas though, right?)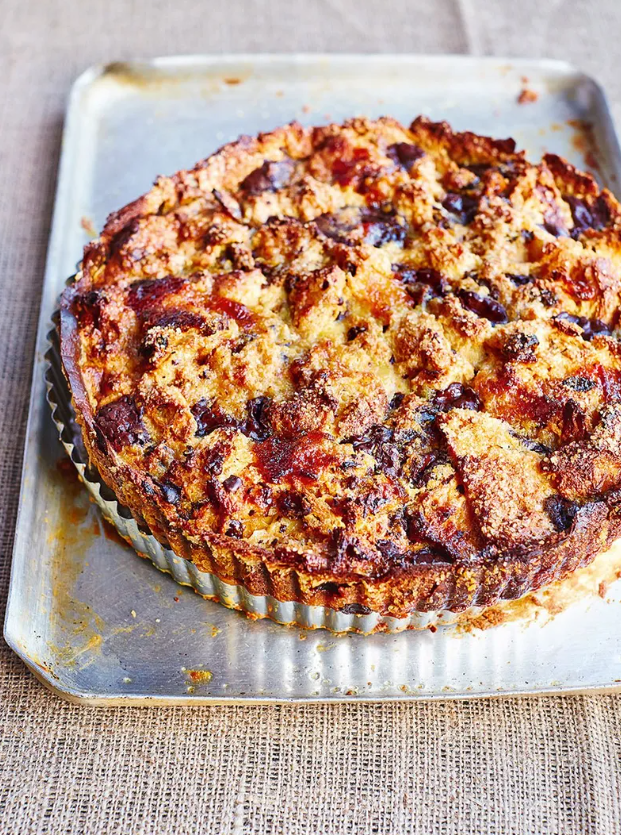 Jamie also offers an alternative if you're pushed for time. You can make the tart the night before, putting all the bits together, before then stashing it in the fridge. An hour before you're ready to serve it, whack it in the oven and bake it.
5: Black Forest Yule Log
If you're in the market for deliciously decadent festive desserts that mix traditional with modern, this one might just tick all the right boxes for you. There's dark chocolate ganache and bark, dark cherries, a boozy cream, and a little red cherry liqueur, which brings it nicely into the festive theme. You will need to set aside around an hour of preparation and cooking time, though.
Yule logs are a great place to start when it comes to festive desserts. They're traditional, but you can liven them up in so many ways that they barely look like the original. This recipe combines cherry and chocolate, but the next one is quite different…
6: Salted Pecan Praline Yule Log
While we're on the subject of Yule logs, I felt that it made sense to show you just what I mean by how easily tweaked the humble festive dessert is. We've jumped from black forest to salted pecan in the blink of an eye, and that's still not a complete list of all the different ways you can make the log.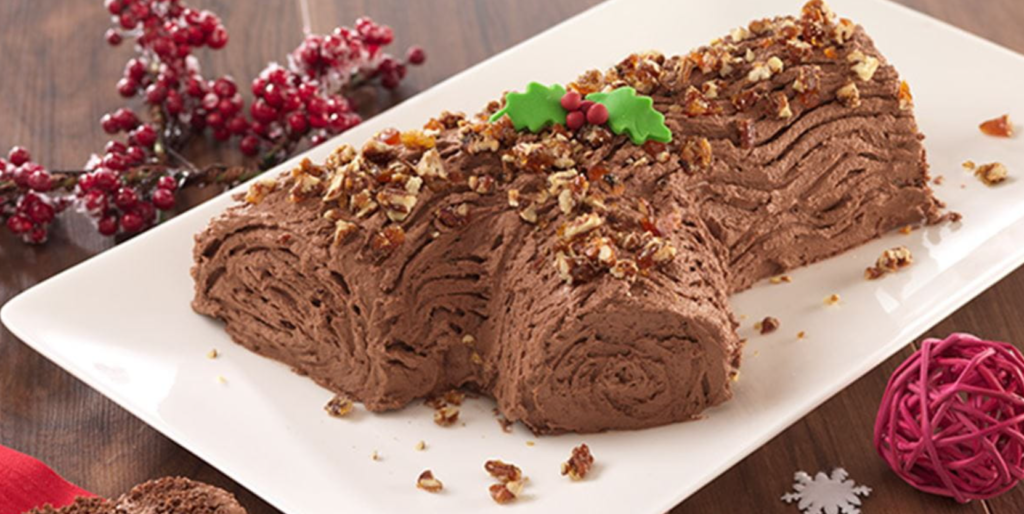 In fact, I took a deep dive into the Christmas sweet treat and found a whole bunch of different types, styles, and flavours. Chocolate, fruity, boozy, low-calorie, totally calorific, and more. You can find those right here: 41 Yule Log Recipes.
7: Cheeselova, Cheesecake and Pavlova Love Child
If you're looking to mix things up this year, there's no shortage of alternative options. Why not try a spiced gingerbread cake with a zesty lemon icing? Or a sticky toffee pudding, served warm with custard? For a grown-up twist, a boozy eggnog tiramisu will be sure to impress.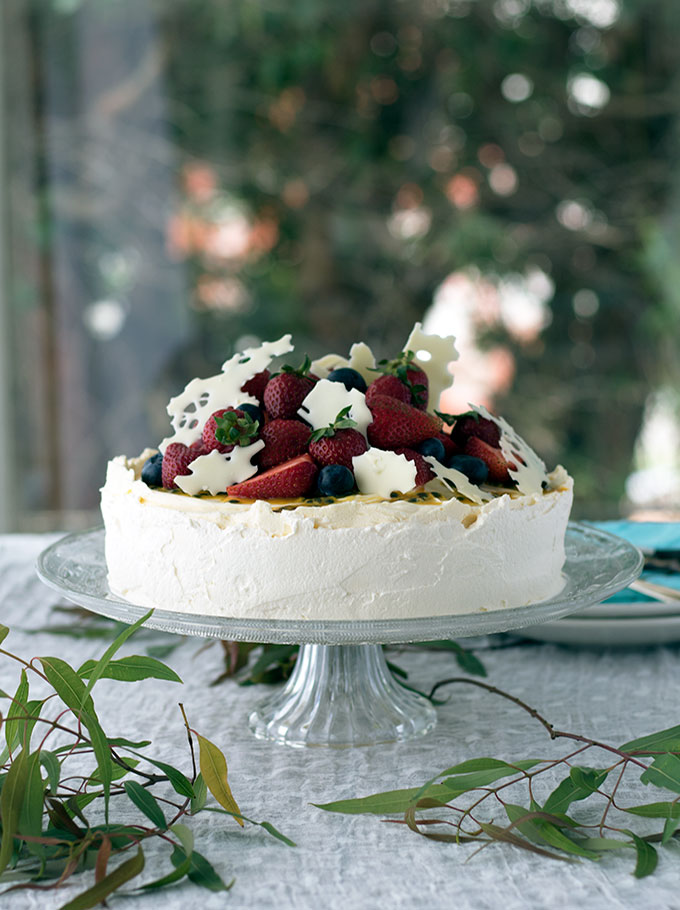 Alternatively, why not consider this impressive culinary love child – a cross between pavlova and cheesecake? It's easy to get carried away with elaborate recipes. Stick to what you're comfortable with and what suits your schedule. So, if this one seems a little out of your comfort zone, take a look at some of the other websites on that website, and also on this one. You're bound to find something that tickles your pickle.
8: Three-Chocolates Christmas Pudding
The creator of this decadent festive treat suggests making this Christmas pudding at least six weeks before the big day. Paul A Young is one of the world's best and leading chocolatiers, so it's safe to assume that he knows what he's talking about.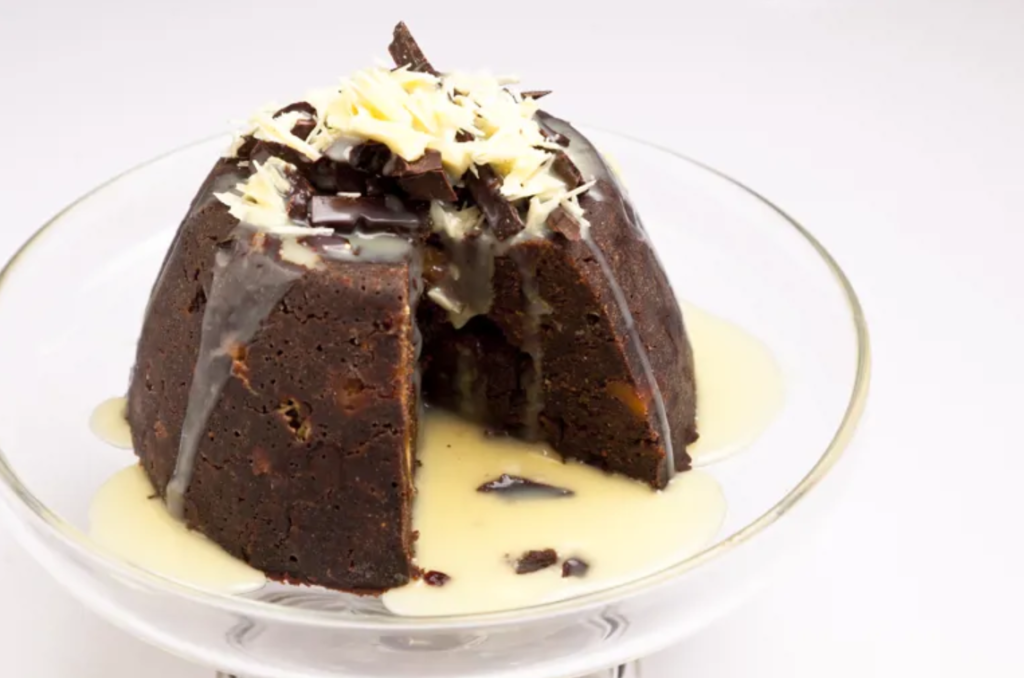 Making so far in advance ensures that your pudding has the best, boldest, and most delicious flavours. It requires three and a half hours of preparation and cooking time, but it's a pretty easy one to whip up and serves up to eight people, served with ice cream, custard, whipped cream, double cream, or any other kind of accompaniment that takes your fancy.
9: Celeste Praline Cheesecake
By Joanne Harris and Fran Warde / THF
Decadent, indulgent, and oh-so-chocolatey, this delicious cheesecake consists of a biscuit base created with hazelnuts and biscuits with a dark chocolate cream cheese on the top. I'd serve it with single or double cream, personally. How about you?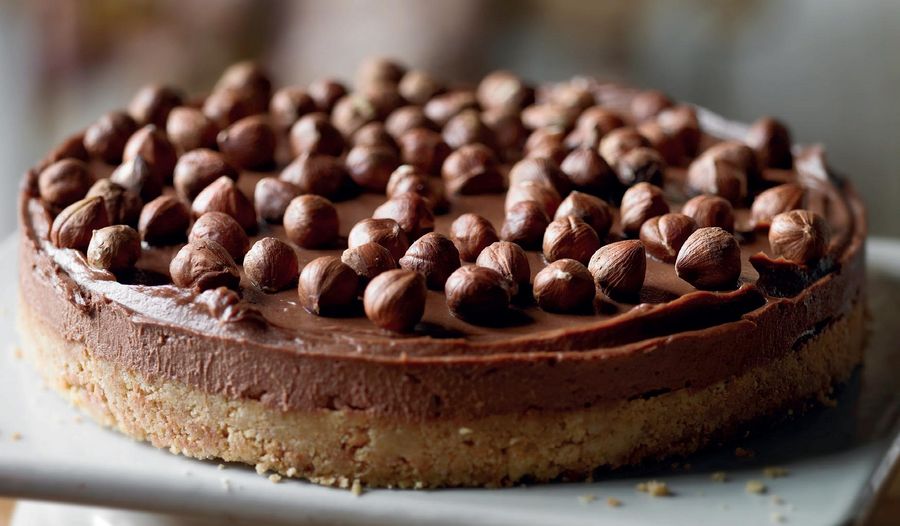 This recipe creates a cheesecake that will feed eight people… or just me by myself. You'll need around three and a half hours to put it together and then chill it, and there's no point in telling you what to do with the leftovers because I guarantee there won't be any. (Not in my house, anyway.)
10: Christmas Trifle
By Pinch of Nom
If you're in the market for delicious decadent festive dessert recipes that features a festive twist on a British classic, this Christmas trifle is most definitely for you. It takes thirty minutes to put together and 'cook,' serves up to eight people, and contains just 300 calories per serving. Before you eat the whole thing (or I do), it comes in at a whopping 2,400 calories, so you might want to reconsider.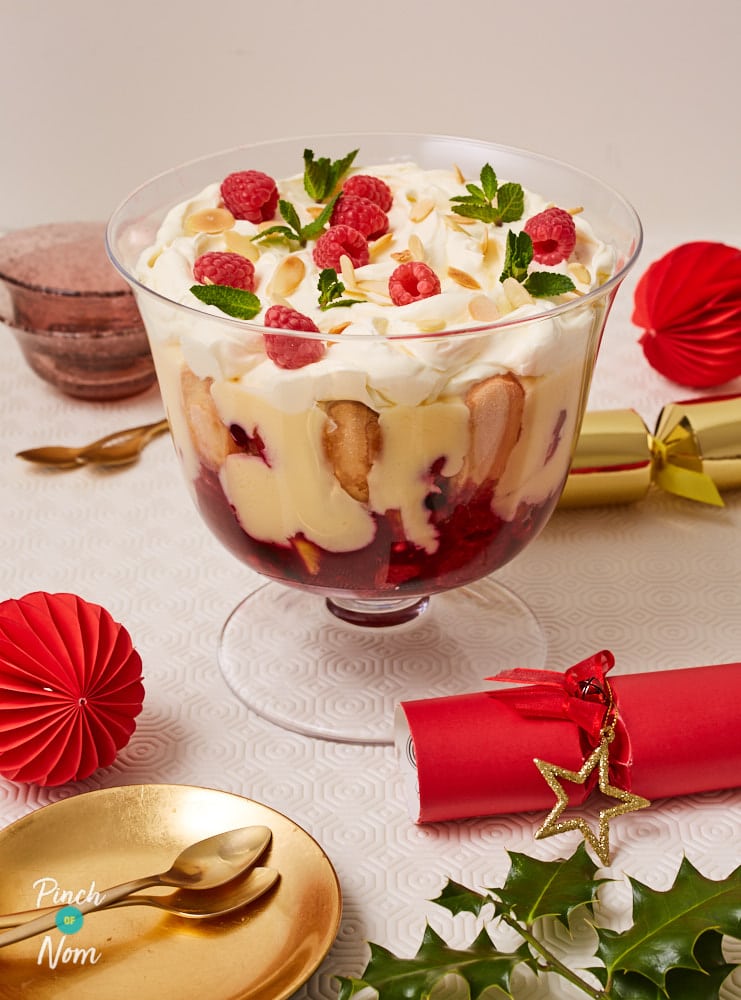 Vegan and gluten-free (if you use/make gluten-free sponge fingers), no one will ever guess that it's a low-calorie dish. You don't need to worry about any jelly setting time, either. In this recipe, the jelly (that's Jello for my North American friends) is replaced with fruit that has been lightly spiced along with the delicious juices.
11: Terry's Chocolate Orange Bundt Cake
The humble Terry's Chocolate Orange is a staple in many a British household on Christmas morning. Or, at least, it was. The festive-themed chocolate has been somewhat forgotten about over recent years, but it still makes an appearance for my family. This decadent sweet treat combines chocolate and orange with cake for a festive dessert that is family-friendly and takes less than one hour to create and bake.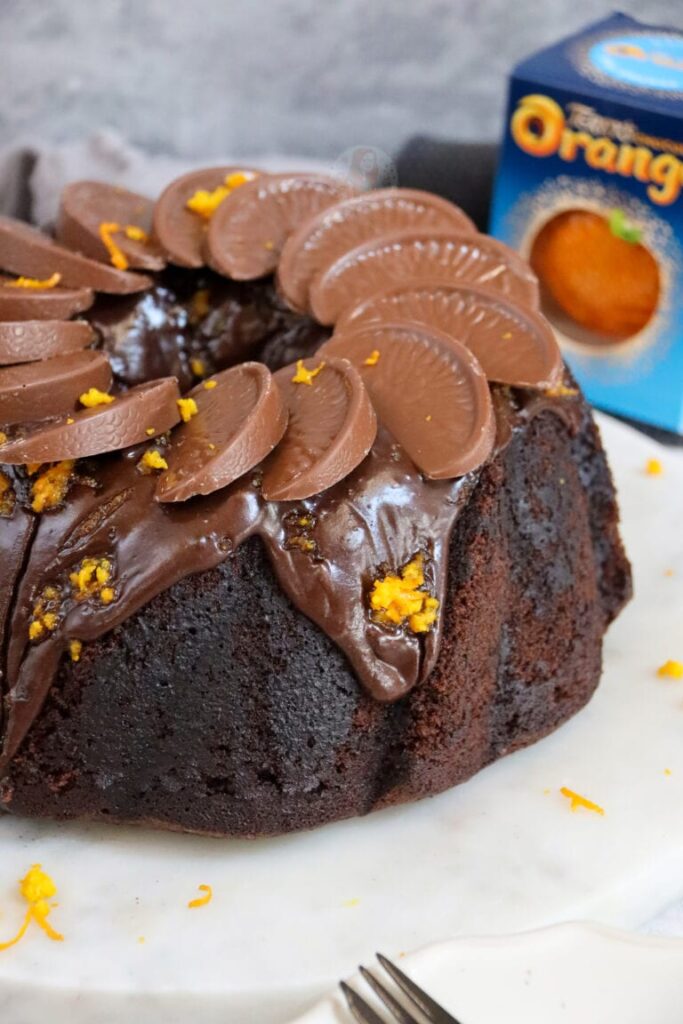 You'll get twelve slices or servings out of this cake, but you can always freeze the leftovers for up to three months. You can serve it up with a side, such as ice cream or double/single/whipped cream. Alternatively, you can cut it up, pop it in slices of kitchen towel, and then hand it out to family like my grandmother used to!
12: Clementine and Prosecco Trifle
By Sainsbury's
Clementines are typically in season during the winter months, especially around the Christmas period. Their peak season aligns well with the festive season, making them more readily available and fresher in markets during this time. For many people, clementines evoke nostalgic memories of Christmas. They're often a popular fruit in gift baskets and are frequently used in traditional festive decorations and meals.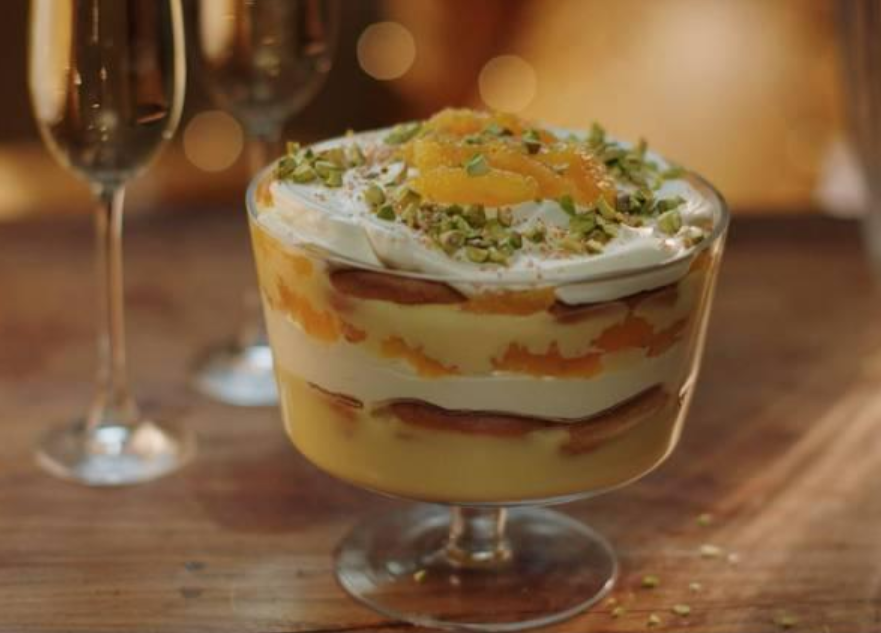 With edible gold glitter sugar, prosecco, and festive clementines, this trifle is most definitely well-themed for this list of decadent festive dessert recipes. It's super easy to make, serves up to ten people (or more with extra sides), takes 20 minutes to make, and contains just 446 calories per serving.
13: Baileys and Praline Roulade
By Ocado
What do roulade, Yule log, and Buche de Noël have in common? Yes, that's right: they're all pretty much the same thing. They're a classic Christmas sweet roulade, often made to resemble a log, filled and frosted with chocolate buttercream, meringue, or other festive fillings, and decorated with powdered sugar to mimic snow or with festive motifs.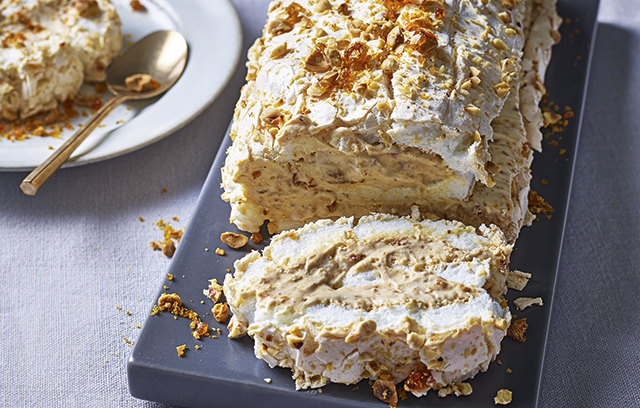 This one has been given a festive makeover with the addition of a little booze, crunchy praline, and a wonderfully glossy meringue. It'll serve up to eight people, takes 25 minutes of prep time plus 45 minutes of cooking time, and will impress the pants off of anyone at your dinner table.
14: No-Bake Irish Cream and White Chocolate Tart
This one's pretty calorific. 767 calories per serving to be exact. I just thought I'd get out the way nice and early, so you can veto it if it's too far out of your calorie allocation. Another warning you'll need for this dessert idea is that you'll need cooling and chilling time alongside preparation time.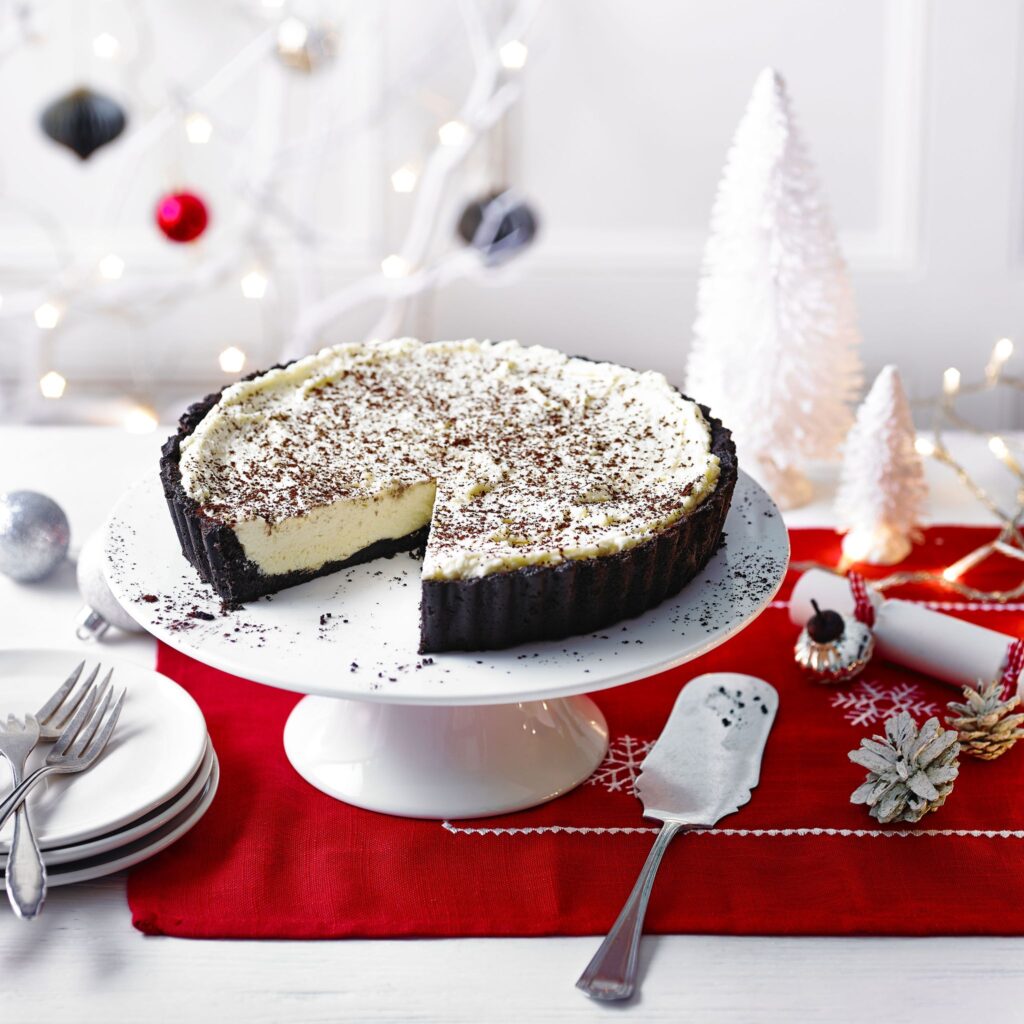 There's good news, though. You can make this up to three days before your Christmas event. You'll need to add 10 minutes of cooling time to four hours of chilling, 20 minutes of prep, and 10 minutes of cooking.
15: Cranberry Sauce Swirl Cheesecake
With a gingersnap crunch base and a red, cranberry swirl on the top, this cheesecake is definitely on the right theme for decadent festive desserts. It's vegetarian-friendly, serves up to 12 people, and needs a total of eight hours – 20 minutes of preparation time, one hour and 30 minutes of cooking time, and six hours (minimum) of chilling time. You can leave it to chill overnight, of course.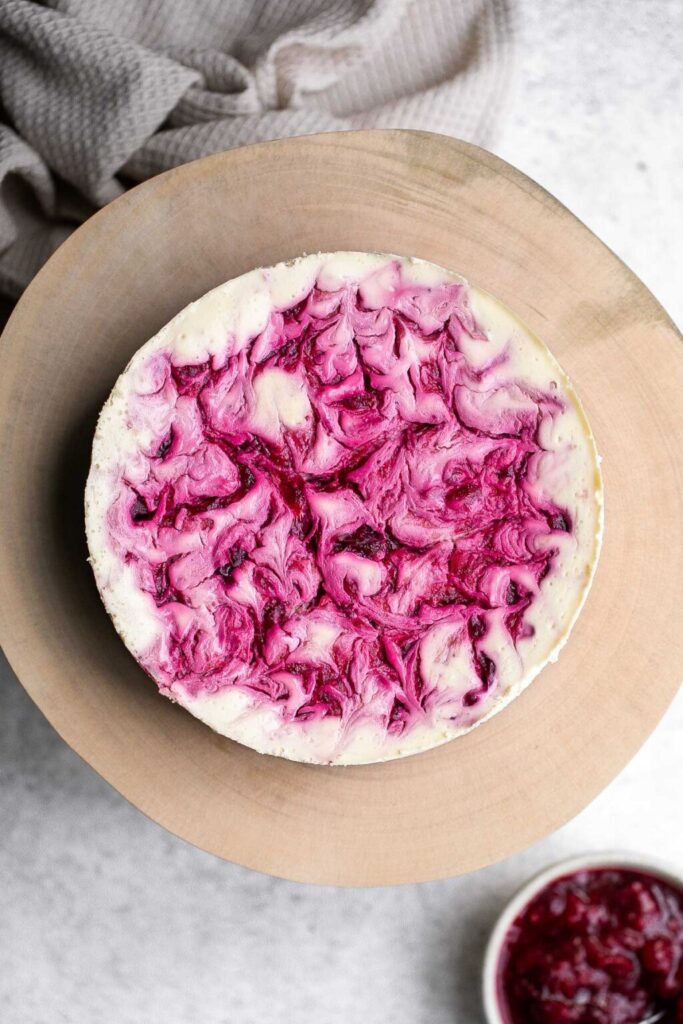 Are you looking for low-calorie but decadent festive dessert recipes? This one fits the bill pretty well, with less than 400 calories (387) per serving. You will need to consider any sides and their calories too, of course.
16: Christmas Star Brownie and Mincemeat Tart
By Jus-Rol UK
Chocolate comes together with festive spiced fruits in this Christmas dessert idea, which can be made up to one month in advance, then frozen, then retrieved and defrosted in time to be served up with a delicious side, such as custard or single cream.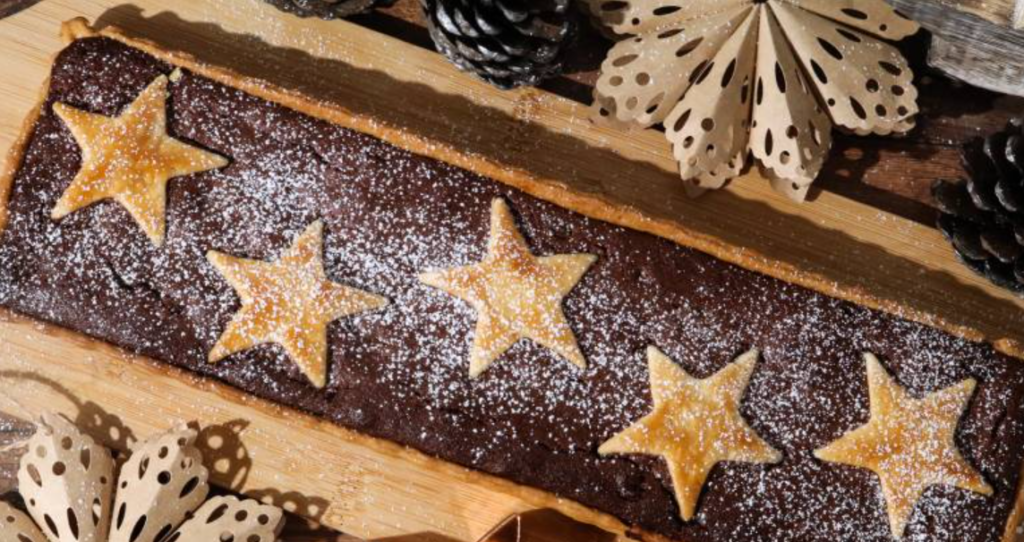 This recipe needs 40 minutes of cooking time along with 10 to 20 minutes of preparation time and provides you with eight servings. You can also spice it up by adding some edible glitter dust in with your icing sugar dusting or use different shapes other than stars on the top. I can't wait to see what you create!
17: Ginger Sticky Toffee Pudding
By John and Lisa's Kitchen / ITV
If you're not the biggest fan of Christmas pudding, you don't need to make one and then serve it up to your guests. There's nothing to stop you from making another dessert a Christmas dessert in your household, such as this ginger sticky toffee pudding instead.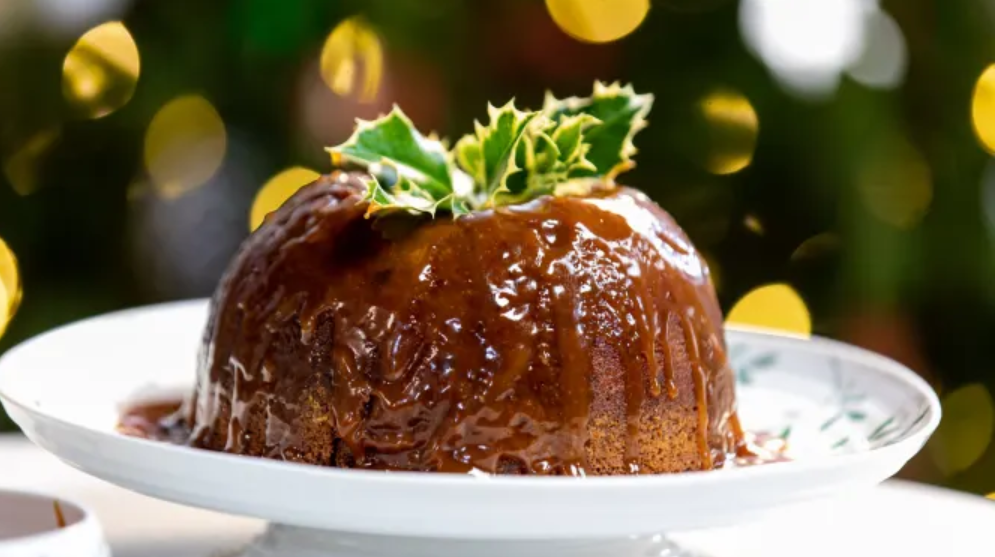 This recipe is going firmly into my winter warming folder, made for cold nights, served with hot custard. The measurements in this recipe will create enough for eight servings, and it's family-friendly and perfect for everyone except vegans because it contains eggs, double cream, and salted butter.
18: Menier Chocolate Christmas Cake
Using Menier Swiss Dark Chocolate (70%), this medium-difficulty recipe yields 15 servings, takes around 2 hours to cook, and will need roughly 20 to 30 minutes of preparation time. The dried fruits combined with spiced batter and deliciously decadent Swiss dark chocolate makes for a flavourful, festive treat. I'd probably serve it up with custard, and perhaps even spiced custard. What do you think?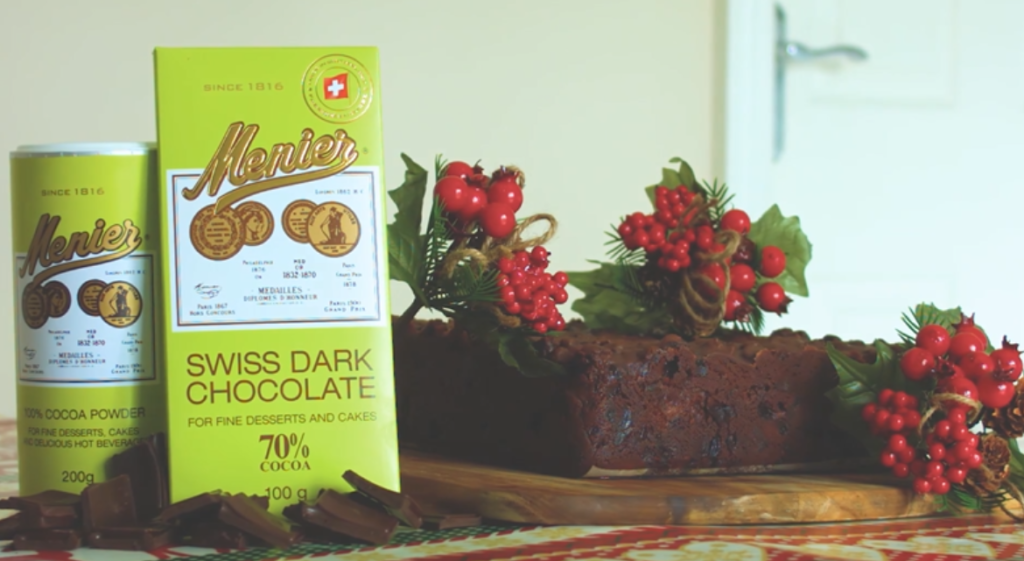 You can make this up to six weeks in advance, feeding brandy into it every week. The humble Christmas pudding, also known as plum pudding, is a traditional dessert closely associated with Christmas in many Western cultures, and it is has been given quite a few revamps over the years. This is just one of the decadent festive desserts, but there are so many more flavour combinations to explore!
19: Orange and Ginger Cake Trifle
This tasty treat mixes Eton mess cream with white chocolate pannacotta, orange jelly, and ginger cake for a trifle that is both festive and an utter delight for the tastebuds. It serves between six and eight people depending on how big your portion sizes and plus any sides, such as ice cream. You will need to set aside at least two hours of chilling time plus between 30 and 40 minutes of hands-on prep time.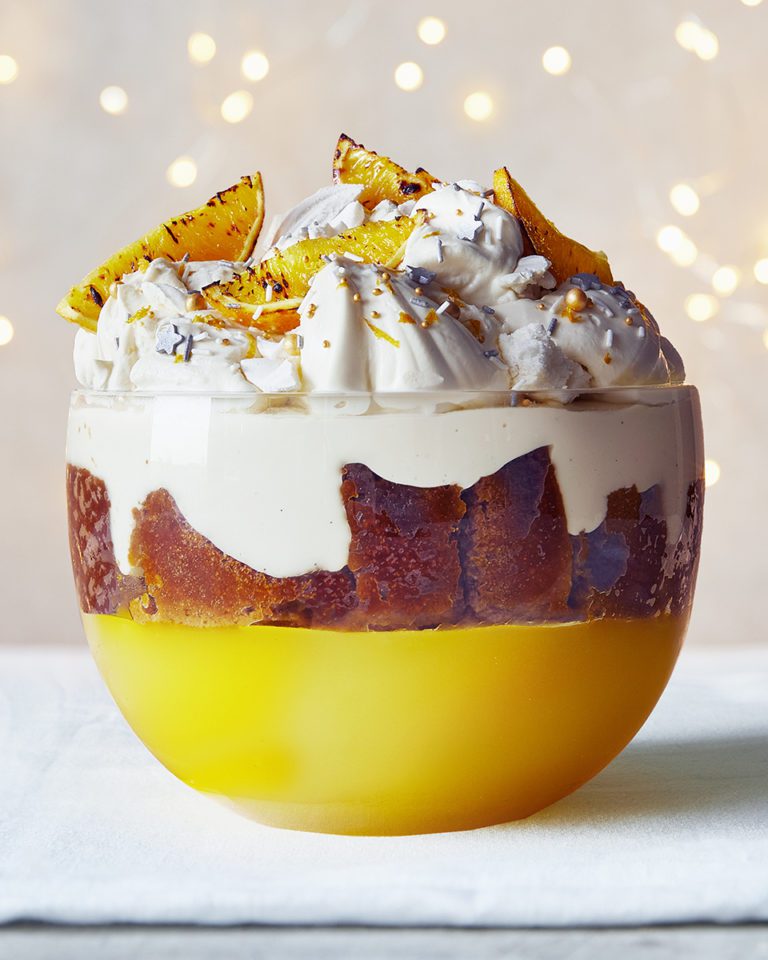 If trifles are your thing, you'll be happy to know that I've found 113 different trifle recipes during my deep dive to learn more. You'll find them right here: 113 Trifle Recipes UK.
20: Gingerbread and Amaretto Chocolate Tart
Gingerbread has a long history dating back to ancient times, with its roots in Europe and the Middle East. Initially, it was enjoyed as a delicacy and was often shaped into various forms, including figures and decorations.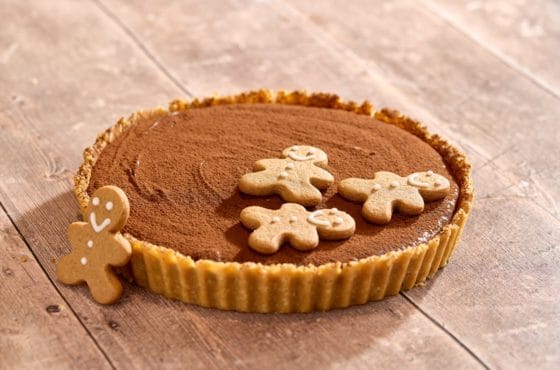 The ingredients used in gingerbread, such as ginger, cinnamon, cloves, nutmeg, and molasses, are often considered as "warming" spices that are especially popular and comforting during the colder winter months. As these spices are often used in Christmas recipes, gingerbread naturally fits in with the festive flavours.
21: No Bake Gingerbread Cheesecake
You'll need to set aside around 30 minutes of preparation time and five hours of chilling time for this no-bake, easy cheesecake. The gingerbread flavour brings it into the Christmas theme, and it only contains approximately 400 calories per serving.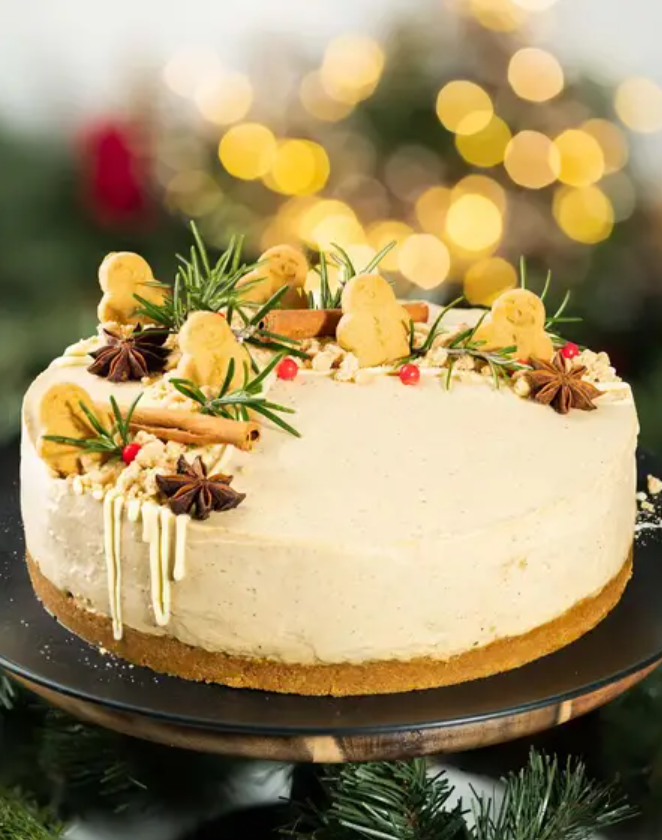 If you don't want to use the hob or oven when putting dessert together, no-bake cheesecakes are a brilliant idea. A little mixing, putting together, and chilling time is all this festive delight needs. You can even freeze leftovers for later… if there are any leftovers, of course. I doubt there will be.
Deliciously Decadent Festive Desserts: Conclusion
In conclusion, the dessert table is the most anticipated part of the Christmas menu, and there are so many decadent festive desserts options to choose from. Whether you go for the classics or mix things up with alternative desserts or DIY platters, one thing is for sure: it's going to be delicious. After all, calories don't count on Christmas day, right?
You might also like: