Some of the links on this page are affiliate links, which means that Buzzy Kitchen earns commission from purchases made – at absolutely no extra cost to you. Thank you so much for supporting Buzzy Kitchen!
---
Are you in the market for mince pie recipes for Christmas that sit a little outside the box? You've definitely come to the right place! I've gone on the hunt for 31 recipes, all slightly different, all bringing a brand-new twist to the traditional festive treats. Boozy, chocolatey, different pastries, different fillings… you name it, I've found it.
Are you ready for them?
31 Christmas Mince Pie Recipes
Mince pies have medieval origins and were initially filled with a mixture of minced meat, suet, fruits, and spices. Over time, the recipe evolved, and modern versions often exclude meat, focusing on sweet ingredients. Today, we're going to take a deep dive into the many Christmas mince pie recipes you can make in your own kitchen these days.
1: Baileys Mince Pies
A typical mince pie filling typically includes dried fruits such as currants, raisins, and sultanas, mixed with suet, apples, sugared peel, spices (like cinnamon, nutmeg, and cloves), and sometimes a splash of brandy or other spirits. The mixture is sweetened with sugar or molasses.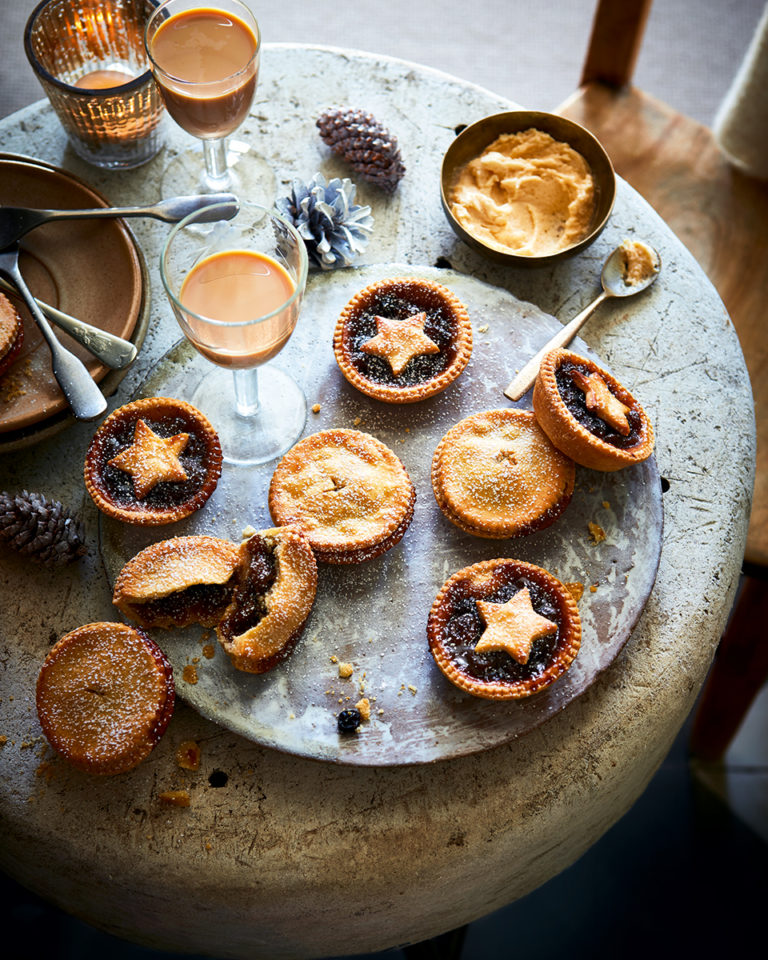 This mince pie recipe switches a few of the traditional liqueurs with Baileys (or any other kind of Irish cream). This mince pie recipe effortlessly merges two festive delights into a single, delectable, pastry-wrapped package. Enjoy these indulgent pies paired with velvety Baileys butter, with each serving totalling 277 calories. The recipe yields between 9 and 12 mince pies.
2: Mince Pies with Almond and Morello Cherries
By Jus-Rol UK
Mince pies are enclosed in a pastry shell. The pastry can be shortcrust or puff pastry, and it's common to sprinkle a bit of sugar on top before baking. If you like the sound of that, you should give this delightful mince pie recipe a shot.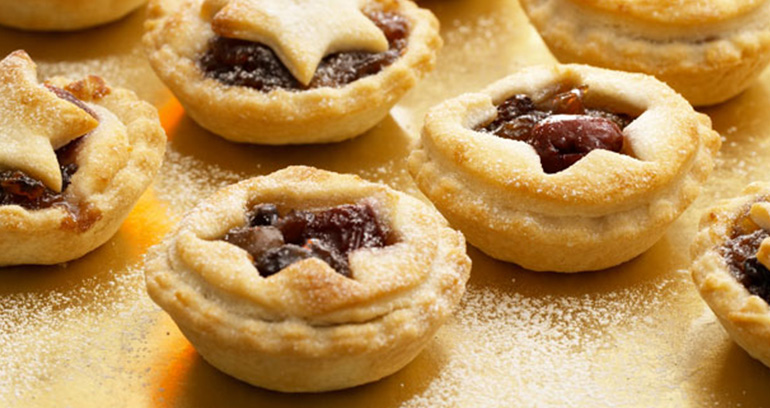 It features the delicious combination of cherries and almonds for a tasty treat. Using Jus-Rol shortcrust pastry, the pies are a breeze to make and ready in just 45 minutes. Enjoy the pies warm or cold, and feel free to sprinkle a bit more sugar or icing sugar on top if that's your preference. They're perfect for a quick and satisfying treat!
3: Mini Brandy Mince Pies
Mince pies are strongly associated with Christmas in the UK and other Commonwealth countries. It's customary to leave out mince pies and a glass of sherry for Santa Claus on Christmas Eve. I'm sure the big man will love these mince pies, infused with a nice little boozy treat.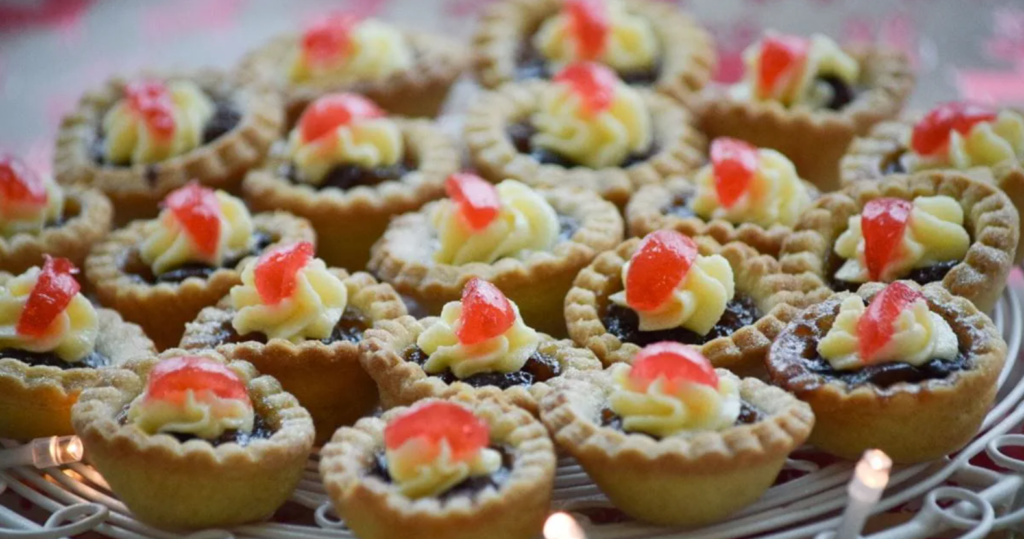 You'll need 30 minutes of prep time and 20 minutes of cooking time to recreate these festive delights, and the recipe is super easy too. With the measurements listed, you'll get 30 brandy-infused mince pies – and what more could you possibly want at Christmastime?
4: Frangipane Mince Pies
If you live in New Zealand or Australia, you probably know these festive treats by the name fruit mince pie. Cross the water to the United States and Canada, and you'd need to call them mincemeat pie. Either way, they're pretty much the same thing: suet, spices, and fruit inside a delicious pie-style crust.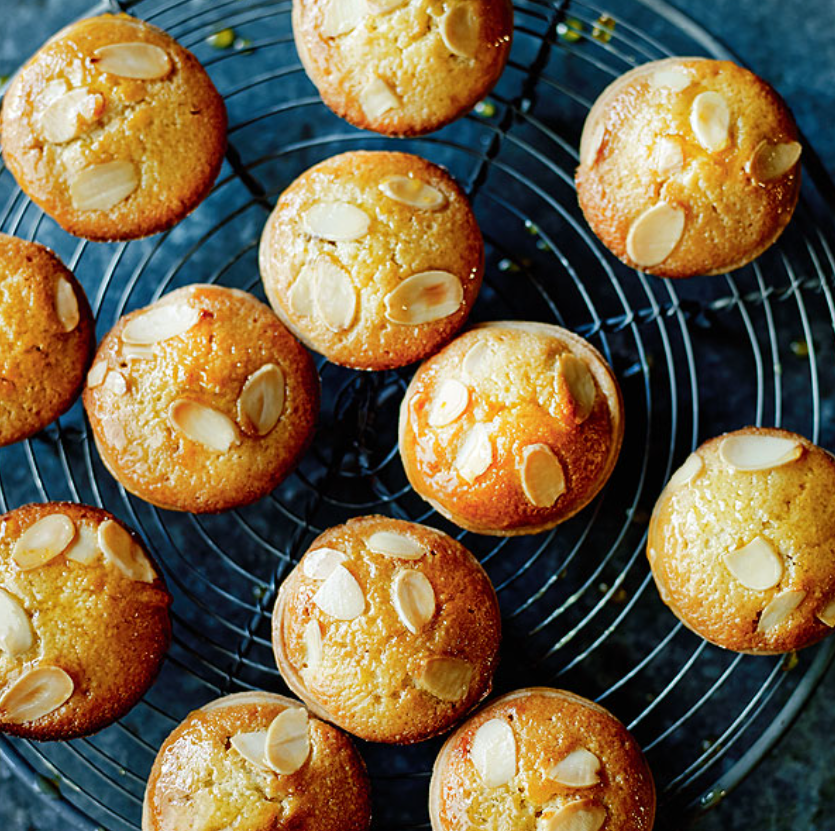 If you're in the market for mince pie recipes that offer a quirky twist on a traditional classic, these frangipane mince pies definitely tick all the boxes. Also featuring a little touch of brandy, they're not exactly suitable for kids… but I'm sure the grownups will positively adore them!
5: Chocolate Orange Mince Pies
By Pinch of Nom
Mince pie roots extend back to the 13th century, in a time when European crusaders, after their ventures in the Middle East, introduced recipes infused with meats, fruits, and spices. These recipes, steeped in Christian symbolism, aimed to mirror the gifts presented to Jesus by the Three Wise Men in the Bible.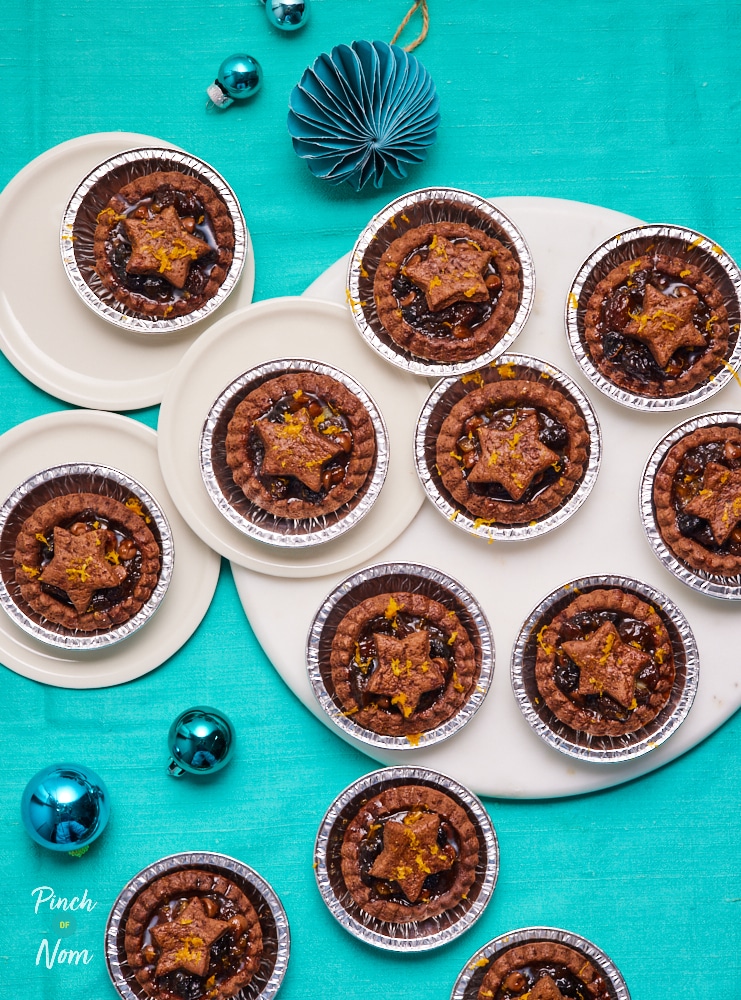 During the Christmas season, mince pies took on a traditional oblong shape, reminiscent of a manger, and were frequently adorned with a representation of the Christ Child. These days, they usually take on a more circular shape, but there's nothing to stop you from turning these mince pie recipes into oblongs instead of circles!
6: Vegan Mince Pie Cupcakes
While mince pies are a familiar holiday treat, have you ever considered mince pie cupcakes? Traditional mince pies feature a pastry filled with mincemeat—a blend of chopped fruit and spices—topped with a decorative star. As you can see from this list of mince pie recipes for Christmas, there are so many innovative ways to spice up and savour classic desserts.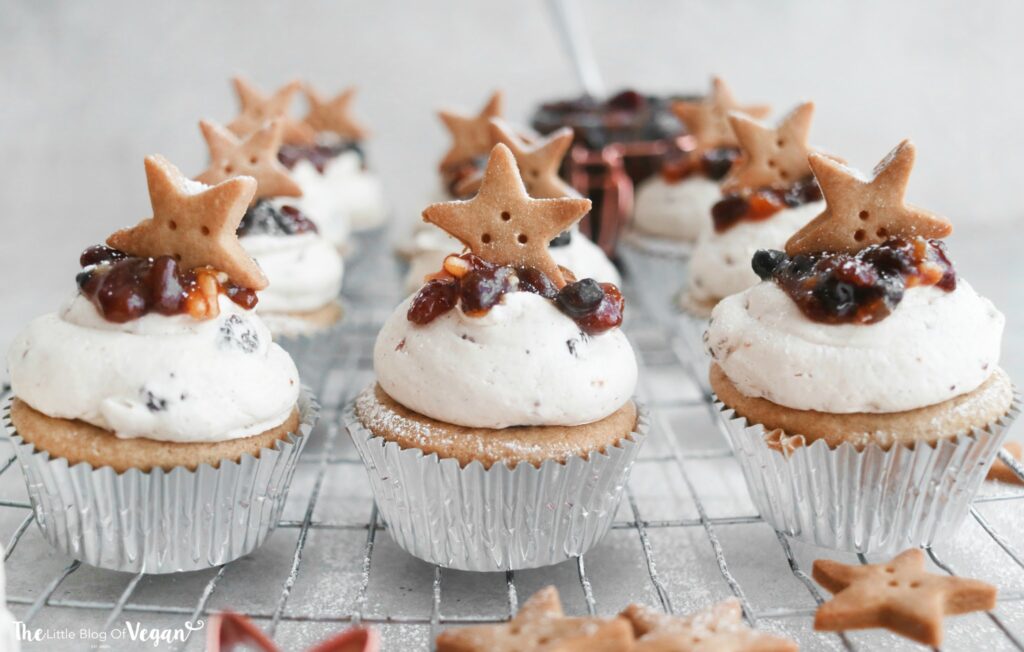 These vegan mince pie cupcakes are sure to capture any vegan's heart and will ensure that you've tried to cater for everyone at your party or gathering.
And if you're in the market for more vegan festive foods, why not take a peek at these:
7: Marshmallow Mince Pies
By Sainsbury's
Give a creative spin to the classic mince pie with these cinnamon-spiced mince pies topped with marshmallows. With 312 calories per serving, this recipe serves 12 and is both easy to make and time-efficient, taking just one hour and 15 minutes in total. Buying your ingredients from Sainsbury's ensures you'll only spend 52p per pie. (Correct at the time of writing, of course.)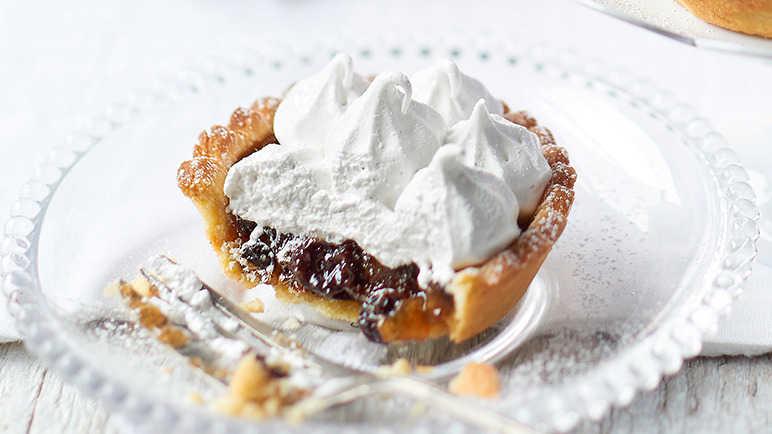 Of course, you could always purchase ready-made mince pies. I won't tell anyone if you don't. Sainsbury's are selling six mince pies for £1.60, which amounts to 27p per pie. Fine Food Specialist sell 20 handmade mince pies for £19.95, which you could easily pass off as your own. (They won't tell anyone, either.)
8: Lattice-Top Mince Pies
Once upon a time, mince pies weren't known by that name. They were better known as either Christmas pie, shrid pie, and mutton pie, often depending on the contents and time era. Back in the Civil War and even before, this type of festive pie wasn't sweet like the ones we eat today.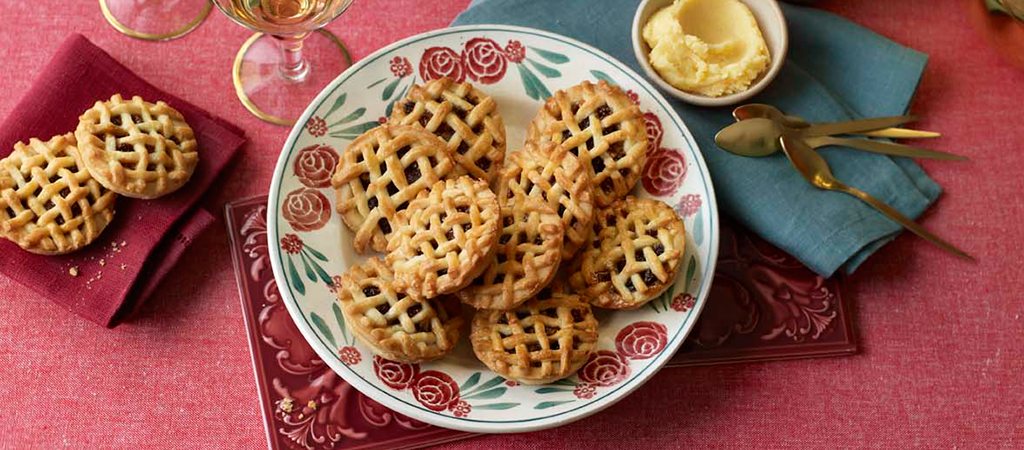 Instead, they were savoury, containing cloves, nutmeg, cinnamon, fruits, suet, and minced actual animal meat. This included goose, beef tongue, leg of mutton, veal, or other cuts of beef. As you've probably guessed, they're turned more sweet and less savoury over the years, leading us to the lattice-top mince pie recipes for Christmas you see here!
9: Easy Christmas Mince Pie with Chocolate Pastry
Modern variations of mince pies include creative twists, such as adding nuts, citrus zest, or different boozy beverages to the filling. Some recipes experiment with alternative pastry types or incorporate alternative sweeteners for a healthier option.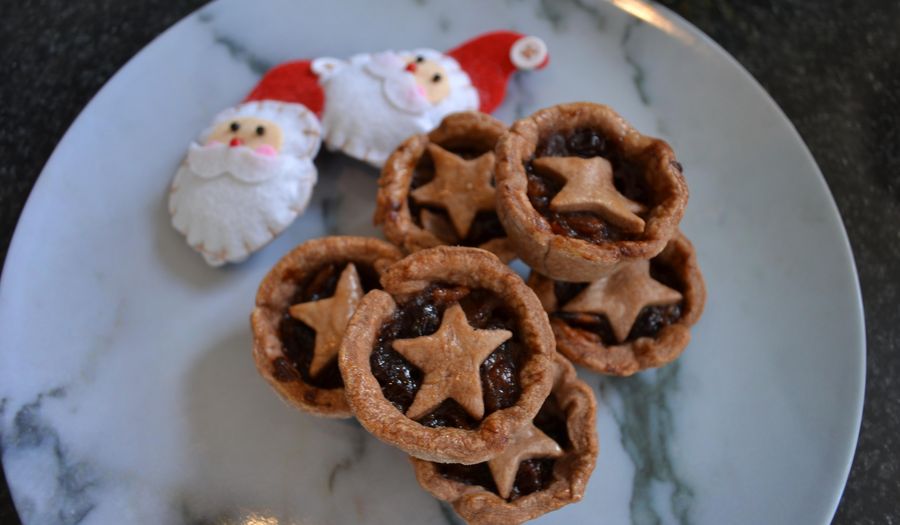 There was once a time when mince pies were thought of as bad and evil and were even banned! Due to their religious links (the Three Wise Men in Catholicism), mince pies were BANNED at one point! It seems laughable now, but Oliver Cromwell was so determined that the pies had an opposing religious meaning that he refused to allow other people to eat them.
10: Gluten-Free Mince Pies with Damson and Cobnuts
Recipes for mince pies vary, with some families passing down cherished recipes through generations. There are also countless variations available in cookbooks and online. Take this gluten-free variety as an example. Rather than the typical mince pie fillings you're probably used to seeing, this one combines cobnuts with damsons.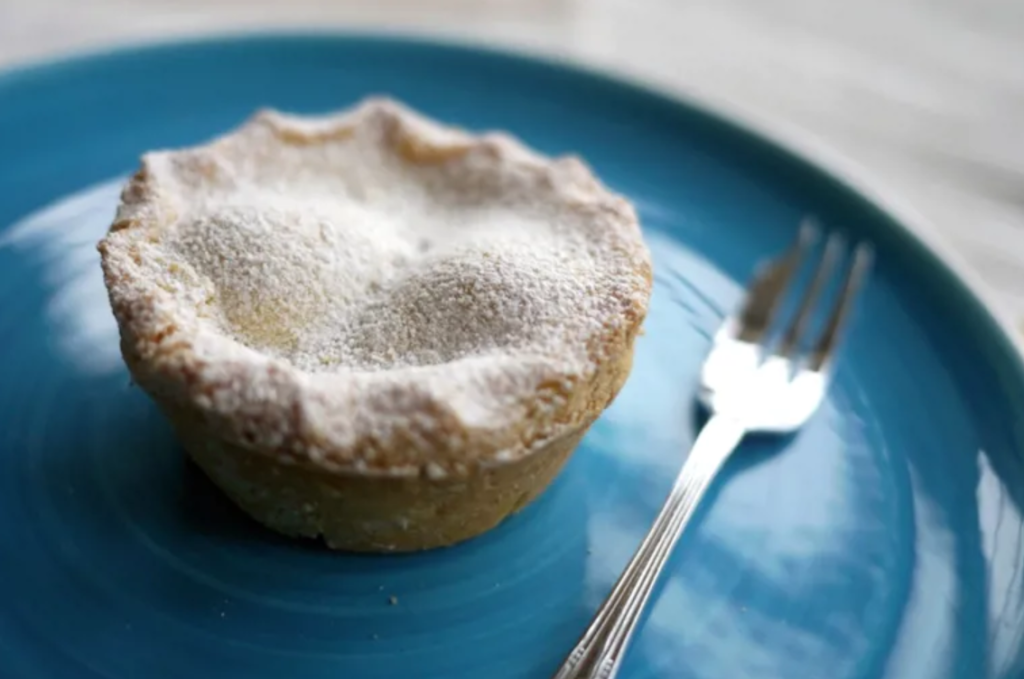 It was in the Victorian era that mince pies became more circular in appearance, and they also got a lot smaller, too. (Boo to that, right?) Here's another fun fact for you: there's a myth still going around, in this day and age, that Christmas Day mince pie eating is illegal. Thankfully, that's not the case. You (and me) can eat mince pies all day long, to your heart's content. (Woohoo to that, right?!)
11: Mini Spiced Orange Mince Pie Crumbles
By Pinch of Nom
These tasty little treats are vegetarian-friendly, freezable, contain only 86 calories per pie, and are super easy to cook. You'll need ten minutes of preparation time plus around 12 minutes of cooking time, but the finished product will be family-friendly, slimming-friendly, and very convenient if you need to whip things up in a flash.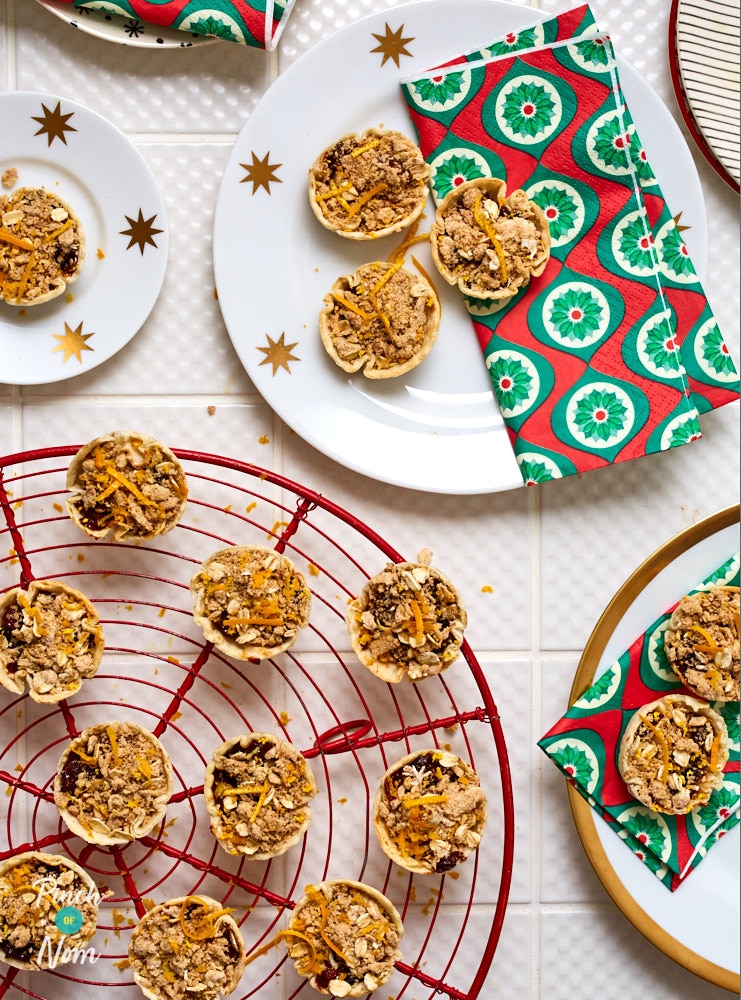 These are mini mince pies, but on the other end of the scale is the world's largest mince pie. According to Guinness World Records, the Moor Street Bakery in Burton upon Trent, Staffordshire, UK, created the heaviest mince pie on record, weighing an impressive 1.02 tonnes (2,260 lb).
The pastry measured an astounding 20 x 5 ft (6.1 x 1.5 m). On October 14, 1932, the monumental pie made its way to Ashby-de-la-Zouch in Leicestershire, where it became a centrepiece of the town's shopping festival. The following day, the gigantic treat was sliced into pieces and auctioned off to generate funds for the Ashby Cottage Hospital.
12: Apricot Mince Pies
By Saga
Interestingly, there's another record involving mince pies, according to Guinness World Records. This time, though, it's not about making the festive snacks. Instead, it's a record for the fastest time to eat three mince pies, which I personally believe I could beat, easily. And especially with these apricot mince pies. Yum.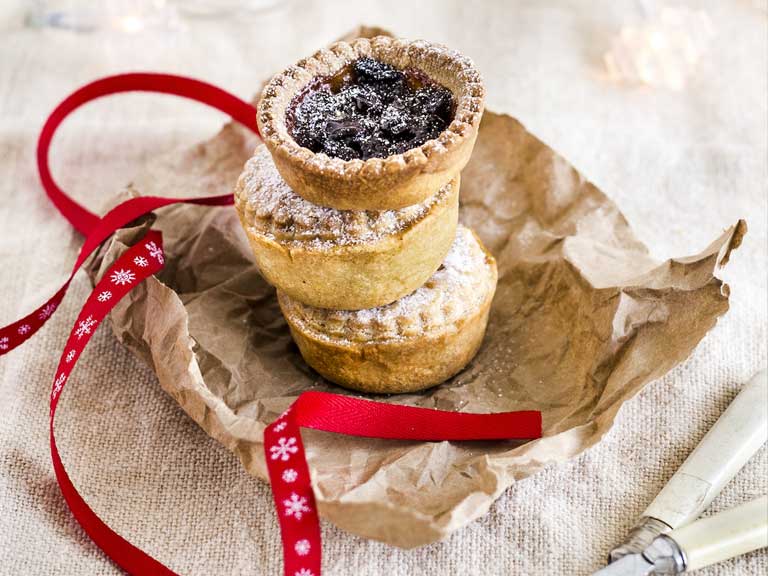 It took Leah Shutkever 52.21 seconds to completely demolish three mince pies in London, UK on September 25th, 2019. You can bet your last quid that I'm going to try and beat that record this Christmas. From the comfort of my own home, obviously… and likely in pyjamas.
13: Lemon Meringue Mince Pies
If you want mince pie recipes that are only slightly different from the traditional original, this one is a great option to consider. You can use both storebought and homemade mince pies, simply adding a lemon-flavoured meringue on the top. They're suitable for vegetarians, contains 306 calories per pie, and the recipe makes up to 12 pies.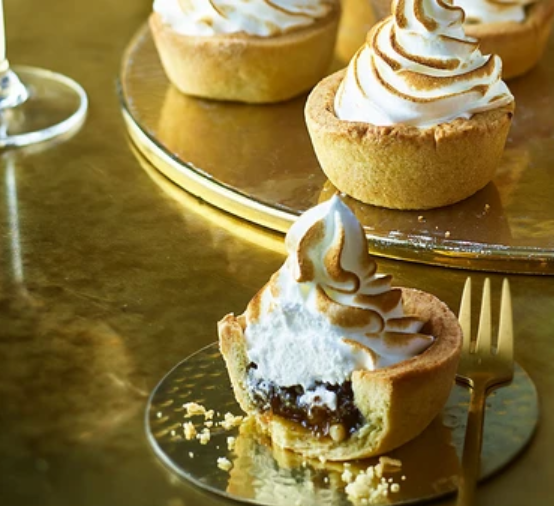 These mince pies are classed as "more effort" than some of the others on this list, but they'll be well worth the hard work you put into them! You'll need around half an hour to prepare them plus 20 minutes of cooking time, and any leftovers are freezable. Not there will be any leftovers, of course.
14: Luxury Mince Pies with Cranberries
By Sainsbury's
There's a delightful chocolate surprise hiding in this festive mince pie recipe, along with cranberries and only 271 calories. If you buy the ingredients from Sainsbury's, you'll get 12 pies that cost approximately £1.35 each.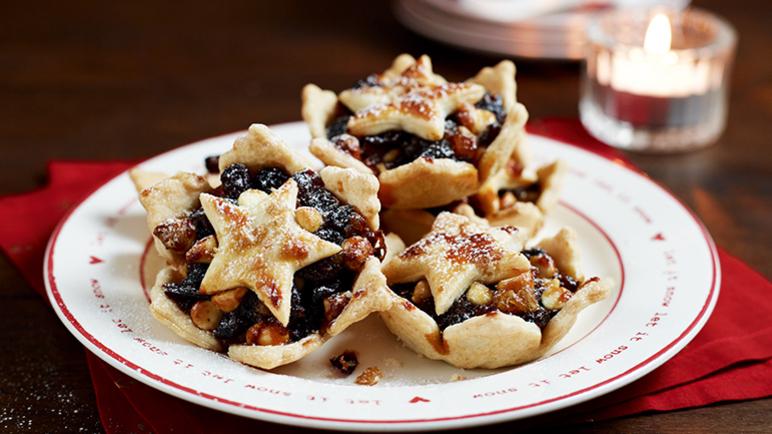 If you are planning on making mince pies from scratch this Christmas, give them a practice run through beforehand, especially if you're not confident of your cooking skills, or you've never baked mince pies before. I'm not saying that you're going to mess them up, but I'm probably going to mess them up. That's why I always do a practice run through.
15: Puff Pastry Mince Pies
While mince pies are conventionally crafted using shortcrust pastry, the creator has opted for puff pastry in this recipe for its ease and convenience. Once baked, it transforms into a delightfully crispy and flaky texture. These are ideal when you're pressed for time but still crave a homemade festive treat.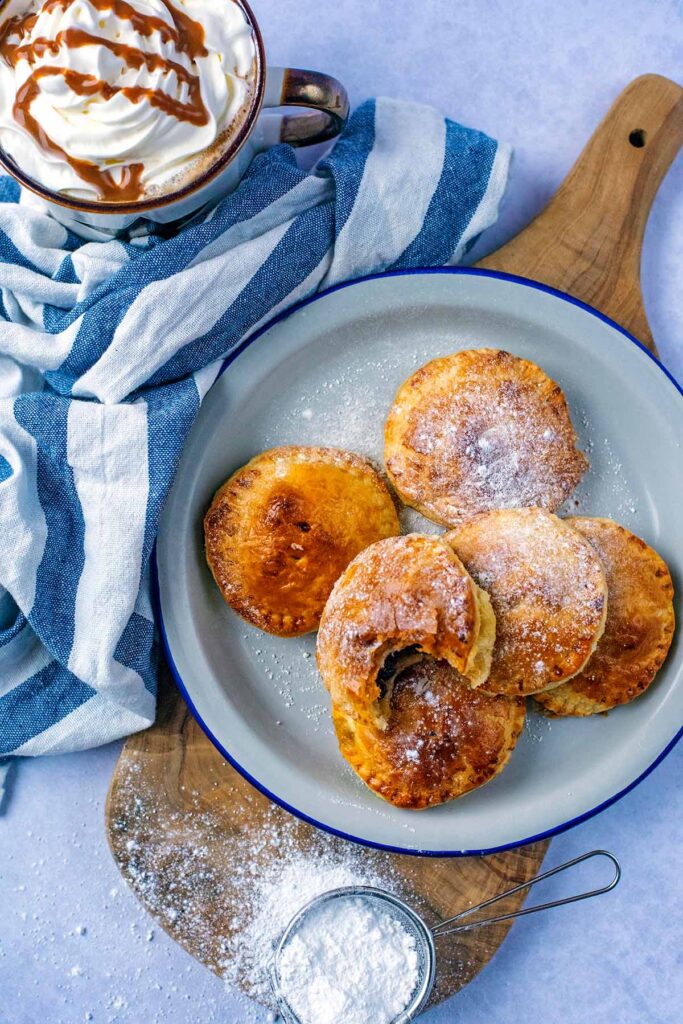 Each mince pie contains 243 calories, and you'll need ten minutes of prep time and 15 minutes of cooking time. They're vegetarian-friendly, but they also contain eggs, dairy, and gluten, so they're not suitable for people who are intolerant, allergic, or otherwise don't eat those ingredients.
16: Clementine and Walnut Mince Pies
By Saga
These mince pies are fruity and spicy, with a topping that is slightly different from the traditional festive pie. Rather than a simple pastry top, they have a crunchy topping created from walnuts with clementines instead.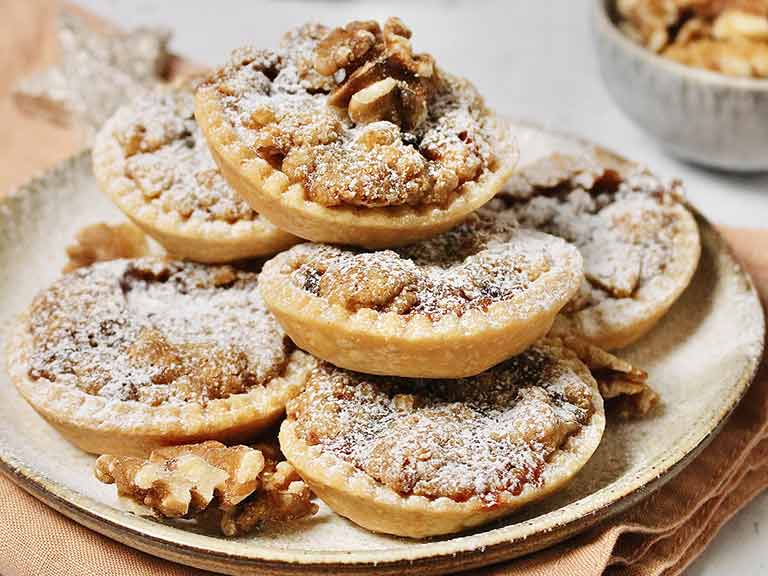 The very earliest reference we have for the type of mince pies we know and love today comes from a recipe 1624 recipe book, which refers to a minst pye. There's no information on when the change from savoury to sweet happened, however. There seems to have been a gradual change, somewhere between the 19th and 20th centuries.
17: Mini Mince Pie Pasties
By Pinch of Nom
Have you ever wondered why mince pies are called mince pies even without a meat filling? Mince, short for mincemeat in this context, was once actually meat, a few decades ago. Over the years, the savoury filling became sweet, and the fruit filling adopted the name mincemeat.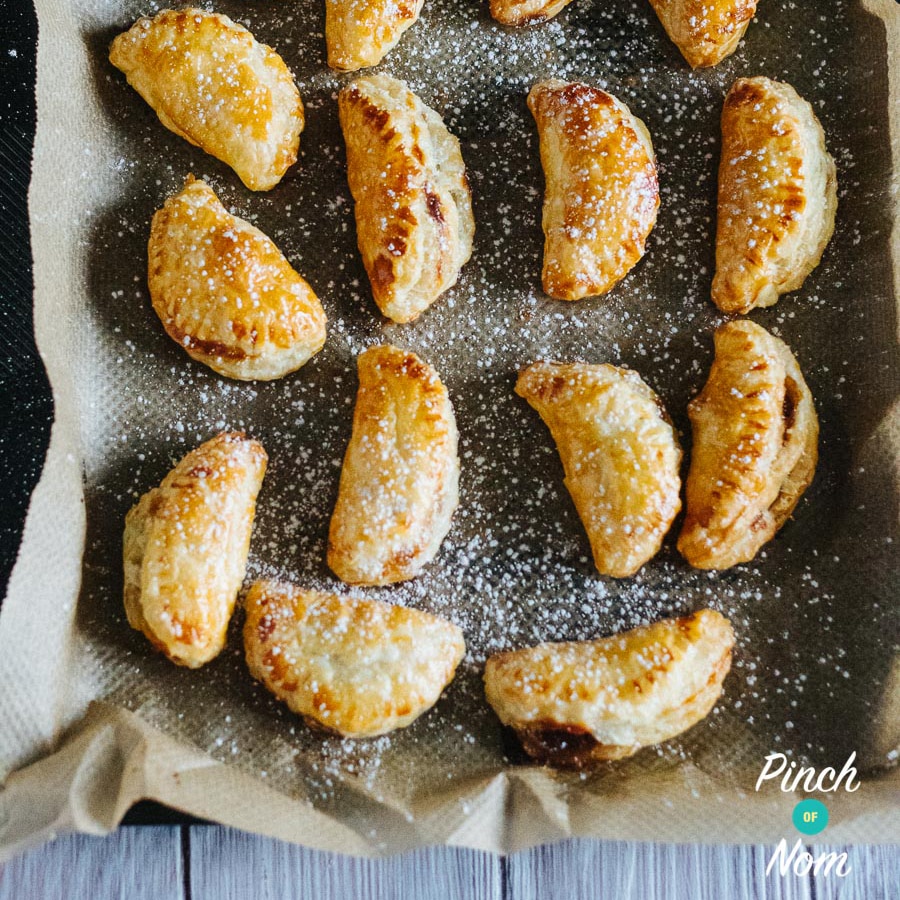 These mini festive treats will take you 30 minutes in total to whip up, contain only 62 calories per pastie, and are a new way to serve an old favourite. Rated four stars out of five and freezable, these ones are bound to impress the masses at your next festive gathering or party.
18: Hazelnut Crunch Mince Pies
Are you aware of some of the infamous superstitions surrounding mince pies? There are plenty to choose from, including one where both the Christmas pudding (which once contained meat, too,) and mincemeat for the pies were made on the last Sunday before Advent. If you didn't do that, you would experience bad luck.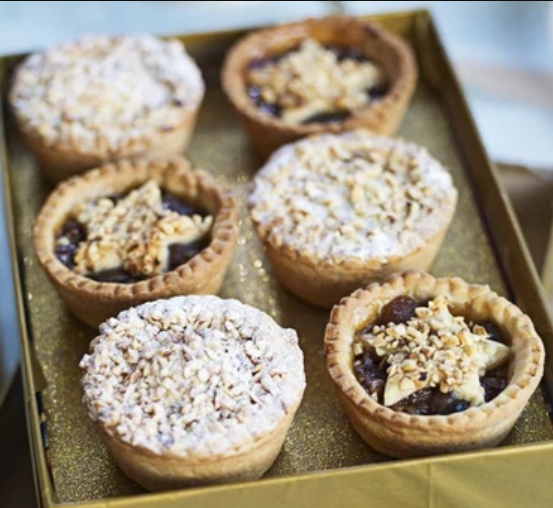 You would also get a whole load of bad luck and bad fortune if you stirred your mince pie filling in an anti-clockwise direction. You'd be blessed with good luck and good fortune if you stir clockwise, get the whole family involved to have a stir each, and for all of them to make a wish at the same time. Maybe we should all give that a try this year? I'm definitely going to!
19: Vegan Giant Mince Pie
This giant mince pie will serve ten vegan people at your gathering or dinner party this Christmas, and it'll take you a total of one hour and 45 minutes to create. It'll be easier and quicker to make one big mince pie than it will be to make a whole bunch of little ones, right? I thoroughly recommend checking with your guests to see if they have any dietary restrictions or preferences before planning the menu.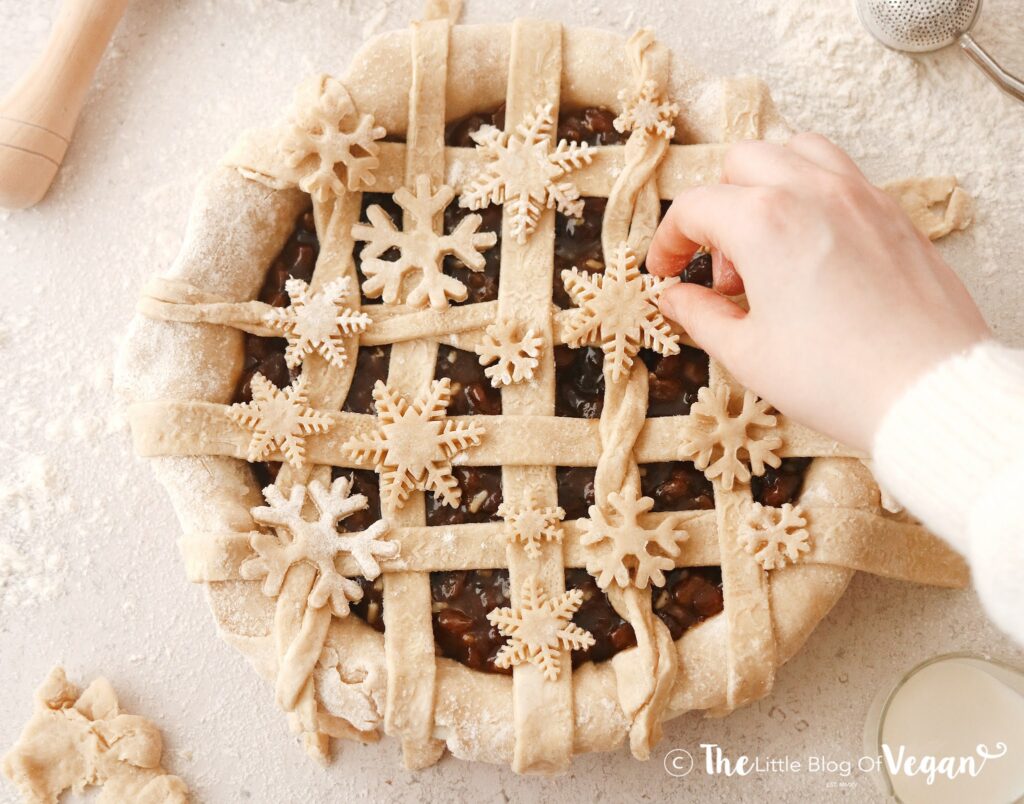 This festive, simple, and pretty easy recipe also works in a flash if you find out one of your guests is vegan, the day before the big event. Alternatively, you could make it and serve it to your guests, just to see if they even realise that it's a plant-based, animal product-free dish.
20: Orange Mince Pies
Mince pie recipes for Christmas like this one are perfect for when you want to experiment, but you don't want to get super creative and potentially mess things up at the last minute. You'll need around half an hour of preparation and construction time, and slightly more effort than some of the others on this list of mince pie recipes.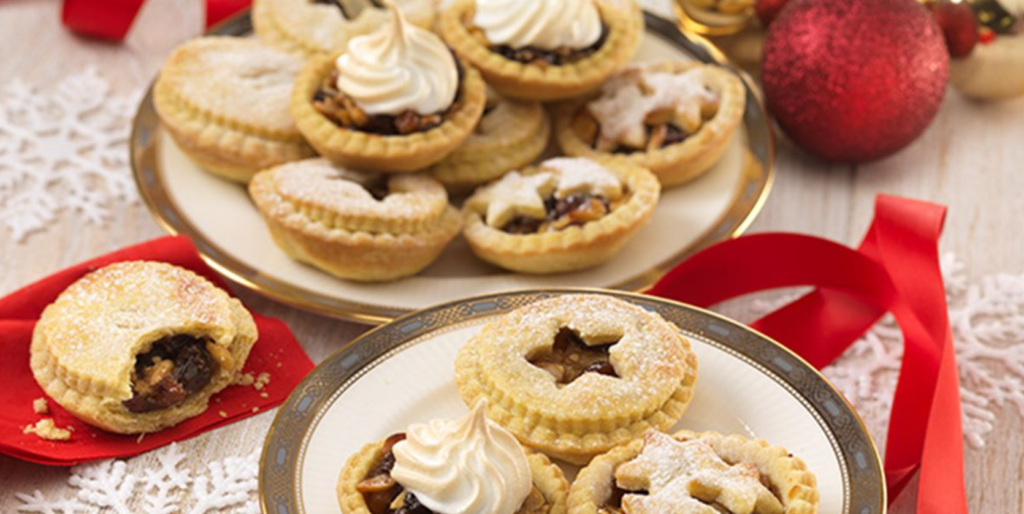 You'll get 12 mince pies with this recipe, which combines mincemeat, apple, almonds, brandy, cranberries, and oranges in a delightfully festive pie. Ou can always omit the brandy if you're feeding kids, non-drinkers, the elderly, etc. (Once again, I always recommend checking these things before planning your menu!)
21: Mince Pies with Hazelnut Streusel Topping
These delectable treats provide a distinctive twist on classic mince pies, adorned with a crisp hazelnut streusel crown instead of the usual pie top. The preparation takes 45 minutes, followed by a 25-minute stint in the oven, plus a chilling period. The recipe will give you 24 pies, which have been awarded a stellar five-star rating, and each pie amounts to a modest 200 calories.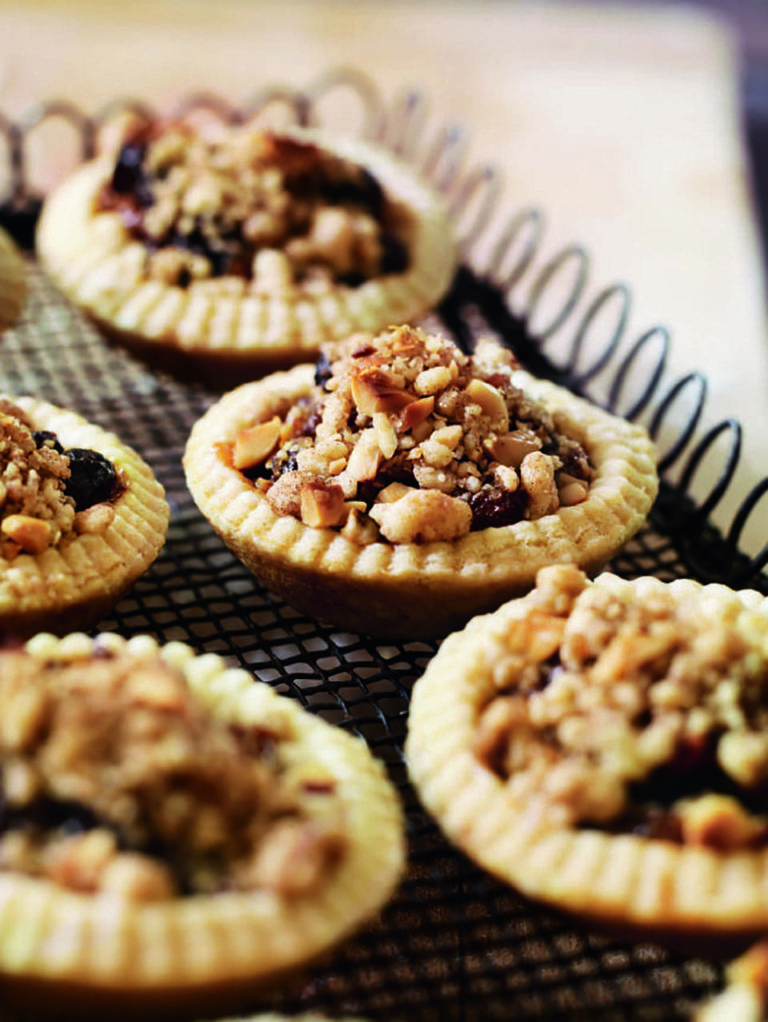 You can make these delicious mince pies ahead of time, freezing the pies, unbaked, overnight first, or at the very least, for four to five hours. Using baking paper to keep them separated and not-touching, transfer the pies to an airtight container. They'll keep for up to three months in the freezer, and you don't need to defrost them once you're ready. You can bake them from completely frozen, but you will need to allow for a few more minutes of cooking time.
22: Cardamon Crumble Mince Pies
By Benjamina Ebuehi / Waitrose
Cardamom has a warm, slightly sweet, and highly aromatic flavour, making it practically perfect for the festive season. It is often described as having a citrusy and floral undertone with hints of mint and spice, contributing a unique and exotic flavour profile to mince pie recipes, or any other kind of festive baking.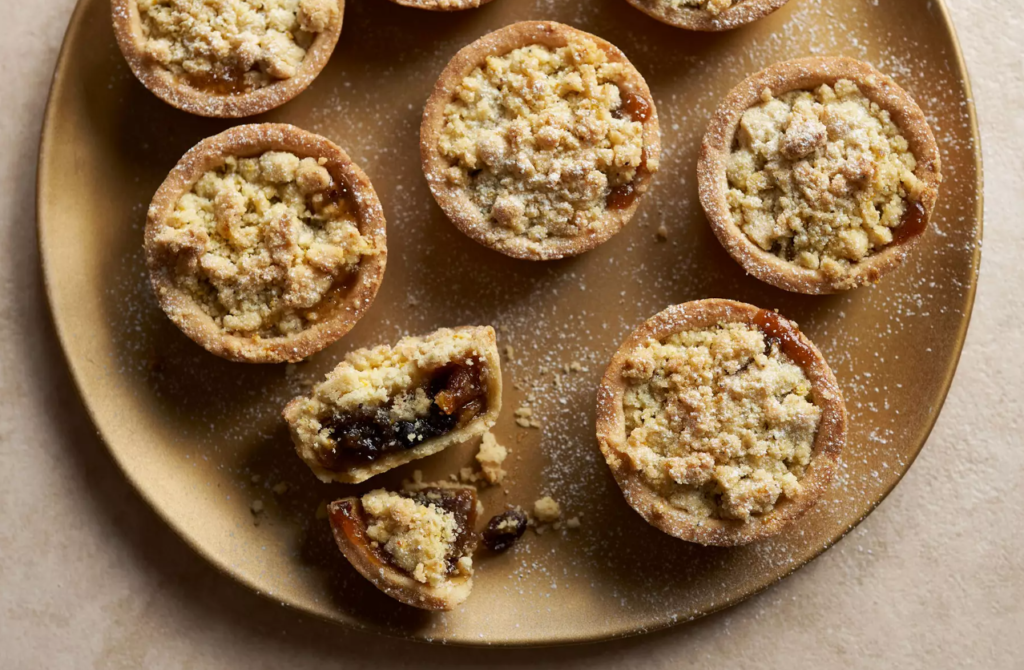 This recipe will give you 12 pies and take a total of one hour – 30 minutes of cooking and around the same in preparation time too. You will also need to allow for chilling time. Each pie contains 307 calories and would work perfectly with a delicious side, such as cream or custard.
23: Boozy Mince Pies with Whisky
By Sainsbury's
With just four ingredients, a cost of 29p per pie, a total of 16 pies at the end of the cooking process, and an easy recipe, this might be one of the best mince pie recipes ever. And with only 222 calories per pie, this is one of the less calorific mince pie recipes on this list.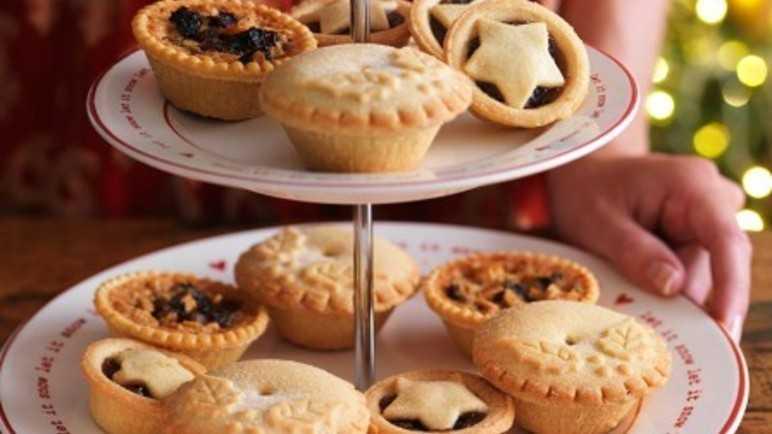 A touch of whisky adds a lovely, warming touch to this festive snack, and they take a total of one hour and 10 minutes to recreate in your own kitchen. With the buttery, flaky pastry and boozy mincemeat filling, there's no way that these won't disappear quickly over the festive season!
24: Blackcurrant and Apple Mince Pies
By Saga
This modern mince pie idea combines dried mixed fruits, grated apple, and blackcurrant jam for a fruity, moreish festive snack that I'm definitely going to eat this year. They just need 20 minutes of preparation time plus around 12 to 15 minutes of baking time, and you'll end up with 12 individual mince pies.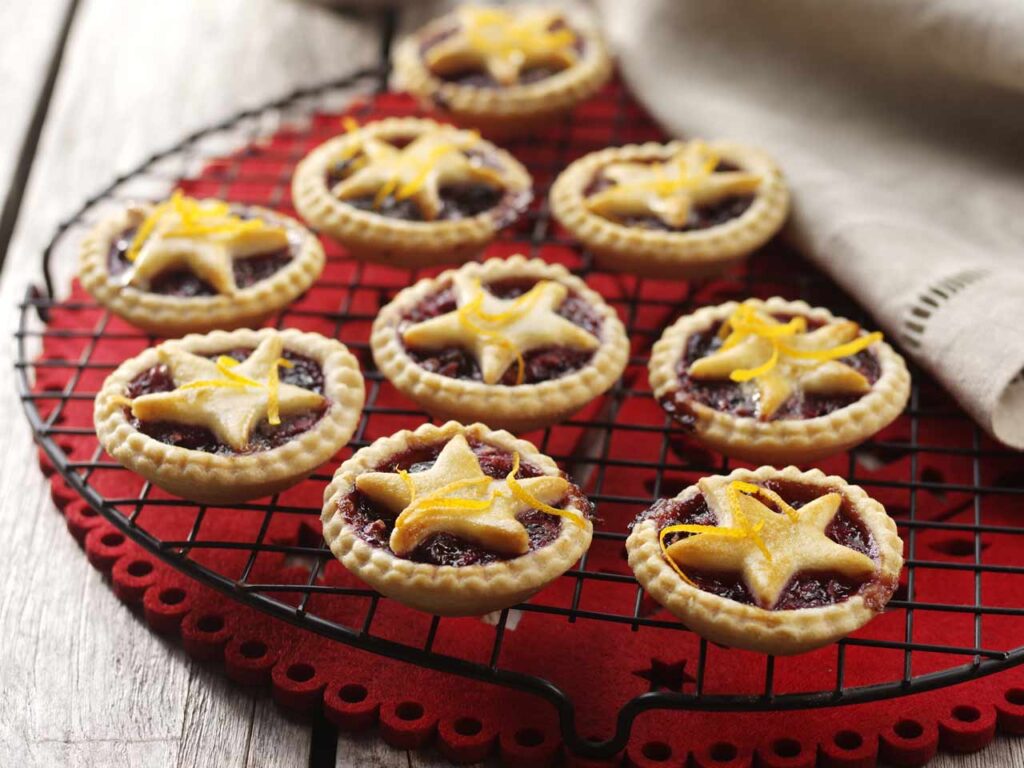 Blackcurrants have a bold and tart flavour that can complement a variety of winter dishes and desserts. Their deep, intense taste adds complexity to jams, sauces, desserts, and beverages commonly enjoyed during the Christmas season.
25: Mini Star-Topped Mince Pies
By Jus-Rol
Traditionally, mince pies are small, individual-sized pastries. They are round, reflecting the shape of a Christmas manger, and often have a star or other festive shape on top. This recipe definitely ties into that theme, with miniature pies featuring a festive star.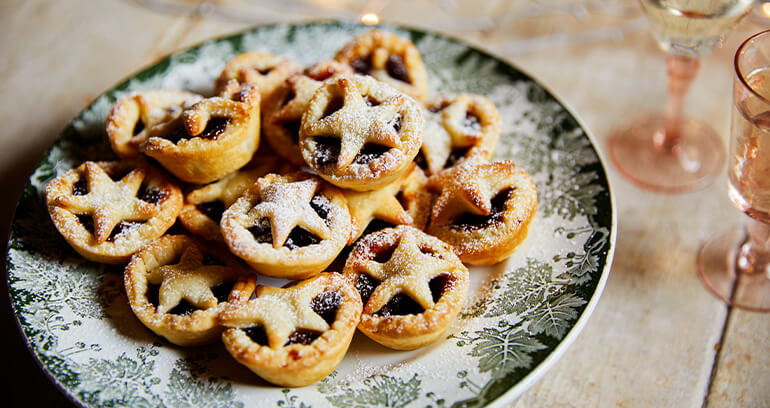 You could recreate this recipe and replace the star with any kind of shape you want. You could even get the kids involved, along with dinosaur cookie cutters, Christmas angel shapes, outlines of Santa Claus, and so much more. The possibilities are endless, as they say.
26: Double Cherry Bakewell Mince Pies
By Waitrose
Craving a culinary creation that boasts an extra dose of wow this year? Look no further than this ingenious fusion of two timeless classics. Prepare the mincemeat at least a day in advance, allowing its flavours to meld, and store any excess in the fridge (as the recipe yields more than required) for additional pies or a straightforward puff-pastry tart.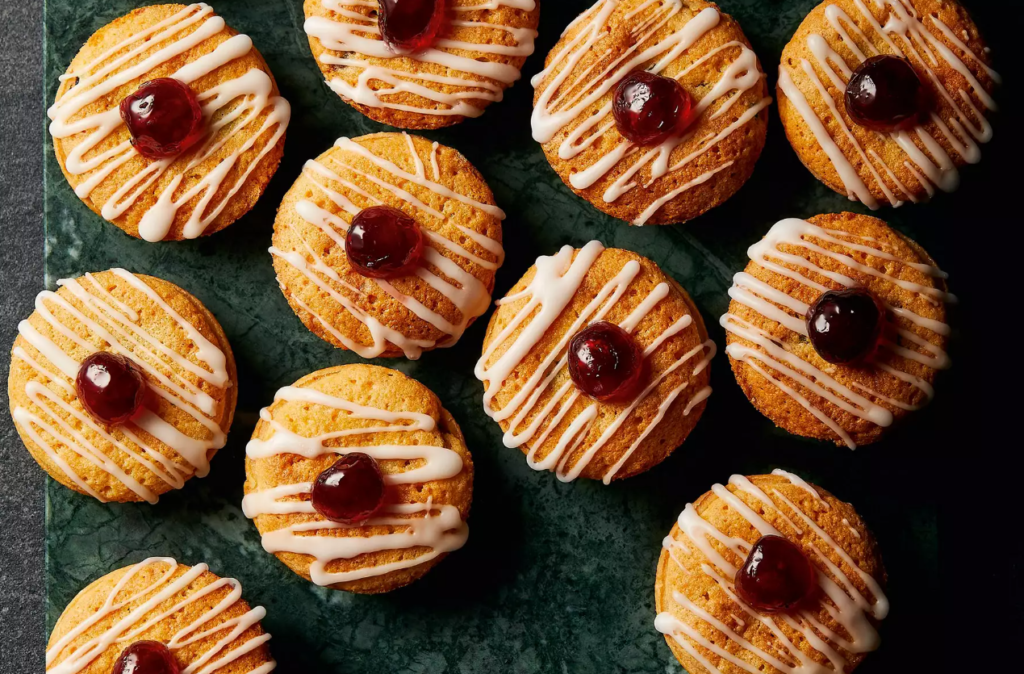 The pastry itself incorporates soft cheese, imparting a pliable texture to the dough and yielding delightfully tender results. Opting for a warm indulgence? Skip the icing and instead, dust with a sprinkle of icing sugar just before serving.
27: Mince Pie Brownies
By Ocado
Indulge in the perfect blend of rich, chocolatey decadence and festive mince pie essence with these delectable brownies. Infused with the flavours of cranberries, currants, and apples, they offer a delightful twist on the traditional treat.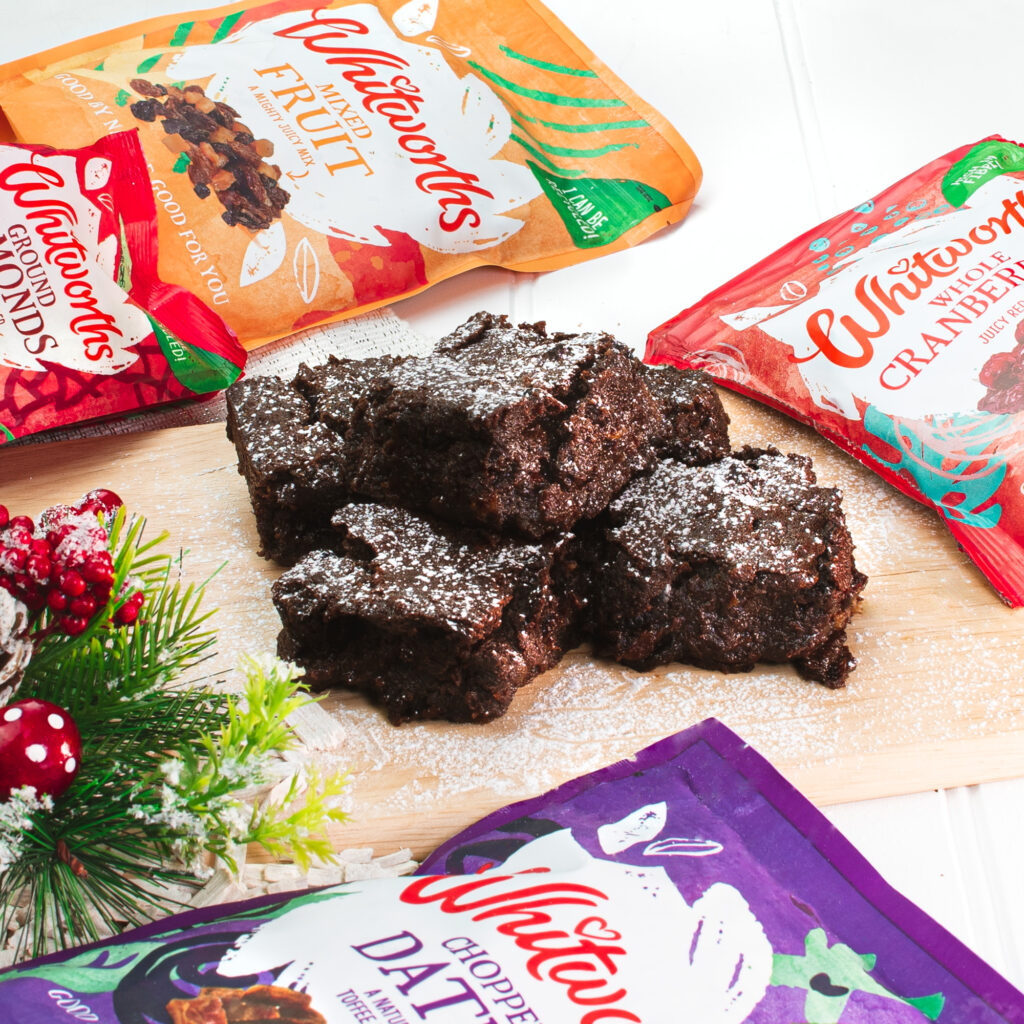 Whether you're savouring them at home while decorating the tree with loved ones or packaging them individually as delightful gifts or stocking stuffers, these mince pie brownies are sure to spread joy. Quick to prepare in just 10 minutes and ready to enjoy in 35 minutes of baking, this recipe serves 10.
28: Brownie Mince Pies
By Sainsbury's
We're going to turn things completely around with this mince pie ideas. Rather than mince pie brownies, we're focusing on brownie mince pies! These are fun, and a new twist on a traditional festive feast, and they take roughly an hour to prep and cook. You'll also need to allow for chilling time, too.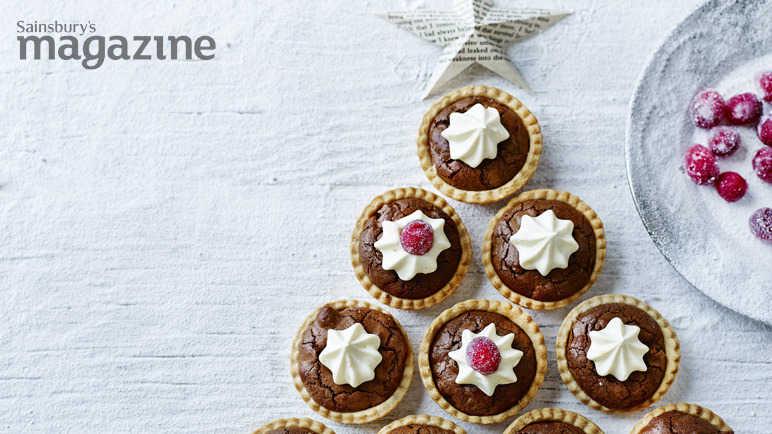 You'll get 24 mince pies out of this super simple recipe, and each pie contains 280 calories. With six ingredients, this one definitely won't break the bank. In fact, if you buy directly from Sainsbury's, each pie will only cost 27p each. (Correct at the time of writing, obviously.)
29: Apple Mince Pies
By Co-op
These mince pies are vegetarian-friendly, low in salt, and low in calories too, boasting 197 calories per pie. Ready in one hour, you'll get 15 fun pies out of the measurements listed, and you get to enjoy seasonally fresh British apples and support local farms and farmers at the same time.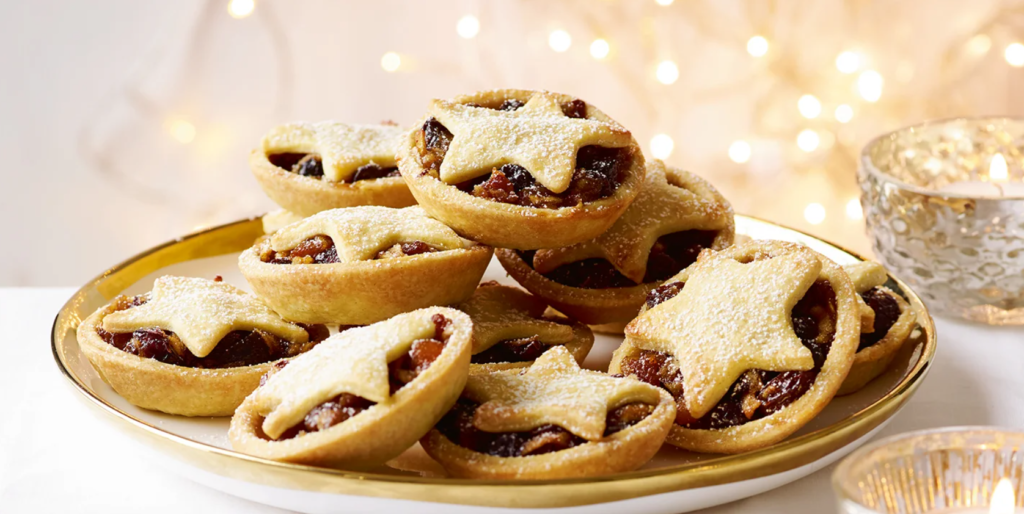 You'll need just 10 ingredients to whip up these festive mince pies, and they're perfectly on theme for Christmastime too. Apples have been historically used as ornaments and decorations during Christmas. In some cultures, apples were hung on Christmas trees as a symbol of the Tree of Knowledge from the biblical story of Adam and Eve.
30: Kokotop Mince Pies
Some people in the UK still believe in the old superstition that you should eat one mince pie per day, for the entirety of the 12 days of Christmas, to ensure that the coming year is full of happiness, good luck, and good fortune. That means eating one mince pie every day from Christmas Eve (24th December) to 5th January. (No problems, right?)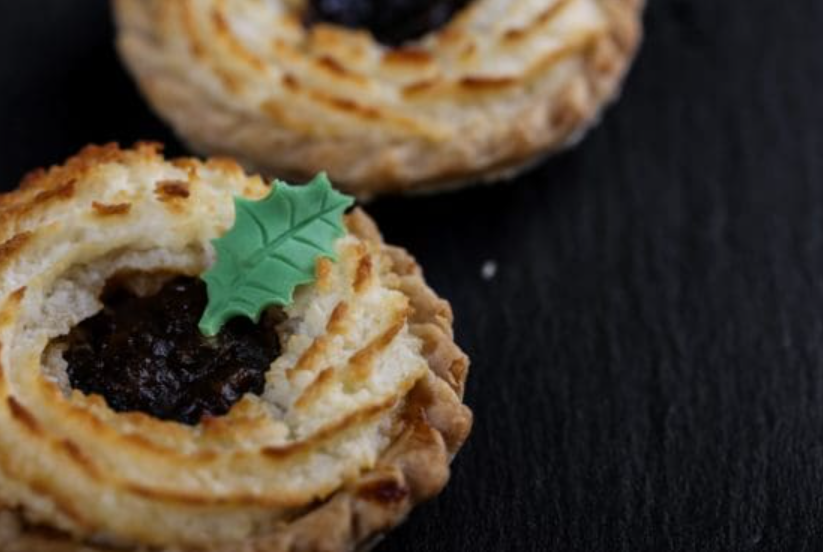 Over the years, chefs around the world, not just in the UK, have turned their mince pie recipes into mini masterpieces, with fancy designs and patterns on the top, really pushing the boundaries of traditional mixed with modern. This recipe is a classic version of that, using a coconut ring-style top instead of a simple pie top.
31: Custard Mince Pies
By Saga
Mince pies are often served warm, either plain or with a dollop of brandy butter, clotted cream, or whipped cream on top. They are a staple of Christmas dessert tables and are enjoyed throughout the holiday season. So, don't forget to save a couple of these when you bake them, so you can leave them out for the big man himself when he visits your home in the early hours of Christmas Day morning.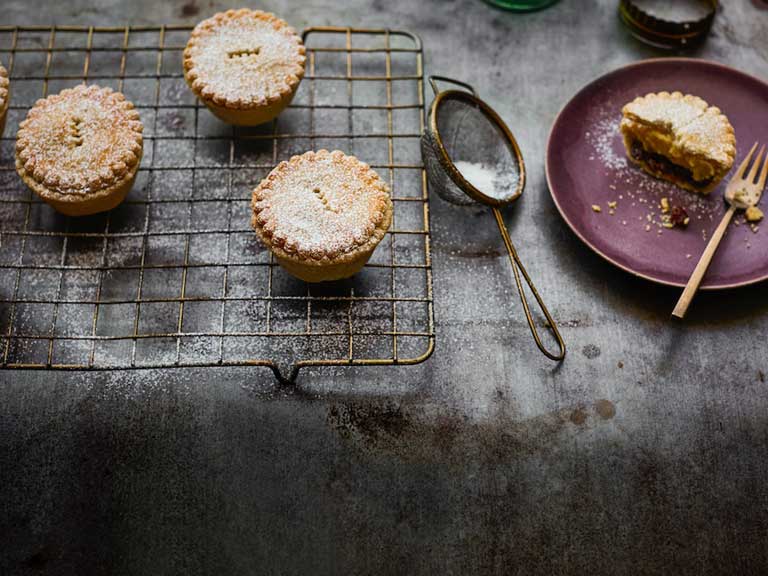 These festive treats combine a lush rum custard with a zest mincemeat, and you'll get 12 individual pies if you follow the amounts in this recipe. You'll also need to allocate around an hour of cooking and preparation time.
Mince Pie Recipes for Christmas: Conclusion
In conclusion, mince pies are a cherished and flavourful part of Christmas traditions, embodying the festive spirit with their rich, spiced filling encased in a buttery pastry. Whether homemade or store-bought, they are a delightful treat enjoyed during the festive season, and I hope I've given you all the inspiration you need to create the best mince pies for you.
Happy holidays!
You might also like:
Auto Amazon Links: No products found. No products found.